There is a widely-shared Instagram post that reads, "In 2019, you have two options: therapy or start your own podcast."
Two years ago, when my co-owner and executive producer Juleyka Lantigua-Williams and I launched Latina to Latina, our weekly podcast, we weren't consciously seeking the self-actualization and personal growth that might come from therapy; we were trying to fill a void in the market.
Podcasting is a booming industry. Apple Podcasts says it now hosts more than 750,000 podcasts on its platform. In 2018, marketers spent $479 million to advertise on podcasts in the US, an uptick of 53 percent from $314 million in 2017. And IAB projects that revenues will surpass $1 billion in 2021.
According to Nielsen, black and Latino listeners are using podcasts at twice the rate they were just five years ago. Yet, there are still surprisingly few highly produced shows made by us and for us.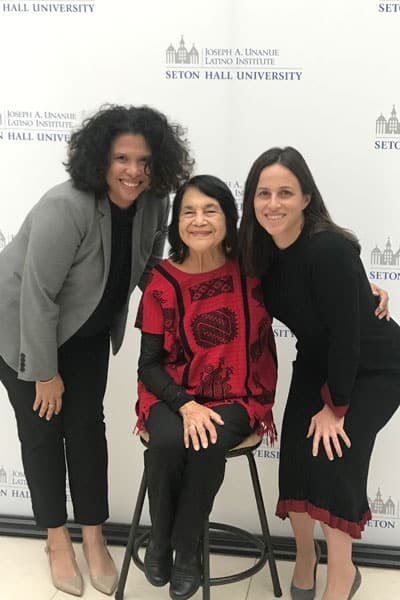 Each week on Latina to Latina, I talk with remarkable Latinas about making it, faking it, and everything in between. Our past guests include Hollywood powerhouses Gina Rodriguez and Gina Torres; business visionaries Katia Beauchamp and Nina Vaca; and leaders like UN General Assembly President María Fernanda Espinosa and US Senator Catherine Cortez Masto. Every guest has a unique story, and still, there are so many common threads that emerge again and again: respect for hard work, deep gratitude for families who have sacrificed to make all things possible, resilience in the face of adversity.
Juleyka and I know our listener because we are our listener: an educated, digital-native Latina. In creating and producing our show, Juleyka and I initially aimed to give our listener what we thought she would want: tactics, strategies, and how-tos for navigating professional spaces where she is often the first, the only, or one of a few.
Our audience is receptive to those practical elements, but what they really respond to is something different: intimacy, connection, and inspiration. They love to hear other successful Latinas' challenges and learn how they overcame them to achieve greatness. Some of those challenges, from coming out to caring for ailing parents, are deeply personal. Other hurdles are professional: learning to take our seat at the table, navigating office politics, proving wrong those who don't see us as leaders or visionaries. By celebrating Latina excellence, we're reminding our listeners what is possible.
Our numbers tell part of the story of our success. In a year's time we more than doubled our listens, while maintaining a listen-through rate of 82 percent, which beats the industry average of 60 percent. We've monetized with dynamic ads, merchandise, and live events.
But the real story is best told in the direct messages and emails we receive from our listeners. Our DMs are flooded with young Latinas across the country who affirm the need for these stories and this space. 
It's easy to forget how lonely and confusing those entry-level professional years can be. I think back to the early part of my career, when I would stay up late at night reading prominent journalists' and broadcasters' Wikipedia pages. That sleuthing provided some answers on the steps they took publicly, such as which markets they worked in, which networks they worked for, and which bad haircuts they survived. But no amount of internet research answered the finer points of how to give and receive feedback, how to manage up, and how to keep saying 'yes' to myself even when others were saying 'no.'
The response from our listeners should remind all of us of the importance of mentorship and sponsorship, particularly for women of color. These young Latinas are looking for guidance, for inspiration, for help from someone who knows what they are going through.
In researching and writing my book, The Likeability Trap: How to Break Free and Succeed as You Are, I was struck by the fact that African Americans, Hispanics, and Asians in senior leadership are less likely to sponsor a colleague, even though they feel a responsibility to do so. One study from the Center for Talent Innovation found that only a quarter of Hispanics were sponsoring someone at their company. That is, in part, because we worry we don't have the capital necessary to be an effective advocate for others. But if we don't step in, who will?
To the Leading Latinas honored here, thank you for sharing your stories. They will inspire and inform the next generation of Latina leaders. But don't stop there—connect directly with young Latinas at your company, in your industry, or simply those who you meet in your day to day.
Neither sharing our stories as inspiration for others, nor investing in mentees and sponsorees fully compensate for necessary organizational change, but it often provides someone else with the life raft she needs to stay afloat as she waits for the greater tides to turn.
---
Related Links
Liliana Gil Valletta to Leading Latinas: "We must push and pull each other up."