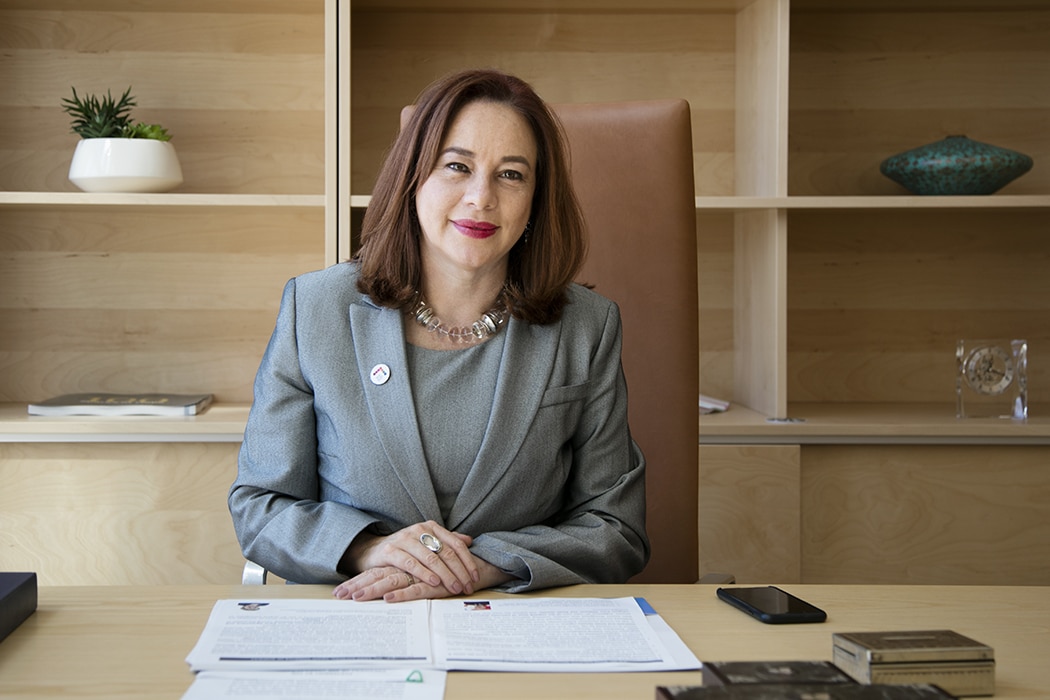 "Garcés is my mother's name," begins María Fernanda Espinosa, the former president of the 73rd session of the UN General Assembly. "I typically go by Espinosa, not Espinosa Garcés. My name is already long enough," she says, laughing. And after listening to Espinosa detail her decades of trailblazing work in academia, foreign affairs, national defense, cultural heritage, and international policy, it's hard to imagine anyone wouldn't want the opportunity to meet the mother who raised this woman.
Espinosa began her professional career at a young age. "I was seventeen when I got my first job at the National Institute for Heritage in Ecuador," she remembers. "It connected me very early on to indigenous people's rights and environmental issues." And as she continued on to various graduate programs, Espinosa began cultivating a reputation for her expertise on the Amazon region, climate change, and sustainable development—not to mention social science, linguistics, and political science.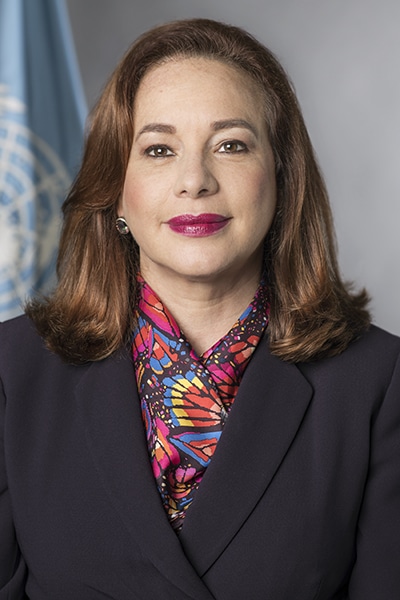 Espinosa's studies may have been wide-ranging, but they were far from unfocused. When she came to the United States to pursue a PhD at Rutgers University, she knew she needed a discipline that would reflect the diversity of her interests.
"I chose geography because I thought it was the most holistic and comprehensive career choice," Espinosa explains. "It brought together everything from the environment to politics, economics, and anthropology. It was the combination of that academic work and my work at the ground level that led me to work for the International Union for the Conservation of Nature and later the UN."
A public servant for more than a decade now, Espinosa has many firsts to her name: the first woman to serve as Ecuador's minister of national defense, the first woman to be appointed as Ecuador's permanent representative to the United Nations in New York, and the first Latina woman to be elected as president of the UN General Assembly. But Espinosa refuses to take her position for granted.
"As a woman, especially a woman from Latin America, you are required to perform twice as hard just to show that you are fit for the purpose," she points out. "As Ecuador's minister of foreign affairs and minister of defense, I was not what people expected: the diplomatic world and military are both very male-dominated."
But Espinosa wasn't satisfied with proving herself the equal of her male colleagues. Wherever she went, her first priority was to execute change on a broader level by looking at public policies through a women-centered lens. During her tenure as minister of defense, she passed Ecuador's first policy on gender equality and violence against women in the military. As minister of foreign affairs, she helped pass the first policy on gender equality for those in Ecuador's diplomatic service. Those laws and policies remain in place to this day.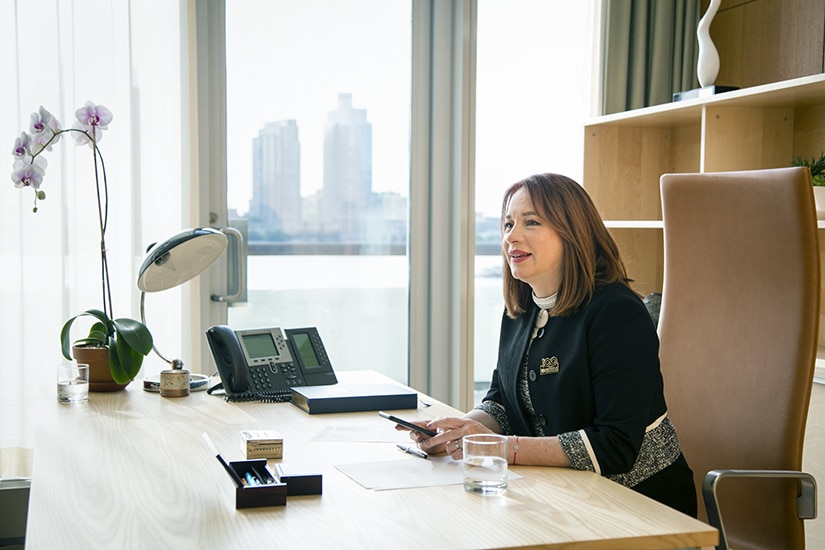 "Us women, we deserve to be in positions of power," President Espinosa stresses. "It's a demographic reality: we are 50 percent of the population. And it's not just about the numbers. When women participate in decision-making processes, at the UN or as mediators or wherever else they choose, outcomes improve, and the sustainability of the agreements is increased."
This past year, Espinosa organized the UN's first meeting for women in positions of power, including all nineteen women working as the head of state and government in UN member states. Her campaign for gender equality, as well as the global campaign Espinosa launched to reduce plastic pollution, is what helps her feel that she has delivered on the promises she made at the beginning of her yearlong term as president.
"Of course, you can always do more. The world is facing very difficult times right now, from the climate crisis to immigration," says Espinosa. "But I wanted to leave a footprint that made people say, 'Wow, Latino women really can make a difference.'"
Having recently left office in September, Espinosa is now focusing on finding ways to continue the political and social momentum that marked her presidency. "We were able to eliminate single-use plastics from the UN, but that has to be multiplied, and the campaign has to continue. Next year will be a very important year for the UN, for women's rights, and for pollution," she asserts. "I have pushed to make sure that we gather interest and traction by addressing a commitment of public opinion regarding the role of the UN, the importance of multilateralism, and the UN that the public needs and wants for the future."
Espinosa has no intention of backing away from that effort to make the UN "relevant to all" now that she's served out her presidency. Wherever she is in the future, Espinosa promises she will continue to contribute to and be connected to that process. In fact, that sense of relevance is the essence of what the UN is and must constantly strive to be, Espinosa says.
"We are here for a purpose, and that purpose is to serve the people—especially the people in need," Espinosa says simply. "There are so many people in need, and the numbers are only increasing. As we work here in this huge building, we must see that and remind ourselves because that is the very reason why the UN is so important."
Espinosa the Poet
"Poetry is part of my DNA," says President María Fernanda Espinosa, winner of Ecuador's 1990 National Poetry Prize. Espinosa started writing poetry as a child and never lost her love of the art, as she's continued to read and write poems throughout her career. In fact, she says, her passion for poetry has had a strong influence on her work in politics. "Poetry is a lens, a special way of looking at things in the world," she explains. "So, it has been extremely useful for what I do in my everyday life."
One of President Espinosa's favorite poems from her collection, "Clase de Geografía" ("Geography Class"), captures the strength, resilience, and quiet power of the women in a small town in Mexico called Juchitán:
CLASE DE GEOGRAFÍA
Juchitán, pueblo de México,
limita al sur con el cactus,
y al este, con ningún pueblo
que se le parezca.
Las mujeres de Juchitán
han vivido eternamente
movidas por el viento.
De ahí sus mantillas ceñidas,
para no perder la conciencia.
Son pescadoras,
que siembran camarones,
que siembran hijos.
Venden y compran, cuentan monedas.
Se sientan en la plaza
a contemplar la velocidad,
a poner las trenzas al sol.
Ellos cuidan de la casa,
hacen fuego, iguana asada,
maíz. Les llaman mushes.
Son hombres vestidos de mujer,
pero de otro modo:
trenzas postizas,
follones repletos de almidón
para esconder sus escuálidas caderas.
Juchitán es el mundo al revés,
como debe ser.