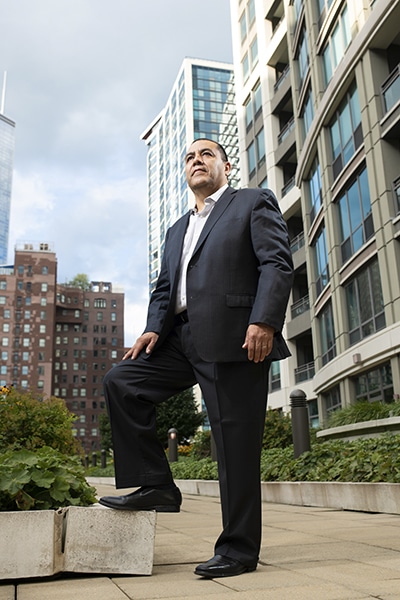 Born in Michoacán, México, Martin Escutia came to Chicago at the age of eleven. Raised in Pilsen, a large Hispanic community on Chicago's west side that's known for its rich culture and colorful murals, Escutia today remembers the core values his parents instilled in him: respect people, be humble but honest, commit to a good work ethic, and show passion with perseverance. He's since treasured and carried those same values into his professional life by doing what's best for his employees, his customers, and his company.
As the second oldest of nine children, Escutia grew up helping his parents—in particular his mother, who had her own home clothing business. He used the massive handlebars on his bicycle to carry clothes he would sell on weekends, while also collecting the money to help support his family. Looking back, Escutia believes those early experiences helped him develop skills for positive client interactions. "I truly know those experiences served me well in my professional career. Most importantly, I've received an understanding and support from my wife, Carolina, who knows that this type of job is not eight to five," Escutia says.
Escutia's philosophy with his customers is to always be connected regardless of any issue. His focus is to build high-performance cross-cultural teams that present the best customer experience to any client. "The best time to call a customer is when there are no issues," Escutia explains. "This reminds any customer they are always top priority."
The approach has helped Martin gain trust and confidence, while building strong relationships with customers and partners, like Mexico City-based telecommunications service provider Maple Diseño y Desarrollo. Referred to as "Mr. E"—which he says stands for Mr. Execution, because he is available 24/7—Escutia is ready to engage at any capacity to provide excellent customer service. Hearing this from his peers and customers is rewarding for Escutia as he re-engages with many of his previous customers as vice president of services for Mexico, Central America & Caribbean at Infinera.
"The best time to call a customer is when there are no issues."
For Escutia, doing business and working in the Latin American market requires personal commitment, discipline, connection, and communication—and not necessarily via technology. He reaches out to customers regardless of location because spending face-to-face time is imperative to winning their confidence. That personal touch, he explains, is critical in the Hispanic culture. Escutia says that it can be a big change of discipline for any company or team to get used to his style. But in order to build trust, he's flexible and adaptive to cultures and requirements (thanks in part to his bilingualism). One of Escutia's favorite anecdotes to his team is "Be brief, be bright, and be gone." He says that it's important to keep it simple for your audience, especially when presenting a topic about which it might not be educated.
One of the key drivers for Infinera's winning strategy is to ensure the company is structured with an organization and operating model to sustain and grow bottom-line business goals. Over the course of his career, Escutia has matured from positions in technical roles to business development to selling services. "I believe I can bring a lot of business potential to our company because of the trust I've built over many years with all my customers," he says.
Escutia led numerous projects in Europe before committing to deep dives in the Mexico/Latin America telecom market. The projects lasted years, not months. The companies Escutia worked for brought him in during difficult situations in which customer relationships were broken or needed to be enhanced. His confidence and know-how not only got him cited in The Cisco Way by Dushyant Sukhija, but also garnered him awards from Megacable and Telmex for excellence in customer support and impact.
He believes Infinera is uniquely poised for success in the region in part because of its acquisition of his previous employer Coriant, thus offering far more customer coverage and new E2E (end to end) solutions than before. Infinera is an industry leader and on its way to delivering data speeds up to eight-hundred gigabytes per second from their new Infinite Network. "Millennials are doing so much more on their handheld devices. It requires intensive data and a backbone ready to support it," he says.
Escutia explains that when you have a customer that is unsatisfied it's imperative not to overpromise. "If you overcommit, you will under deliver and lose trust with a customer" he says. When identifying a customer's pain points, Escutia devises strategies and action to take immediately, in six months, and in a year. And as Infinera looks to further expand, the company recognizes it can trust in Escutia as someone who not only knows his market but has built trust with his customers over many years.
---
Related Links
Guillermo Diaz to Top 10 Líderes: "Leverage your platform to inspire your purpose."