Work can teach a lot of skills: how to manage time, how to manage daily business operations, how to evaluate the strengths of employees to help them grow to their highest potential, and how to be a good leader. It can also teach us what not to do—often learned by having an inexperienced leader in place. Norma Cordova has learned all of these things throughout her career.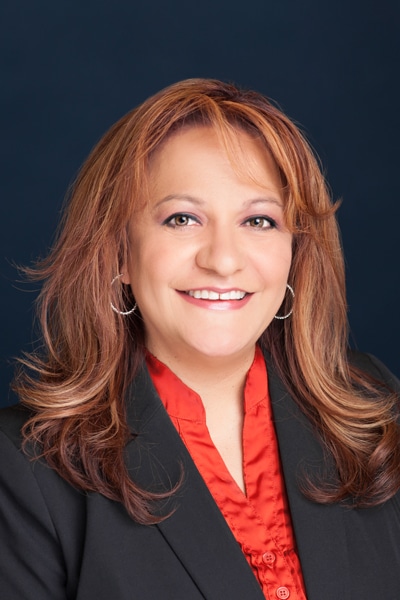 Growing up, she wanted to work on Wall Street. "I thought I was going to move to New York City, become a successful stockbroker, enjoy views from a high-rise apartment, and live life as a lone individual," she says. She dreamed of this because she came from a family with six siblings, which meant she had very little privacy, and, as a middle child, she'd always wondered how life would be if the focus were just on her. "You could say my dreams came half true," she says. She did go into the financial world and became incredibly successful, but she doesn't live in New York City, and she does have a son, now twenty-three years old.
"As a young adult, we all have this narrow self-centered vision, but as an adult, we broaden our horizon and realize that nothing matters more than family," she reflects, laughing.
Cordova started her career by joining Time Warner Satellite Services as a customer service representative twenty-five years ago. "Up until then I'd worked part-time in retail," Cordova says. "I didn't feel the drive in the retail world, so I wanted to give the business world a shot."
The entry-level position had her working on the phones as a customer service and sales representative. After a period of time, Cordova was promoted to an area manager, where she took on more responsibilities and paved her way into management. She held this role for about four years, during which time she had her son. Soon after, the division within the company sold and she transferred to Time Warner Cable, starting all over as customer service representative with full determination that she would be back in a management role one day.
Even under ideal circumstances, balancing work with parenting is difficult. The difficulty increases when you're a single parent living away from family. In Cordova's opinion, it didn't help to have supervisors along the way who did not support or understand her situation. This convinced her that, as she excelled into higher levels of leadership in the future, she would provide her employees with support and flexibility to enable them to have a healthy work-life balance. After all, as any parent or caretaker can tell you, a lack of flexibility can be devastating. Cordova says it was difficult to schedule time to simply drop off and pick up her son from daycare and school because it conflicted with work hours. Family obligations also axed opportunities to travel for work, which limited her opportunities for management growth.
"I dealt with it by putting my head down, and I just kept working," Cordova recalls. "Some people fight so aggressively to change [unjust work situations]. That's not how I do things." Instead, she encourages a different attitude. "Change what you can and accept what you can't," she says. "You have to remain positive and know that another opportunity will come along."
Her "accept what you cannot change, change what you can" approach paired with her "family comes first" philosophy has shaped Cordova's leadership at Charter Communications—for which she has earned honors and awards.
That approach paid off: Cordova was promoted to a business operations analyst. In her previous role, she learned customer operations. In this new role, she learned how to measure individual performance and run back-office operations. She did this for four years.
Next, she spent four years in the information systems department, which was all about learning Time Warner Cable's complex billing systems, writing queries, and extracting the right information for projects. This opportunity led to a position within technical operations, where she was tasked with running statistics that allowed the company to re-examine cable installations and improve field operations, which resulted in a better customer experience. In this role, her hard work, dedication to the job, and track record caught the attention of the engineering leads. The vice president of engineering recruited her, and she's been working within engineering operations for thirteen years now. In 2010, she became vice president of network technology engineering operations. In 2016, Charter Communications acquired Time Warner Cable, and she retained her position.
"Norma is a change agent who sees the possibilities that technology will bring to future communications," says Kevin Jones, a colleague of Cordova's and the regional vice president of sales at Casa Systems, which provides technology solutions to Charter Communications. "She has a unique ability to balance the current needs of her company and its customers, while preparing for the transformational network change necessary to support our always-connected future. Norma inspires and motivates us—her team, her peers, her partners—to color outside the box and deliver solutions that open up new possibilities."
Still, Cordova says she didn't do this alone. The support she has received from her current supervisor, Matthew Stanek, senior vice president of network technology operations at Charter, has been extremely impactful to her career. She credits Stanek as a longtime mentor. "You can't get to the top all by yourself," she says. Additionally, she credits others along the way. "In this world of cable, there are so many brilliant individuals that surround me and my world never stops growing. I've been here twenty-five years and I still continue to learn new things all the time."
Her "accept what you cannot change, change what you can" approach paired with her "family comes first" philosophy has shaped her leadership at Charter Communications.  She is proud of the leader and mother that she has become and continues to not only support her own growth, but to help all others around her flourish into strong leaders. "I want everyone to excel," Cordova says, actively encouraging those around her to take the next step. She has been recognized for her leadership skills with honors and awards.
She emphasizes the need for education, particularly for young Latinas. She consistently encourages young Latinas to seek roles in the technology field. Most telecommunications and technology companies tend to be dominated by men, and she would like to see more women in leadership and technical roles within these industries. Cordova states, "Education is key in obtaining a seat at the table, as most executive positions require a degree or a high level of experience—and rightfully so; every company seeks the best."
In her own family, Cordova recalls that education wasn't emphasized as a "must" when she was growing up. She has since learned how important it is, and she not only encouraged her son to attend college (he is in the process of obtaining a biology degree), she also went back to school in her late 30s and earned a bachelor's degree herself—in finance from Liberty University in 2016.
Cordova says she's often been one of only a few women in meetings, and often the only Hispanic person. "It would be nice to see more diversity in executive and technical positions." She advises young Latinas who are entering the workforce to define themselves, go after what they want, and to grow their skill set as much as possible. She encourages her son, and young nieces and nephews to allow those around them to teach them. "Be open to listening to the wise minds around you," she says.
"None of this has been easy," Cordova says. "The struggle is real." Though she works to support her team and had phenomenal successes with a project last year, it has come at a cost—working many hours and being away from her son.
"I'm proud of what I've done for myself and my son," she says. "I'm also proud of the leader I have become, of the teams I have built, and everything I have accomplished in my lifetime. And I'm not done yet."