Ximena Juncosa always prided herself on knowing, as she puts it, how to turn lemons into lemonade. "My advice to people is always to go get what you want, follow your dreams, and not let anyone tell you that you can't do something," Juncosa says. It's a trait that she says helped her to think outside of the box and find solutions in nearly every situation—an ability that guided her throughout a career in HR, and something she encourages in others as the vice president of executive talent at McKesson.
Going after her dreams was also what kickstarted her career. Though she was born in Lima, Peru, Juncosa grew up in Gainesville, Georgia, where she often encountered stereotypes about her heritage. But, Juncosa says, "I was drawn to [Peruvian] culture and realized that this was something that didn't exist where I was living, that it was something that I was proud of."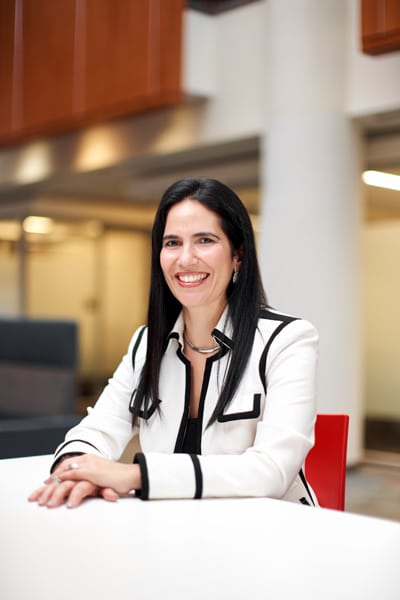 She enjoyed learning about her culture and being surrounded by it on her family trips to Peru. After high school, she decided to move to Miami to study at Florida International University. To support herself, she took on additional full-time work in the hotel industry; after graduating, that experience combined with her business skills made her a natural fit for the hospitality industry, where she rose quickly to director of HR at major chains such as the Ritz-Carlton and Four Seasons.
A later move, back to Miami, gave her a new opportunity to reinvent herself and stretch her talents in a different industry—she was recruited for a role at ADP.
"I'd never done this specific work before, and I remember confidently nodding and saying, 'Don't worry,'" Juncosa recalls. "I had never been more unsure when I've spoken." Still, her success led her to rise in that company as well, from director of HR to a new position in executive talent acquisition. And in 2017, she got a call from the former boss who had appointed her the role—now working at McKesson, a healthcare company—who wanted to build an executive-talent function.
Since then, Juncosa worked tirelessly to develop an in-house executive search function, collaborating with senior leaders at the company to identify and select fellow senior leaders through a highly competitive process.
"I have the opportunity to work with people who are not only going to be taking McKesson forward, but charting our course in an industry that is experiencing significant transformation and evolution," Juncosa explains. To do so, she focuses on mapping and understanding internal competitive searches and aligning those searches with McKesson's strategy and leadership principles. This includes both when internal talent can be identified and promoted, and when a niche role or transformation requires an external search.
"I have the opportunity to work with people who are not only going to be taking McKesson forward, but charting our course in an industry that is experiencing significant transformation and evolution."
As changes at the company led to an increased demand, Juncosa's work became increasingly valuable. Being in conversation with the company's leadership throughout these changes also made it clearer why choices were being made, and how they were tied into McKesson's mission. This alignment, coupled with the significant cost savings by keeping the recruiting function in-house, made her team an asset.
Juncosa sees her greatest accomplishment as the relationships she's been able to create, in a role that she refers to as a "three-legged stool." She explains, "I've had the opportunity to bring different teams together—across inclusion and diversity, talent management, and executive talent—and be part of that integration. We are approaching the entire executive talent space in the most integrated, meaningful way to ensure that executives have the capabilities we need for the future."
Her passion for building relationships is reflected outside of her role, as well. Shortly after joining McKesson, Juncosa became the national chair for PALMa, McKesson's Hispanic employee resource group. "Inclusion and diversity is a personal passion of mine, so I find it very exciting to play a role in it," Juncosa says. "And it became very apparent to me that diversity was already important [at McKesson], so I didn't find myself having to make a business case as to why we needed diverse candidates."
Her chief focus in this area is strengthening the pipeline. "We're preparing leaders for future roles and we're looking for opportunities to be strategic for the future," Juncosa says. This includes managing external recognition and partnerships in the marketplace, as well as continuing to build a culture of inclusion at the company. She works closely with McKesson's new head of inclusion, diversity, and culture. "We're really focused on having a united approach," Juncosa says. "It's enterprise-wide thinking that's very aligned to our McKesson strategy, and the work we're doing is really making a business impact."
She's excited that PALMa's work, such as rolling out new initiatives like a national webinar, has already received enthusiasm and support. "Everybody is very plugged in," Juncosa says. "It is refreshing to see a company culture where ERG leaders are so engaged in the inclusion efforts. It demonstrates McKesson's strong culture and engagement."
As McKesson continues to transform, particularly during an upcoming move of headquarters from San Francisco to Dallas, Juncosa's work—in both her VP of talent role and in PALMa—will be increasingly valuable. She's excited to continue to negotiate that transformation in a meaningful, strategic way. "What brought us here isn't necessarily going to get us there," she says. "The work my team is doing is centered around understanding the abilities that are going to take us forward."
She's also glad to be able to do so in a way that connects people. Throughout her career, Juncosa focused on finding opportunities to help others. She's especially passionate about supporting other women and Latinas—whether encouraging a colleague to go for roles in which they can thrive, or sitting on panels to share her experiences. She also focuses on this in her life outside of work: A moving experience several years ago sparked a passion project in supporting Casa Faustina, an orphanage in Peru. She helped the orphanage with fundraising and she regularly volunteers with her family on return trips.
"I'm a connector at heart," Juncosa says. "Having the ability to connect others to support their personal and professional development is a rewarding experience for me, whether to other people, to jobs, or to ideas. And in this role, I get to do all those things."