Events
TAP INTO A POWERFUL NETWORK
Hispanic Executive prides itself on hosting exclusive, signature events both online and in some of the most exciting and dynamic cities around the nation. Connecting people and ideas, Hispanic Executive events celebrate the power of the Hispanic business community and connect you to its powerful audience of Latino decision-makers and inspiring leaders.
---
Upcoming Events
The Path Forward
Wednesday, August 25 from 5:00 p.m.–6:00 p.m. ET
Featuring Mariana Fagnilli, Vice President and Director, Global Office of Diversity, Equity and Inclusion, Liberty Mutual, and Maria José Tobias Rubio Senior Vice President, Global Employee Experience, Liberty Mutual.
Latino ERG Digital Summit
Thursday, August 12 from 3:30 p.m.–5:00 p.m. ET
Featuring T-Mobile's Senior Director of Diversity, Equity, and Inclusion Ester Julia Neznanova; T-Mobile's Director of Global Care Operations and Cochair of T-Mobile's Magenta LatinX Network Juan Longoria; DRR Advisors LLC President Dr. Robert Rodriguez; and keynote speaker and IBM Senior Managing Partner of Strategy, Innovation, and Corporate Development Jesus Mantas.
Download the 2021 Series Schedule
---
Past Events
The Visibility Issue Live
Thursday, July 15
Featuring Latinx filmmaker Armando Ibañez, Barry's CEO Joey Gonzalez, GLAAD's Director of Spanish Language and Latinx Media Representation Monica Trasandes, and CC3 Entertainment Founder Carmen Carrera. Moderated by Visibility Issue Guest Editor and WarnerMedia's Marketing Director of Equity and Inclusion Roman Navarrette.
Latino ERG Digital Summit
Thursday, May 20
Featuring Nike Senior Manager of Global Marketing Science and Cochair of the Latino & Friends Network Lindsey Tsuya, DRR Advisors President Dr. Robert Rodriguez, and CIEN+ CEO and Cofounder and CulturIntel Cofounder Lili Gil Valletta.
Leading Latinas Live
Thursday, April 29
Featuring Every Child Succeeds Board Member and Fifth Third Bank's former Senior Vice President and Chief Financial Officer for Commercial Finance, Hortencia Banuelos; Citi's Head of Global Network Marketing, Eva De La Rosa; and Capital One's Vice President of Human Resources, Cinthia Lopez.
Latino ERG Digital Summit, Q1 2021
Thursday, February 18 from 3:00-5:00 p.m. ET
Featuring Gloria Candelario Hossri of Johnson & Johnson, DRR Advisors President Dr. Robert Rodriguez, and Latinos in Bio Cofounders Carolina Alarco and Jose Estabil, and in partnership with the Consortium of Latino Employee Organizations (CLEO).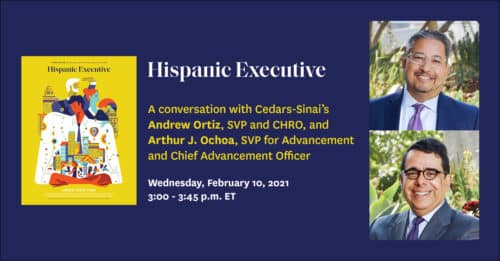 Conversation with Cedars-Sinai's Two Highest-Ranking Latinos
February 10 from 3:00-3:45 p.m. ET
Featuring Cedars-Sinai's two highest-ranking Latinos—Arthur "Art" Ochoa, SVP of advancement and chief advancement officer, and Andrew "Andy" Ortiz, SVP and chief human resources officer.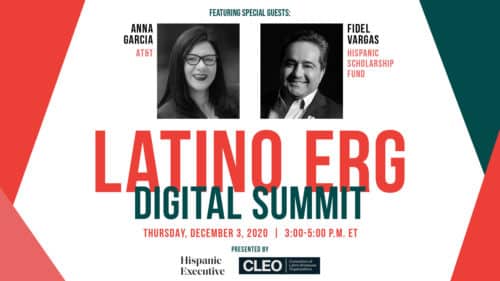 Latino ERG Digital Summit
December 3, 2020
Featuring Anna Garcia, Strategic Account Lead at AT&T, and Fidel Vargas, President and CEO of the Hispanic Scholarship Fund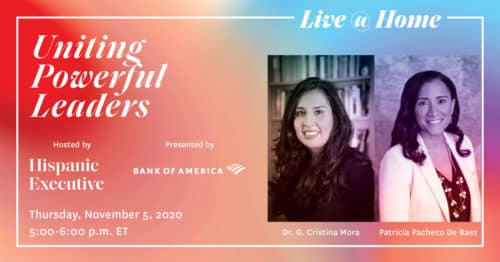 Live @ Home: Uniting Powerful Leaders
November 5, 2020
Featuring Dr. G. Cristina Mora, Associate Professor, University of California at Berkeley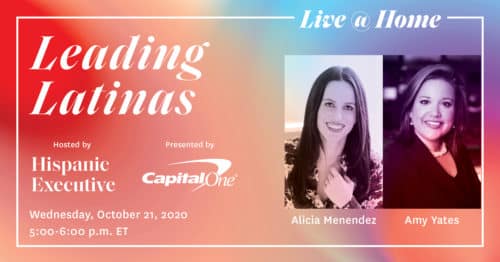 Live @ Home: Leading Latinas
October 21, 2020
Featuring Alicia Menendez, Anchor and Correspondent, MSNBC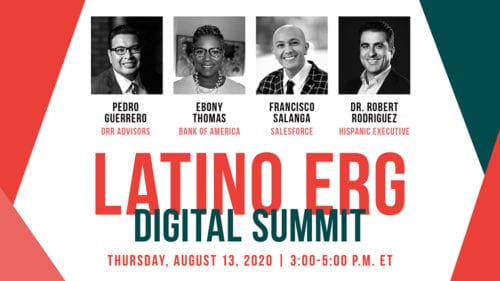 Latino ERG Digital Summit
August 13, 2020
Featuring Ebony Thomas, Senior Vice President, Bank of America
---
Get Involved
Interested in learning more?
We'd love to hear from you!
Nominate a Speaker
---
Sponsorship
Krista Horbenko
Director of Strategic Partnerships