When she became a mother in 2007, Ana Flores made the conscious decision to cultivate a bilingual household—a space where her daughter could learn both English and Spanish, just as she herself had done.
"My whole childhood, I was traveling between El Salvador and Houston," explains Flores, who had one parent in each location. "I learned both languages and became completely bicultural by nature of the way I grew up, so I knew the advantages of that and wanted my daughter to have the same experience."
Flores wasn't sure where to begin, but that didn't stop her. Instead, she went on to quite literally write the book on the subject.
Beyond coauthoring Bilingual Is Better: Two Latina Moms on How the Bilingual Parenting Revolution is Changing the Face of America, Flores launched a successful blog, SpanglishBaby, to create content by and for Latinas. That spirit remains at the heart of her work today as CEO of the #WeAllGrow Latina Network, a platform she founded in 2010 to build an empowered Latina community. Over a decade later, she continues to do exactly that.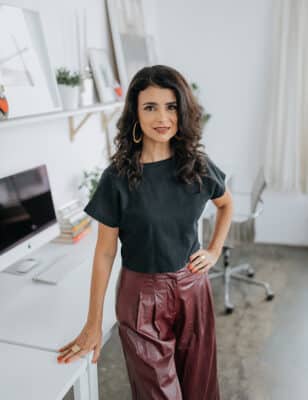 Flores's introduction to content creation came through her work in television production. She held a series of roles at networks such as Univision, MTV Latin America, and what is now NBC Universo—roles that took her from Miami to Mexico to Los Angeles. But Flores's arrival in LA signaled another change in her journey. "Within a year and a half of landing in LA, I got pregnant," she says. "I went on leave and didn't go back because I knew that I wanted to be a full-time mom."
But shortly thereafter, the 2008 recession put Flores's then-husband out of work. Longing for community in that dark hour, Flores discovered the world of mom blogging. Before long, she and a friend came together to start SpanglishBaby in response to an unmet need for content about bilingual parenting.
"The blog gave us the opportunity to put something forward without any money," Flores recalls. "We utilized all of the resources we had as producers—we knew how to bring people on board, create content, and talk to audiences—to build a community of other Latina mom bloggers."
In addition to maintaining SpanglishBaby, Flores went to conferences to learn how to monetize the blog through brand collaborations. The conferences also taught her the value of networking—and motivated her to establish a blogging community specifically for Latinas.
"In 2010, still in the middle of the recession and still with no money in the bank, I launched Latina Bloggers Connect," she says. "Within a month, I had landed my first campaign with Sprint, and then with McDonald's, Clorox, Neutrogena. It all grew and escalated from there because we were the first ones on the scene of what we now know as influencer marketing."
Flores used her new site to help Latina bloggers secure brand deals. "At the center of what we were doing was this community of women taking control of their own lives, their own destinies, and their own finances. They were finding and creating a lifestyle that worked for them, doing something they loved," she explains. "I ended my first blog post, on November 11, 2010, by saying, 'When one grows, we all grow.' That became our motto, and six years later, we rebranded into the #WeAllGrow Latina Network."
In 2015, after a few years of focusing primarily on influencer marketing, Flores organized the first #WeAllGrow Summit. In the ensuing years, the summit became a bigger and bigger success, selling out each year and eventually welcoming women outside of content creation. Twice, Forbes named #WeAllGrow Summit to its list of 19 Conferences Every Creative Should Attend. Flores, too, received widespread recognition, including as one of People en Español's Las 25 Mujeres más Poderosas.
Still, in 2017 and again in 2020, the possibility of bankruptcy loomed. "My resiliency muscle is very strong," Flores says of those hurdles. "I sometimes fear that the hustle and the 'girl boss' mentality have been over-glamorized, so I try to be very real about the financial and personal risks. Everyone is capable of scaling and growing a business, but it's not for everyone.
"What has really allowed #WeAllGrow to survive and thrive over the past eleven years," she continues, "is the fact that we always have our finger on the pulse of where the community is going next, what those needs are, and how they can be met."
Indeed, Flores has been on the front lines as blogs have given way to Instagram and as traditional influencers have developed into activist-minded creators leveraging their platforms for change. "The mission of elevating our voices and stories via the power of community just continues to get stronger," she says. "When you're blazing a trail, you don't necessarily know where it's going to take you, but that's the beauty of it. We have been able to pivot and grow as the community and the digital space have evolved, and now, we want to become a global platform for Latinas."
As she concentrates on taking #WeAllGrow and its network to the next level, Flores reflects back on how it all began. "I still remember receiving that first check from Sprint," she says. "The thing that made me the happiest was, after receiving that check, sitting down and writing checks to the six bloggers we were working with across the country."
From her first brand check to whatever the future may hold, Flores has always had—and will always have—her community's back.