You won't find "oyster shucker" on Rob Rodriguez's résumé, but that job began his journey to becoming executive vice president and chief operating officer at Whataburger, a popular fast food restaurant chain based in San Antonio, Texas.
"That was my first high school job," Rodriguez says of his oyster shucking days. "I worked at Pelican's Wharf, a steakhouse in the Rio Grande Valley near Mexico. Oysters were pretty cheap then, and we sold a lot of them—so I had to get good, quickly!"
Rodriguez soon progressed to busboy, server, and bartender—and actually became a manager before he even graduated from high school. From there, his career in the restaurant industry only grew.
According to Rodriguez, two key stops in his journey were his stints at Steak and Ale and at Romano's Macaroni Grill. "Norman Brinker, the founder of Steak and Ale, was one of my mentors," he explains. "That's where I really cut my teeth on leadership and operational excellence. Norman eventually formed Brinker International—an umbrella for many different restaurants—and I spent ten years at Brinker."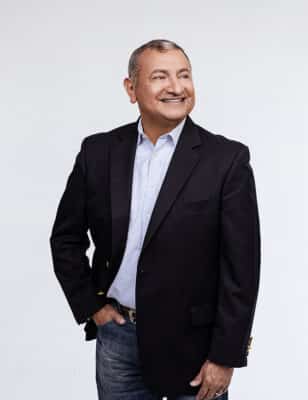 In 2002, Rodriguez joined Carlson Restaurants Worldwide, which then operated TGI Fridays as well as a cruise line, a hospitality division, and other restaurants. Rodriguez was frequently away from home, though, and as a single dad of two daughters—one with significant health challenges—he soon realized he needed to make a change. He found the fit he was looking for at Whataburger, which he joined in 2006 as director of operations for the Dallas/Fort Worth area.
"Whataburger welcomed me, and I found that my values and theirs were well aligned," says the EVP. "Before joining Whataburger, I had arranged for a family trip to Disney World. I wasn't entitled to vacation time yet, but I was still granted a week off with pay for the event. It was a wonderful time for all of us, especially for my daughter Cami."
Unfortunately, that was Cami's last major trip: she passed away a few weeks later, just short of her twelfth birthday, as a result of complications from a surgery. Coping with that loss wasn't easy, but Rodriguez found solace in both his Catholic faith and his family's support.
As Rodriguez explains, he owes much of his determination to succeed—and many of his philosophies as a leader—to his family, particularly his father. "I came home from third grade one day and announced that the teacher had said we'd go to fourth grade as long as we tried our best," Rodriguez recalls. "The next day, he took me to school and marched into the principal's office, where he demanded—in very loud Spanish—to know why the teacher was filling my head with the idea that 'trying' would be good enough. He insisted that I had to learn what was required before moving into fourth grade, because it was the only way I'd ever be a success.
"At the time, I thought he was acting like a jerk," he continues with a chuckle. "Years later, I realized he was right."
The elder Rodriguez also shared some hard-earned wisdom with his son about what it really means to be a leader.
"When I became manager at the Pelican Wharf, he was really pleased—but then he pointed out that, as manager, I'd be evaluated on how my team performed," Rodriguez notes. "He told me to always remember that I needed them more than they needed me, and to treat them accordingly. That's one of the smartest things I ever heard."
Rodriguez puts that lesson into practice every day as Whataburger's "chief encouragement officer." He strives to support his team members and also advocates for the brand itself. "However, being the chief operating officer, my primary role is to understand board performance measures and align teams to achieve and exceed these measures," Rodriguez says.
"Many times, people hear 'fast food' and can't get past the image of someone flipping burgers. I like to point out that opportunities abound in the business," he continues. "Leaders run multimillion-dollar operations—the average volume of our stores exceeds $3 million annually—and are in charge of more than sixty people. It takes commitment, but each person who succeeds can encourage and influence many others."
But Rodriguez's enthusiasm as chief encouragement officer never strays into anything that could be called exaggeration. In fact, one of his favorite leadership philosophies is to simply "tell the truth."
"Sometimes, when you are developing people, you need to tell them when their actions didn't meet expectations or come up to standards," he says. "A good leader will not avoid that situation, and will focus on correcting that behavior without being discouraging. Tell someone they need to try again, or ask for their feedback on correcting the situation."
According to Rodriguez, one of the most important things that people need to be honest about is resilience: giving up is easy, he says, but that doesn't make it the right choice.
"Many people believe, 'This is my lot in life, and I can't do anything about it,'" he remarks. "It would have been easy for me to fall into that trap: I didn't have much growing up, my parents didn't speak English, and I didn't have a privileged childhood. But even people who have been very blessed can feel that way.
"If you want to be successful, you must open your eyes to the opportunities around you, and be optimistic," he continues. "We all have a little devil and a little angel on our shoulders. The angel tells us we can, and the devil says we can't. But I believe the Lord made all of us to be exceptional, and that we have everything we need to be successful—if we only look for it."