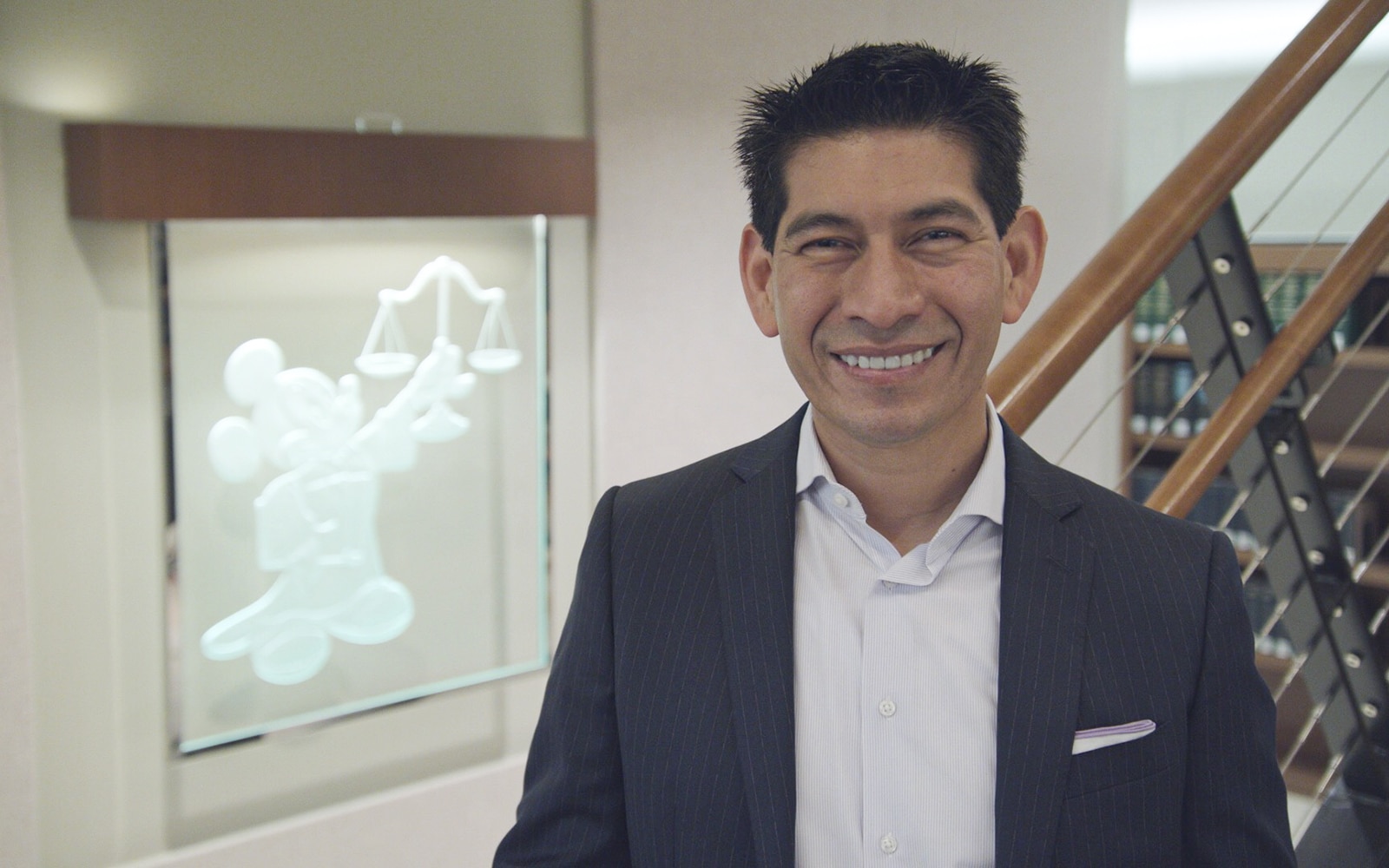 Fabricio Lopez wanted to become a lawyer in the United States. He'd attained a Licenciatura degree in Ecuador, his native country, where he met his wife; the couple then moved to her hometown of Los Angeles. He found a job in the legal field thanks to the preparation he received at UCLA Extension's Paralegal Training Program, worked to perfect his English skills, and applied to law school.
That's when he got some bad news. American universities wouldn't accept his foreign degree. Lopez faced a choice: he could attend an unaccredited law school or start his academic career a second time.
Although the decision delayed his professional goals by three years and added a new financial burden, Lopez obtained his college degree, enrolled at Loyola Law School, and attended classes at night while he worked during the day.
Today, Lopez is principal counsel of immigration and child labor law for the Walt Disney Company, where he's worked for nearly twenty-five years. While being required to attend college a second time was frustrating at the time, Lopez says it set him on the right path. "Going back to college made me a better lawyer because I had access to a well-rounded US education I wouldn't have otherwise received," he explains.
Lopez gained critical thinking skills, learned how to communicate more effectively in his second language, made important professional connections, and ultimately passed the California bar exam.
A Commitment to Community
Fabricio Lopez's dedication to immigration work and helping others extends far beyond his role at the Walt Disney Company. He has lectured on Business Immigration Law at USC and presented at conferences sponsored by the American Immigration Lawyers Association (AILA), Los Angeles County Bar Association (LACBA), and the Beverly Hills Bar Association. His volunteer work is equally impressive: he's served as a member of the ABA's Unaccompanied Minors Working Group and the advisory committee of Kids in Need of Defense (KIND), and well as volunteering for several pro bono organizations, including Public Counsel, Asian Americans Advancing Justice, and Bet Tzedek.
Lopez was already working as a paralegal at Disney, supporting lawyers who were drafting immigration cases and advising on those matters. But with his law degree in hand, he was ready for a promotion. In 2004, he became a corporate immigration attorney and started advising his own clients across the famed entertainment company's broad operations in video games, IT, TV and film production, new media, theme parks, cruise line, retail, theater, comics, internet, finance, and marketing.
Disney, of course, is known for making dreams come alive on stage and screen, and Lopez enjoys his job because he's helping the company achieve its business goals and foreign nationals turn their own dreams into a reality. He's involved anytime someone in the enterprise needs help hiring a person who needs a work visa. He also assists and advises regarding employment-eligibility verification and child labor laws.
While Lopez's own immigration experience was a positive one, he knows others face considerable challenges. That's given him empathy he draws on today. "Coming to live or work in a new country is stressful because the process is complicated and in some cases, there are bad actors who try to take advantage of foreign nationals," he says. "I help people navigate the system and overcome obstacles along the way."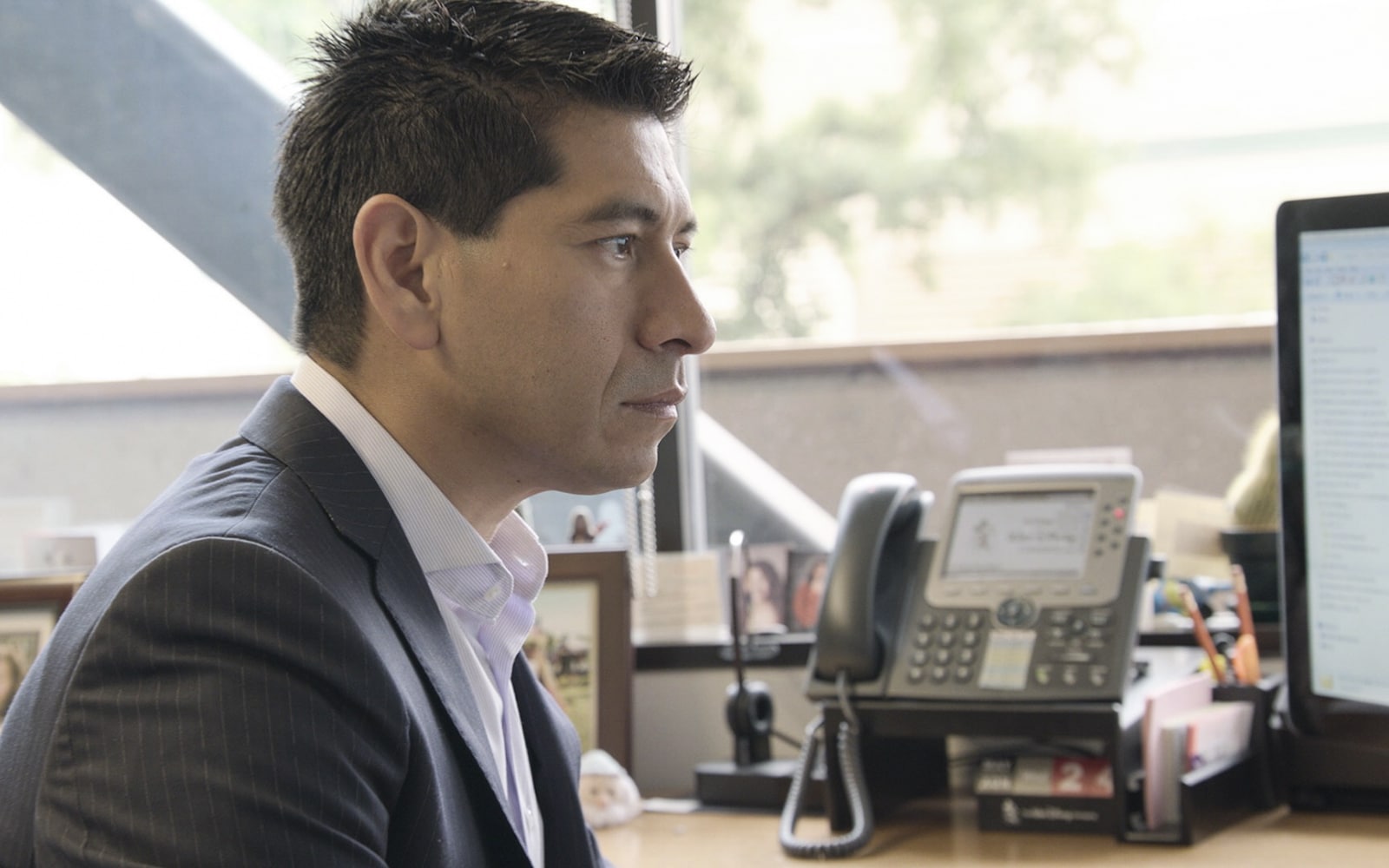 It takes patience, compassion, and understanding. In 2012, Lopez was promoted to his current principal counsel role and started developing immigration strategies to help the company hire foreign talent. As he got more deeply involved with US immigration, he started hearing horror stories of injustices and the suffering of vulnerable foreign nationals, particularly unrepresented children.
That motivated him to work as an unpaid advocate, and Lopez now co-chairs an internal pro bono immigration program at Disney and volunteers for several organizations, including Kids in Need of Defense (KIND) and Public Counsel.
The work is especially fulfilling. "I love what I do at Disney and am thankful that they are supportive of their lawyers doing pro bono work because it's another way we can make a difference in people's lives," he says.
During law school, Lopez helped a woman from Honduras gain legal status. She needed to stay to take care of her child, a special needs US citizen, and Lopez's work allowed the family to remain intact.
Lopez is finding more ways to use his background, skills, experience, and knowledge. He is an adjunct professor at Loyola Law School and an instructor at UCLA Extension, where he teaches his own US Business Immigration Law curriculum. It was the advice of a mentor (along with the wisdom of a supportive wife) that sent Lopez back to school.
As he meets and interacts with students today, Lopez stresses three things that have been important in his own career: mentoring, networking, and giving back. He helped Loyola and a former student create the Loyola Immigrant Justice Clinic, which provides representation to those unable to find immigration legal services elsewhere.
It's Lopez's platform at a well-known company like Disney and distinguished academic institutions such as UCLA Extension and Loyola Law School that's helped him do so much in the legal and immigration communities. He cochaired Disney's diversity and inclusion group, Disney Lawyers of Color, and while he encourages minorities to work in NGO and service fields, he also stresses the importance of representation in the legal and corporate worlds.
"Latinos often face pressure to use their legal degrees only in public or nonprofit organizations, but it's OK to choose a path to a big firm or company and then use your voice, influence and resources to create opportunities for others and give back," he says.
COVID-19 created both challenges and opportunities for Disney. Lopez helped numerous Disney productions and businesses continue to operate during the pandemic and recently helped the company reopen The Lion King on Broadway. He's listed in the playbill and also has a credit in the theatre production of Frozen.
Lopez appreciates the recognition, but says the real joy comes when he helps the company's creators and employees accomplish their goals and dreams.