Congratulations on this recognition by Hispanic Executive for your exemplary leadership. Having been in your shoes as a 2016 Top 10 Líder, I am very humbled to be among you—and yet I'm compelled to tell you that while this recognition is an honor, it is also a responsibility.
Your leadership inspires others beyond your team, beyond your company, and even beyond your industry. You all have amazing stories. Reading each one made me reflect on my own story and what I believe to be my purpose—helping to bring up the next generation.
Now, together, we have to raise the bar even higher.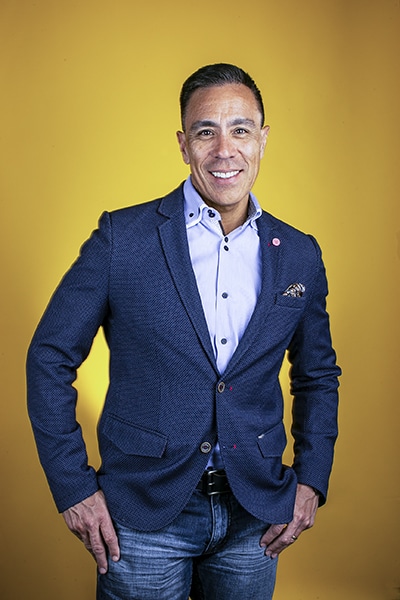 This prestigious recognition is one that I remember as a special moment in my life—so much, in fact, that the feature is displayed on my wall. It reminds me to continuously ask myself: Do I have the drive to wake up every day with that same level of passion, to move myself adelante? Am I inspiring others to want to find their purpose?
When I look back, the first glimpse of my platform was as a young Navy sailor. I had no concept of diversity because I grew up on the eastside of Pueblo, Colorado, which is a mostly Latino community. Looking back, I realize this made me a bit sheltered.
One day, in a Navy boot-camp inspection, the commander asked me to remove my cover (hat). He took a look at my hair, which was just growing back from "the shave," and it was sort of slicked back. He said, "How did they let a cholo like you in my Navy?"
I did everything I could to not do something stupid, but in reality, that was a powerful moment for me. A moment when I told myself that I would never, ever let anyone tell me what I could or could not do. It created a fire, an inspiration, a determination to never allow myself to let color, race, gender, or whatever get in the way of moving myself and others forward. Adelante.
I didn't realize it at the time, but the Navy helped lay the groundwork for my platform. A platform that bridges people and technology.
In addition to inspiring my drive to move forward, I credit the Navy for my introduction to technology. It's where I learned about an exciting field called telecommunications and networks. The technology experience I gained allowed me to accelerate my career and would ultimately provide me the privilege of becoming an executive leader at one of the greatest technology companies in the world: Cisco.
In the early days of the Internet and communications, it became evident that this was a hot area, and it felt like I was in the right place at the right time. So a bit of luck—and a lot of ganas and passion—helped me find my path.
Along the way, though I loved my job, I knew I had even more to offer. I asked myself, "Why am I here on this earth? Why did I end up here, where all this technology is taking off?" The answer came to me over time.
I leverage my platform (career) to inspire my purpose.
Years ago, when I took on the role of leading Cisco's Hispanic organization, Conexión, someone said to me, "Hey, G, there is something motivating about you. You may not see it, but I see it, and you have to use that. You have a responsibility to inspire others as you progress in your career. And always remember where you came from to know where you are going." This phrase really stuck with me, and now I share it with others. Our past makes us who we are and creates our foundation. That foundation can be used as a springboard to do new and exciting things that impact the world.
A short time later, I was at a community event for Cisco Conexión where we were giving out backpacks to students—an event I didn't feel I had time for because I was too busy at work.
A little boy cried when I gave him a backpack. When I asked why, he replied, "I've never had a backpack before."
I had to take a moment. I told myself, "You have to step up here, buddy." It was then I realized that my role wasn't just about work anymore; it was broader. I now had a clear purpose: to help raise the next generation of leaders—of Hispanic technology leaders.
In the technology industry, the bar seems to be set at 5 percent. If your company has a Hispanic/Latinx demographic of 5 percent, then you're doing pretty well. With Hispanic women the numbers dwindle even more. And that's just not good enough. This is where I believe I can make an impact and I have fully embraced my purpose of raising the next generation of Hispanic technology leaders.
I'm very proud of the work being done by the Hispanic IT Executive Council (HITEC) Foundation, which focuses on students in technology. I served as the board chair of the foundation and have worked with incredible people who share my purpose. This year, I was blessed to become chairman of the broader HITEC organization, and we are laser focused on building executive leadership in technology and bridging to the pipeline provided by the HITEC Foundation. 
"A little boy cried when I gave him a backpack. when I asked why, he replied, 'I've never had a backpack before.' It was then I realized my role wasn't just about work anymore. I now had a clear purpose: to help raise the next generation of leaders—of Hispanic technology leaders."
We can also make a difference as leaders in our organizations.
I often have the opportunity to connect with peers and customers, and when I ask them about the biggest impediment to driving a transformation or change, the answer I used to expect was "technology." I'm no longer surprised that the answer I actually get is "culture."
Culture is propagated and inspired by the leader, and as leaders we have the opportunity to influence real change. Leaders have to believe in the vision they set with all their heart. (I wear my heart on my sleeve, so it's easy to see if I do or don't believe in something.)
More importantly, leaders have to believe in the power of relationships. I call my philosophy ROI, which stands for Relationships Over Issues—something I learned from a great mentor of mine. Every day we deal with issues. But just like financial ROI (return on investment), when you invest in relationships, the business and emotional returns from resolving issues can be exponential. So really, ROI equals ROI.
Every year, I set the tone for my teams with a word or phrase of the year. This year's phrase is: "Inspire reinvention." I ask myself every day, "Are you living up to that phrase?" I've driven reinvention in the past, but this year it has a more profound personal meaning. I've shifted my role at Cisco and my role in HITEC, so I'm changing my whole mind-set. After having been in IT for decades, I'm taking the foundation I've built to reinvent myself—remembering where I came from to accelerate where I go next.
In changing my mind-set, I've noticed that it's the little things that make a big difference. I've started to take a different route to work. I've changed my workout routine. I've even changed the sequence of how I get prepared for the day. All to adopt a new mind-set and inspire reinvention.
As a Top 10 L
í
der, I honor you: You are amazing and inspiring!
You have all worked very hard in your respective areas to get to where you are today—your platform. Everyone has a story, and as you think back to yours, you'll see that you haven't gotten here alone. None of us have. We have built relationships along the way, and the people who have helped us get here should be remembered.
Just as I feel very strongly about leveraging my platform to fulfill my purpose, my hope is that all of you feel the same responsibility to raise the next generation to walk in your shoes someday.
Felicidades!
Guillermo "G" Diaz
SVP, Customer Transformation
Cisco Systems
---
RELATED LINKS
Cisco's Leading Latina Maria Martinez ⟶