Marisa Moret has always loved politics—a campaign volunteer from the age of twelve, the Georgetown government major has been fascinated by public policy since she can remember. So it came as a surprise to many around her when she decided to enroll in law school.
"I went to law school never planning to actually practice law," the UCLA grad says. "It was a boys' club back then, and I knew there was something about being a lawyer that would give me the level of respect I was looking for."
Today, there are very few who would not readily and willingly accord Moret that level of respect. Before cinching the position of chief of staff to the senior vice president of global policy and communications at Airbnb, Moret spent decades building connections in both the legal industry and the San Francisco political arena. She worked her way up to partner of her firm by day and spent her "free" time as a field volunteer, city commissioner, and eventually the right hand and top advisor to San Francisco City Attorney Dennis Herrera.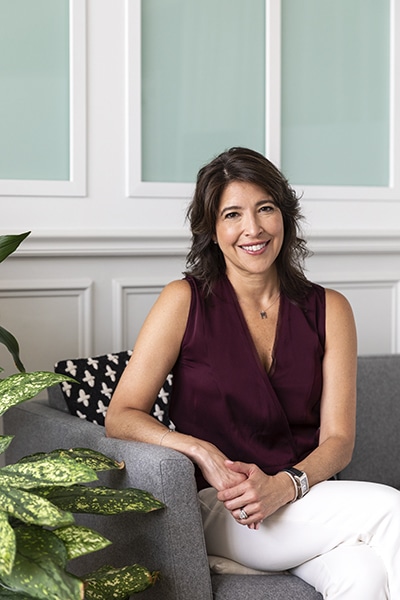 According to Moret, her transition away from traditional legal and political work and toward the tech industry has been relatively seamless. Her work at Airbnb is much more similar to political campaigns than one might think, she explains.
"The pace here is really fast, just like in a campaign. But more importantly, in both areas, you have to be really intentional about everything, especially with the people you're bringing onboard," the chief of staff says. "Our policy team here at Airbnb is built out and structured like a political campaign, and most of our people have actual political campaign experience rooted in advocacy and community."
But it's more than just the campaign-like structure at Airbnb that resonates with Moret: it's the mission, the history, and the impact that the home-sharing company has on communities all around the world.
"We want to help create a world where anyone can belong," Moret says. "Communities of color have always shared their homes—there were times when we weren't allowed into hotels, or just couldn't afford a room. I can remember countless times when a 'sort of' cousin visited my family because they needed a place to stay.
"Airbnb's mission is to create a world where anyone can belong anywhere, which is what really drew me to the company. We're helping to democratize travel and provide access to places around the world where people may not have otherwise had the chance to visit."
Of course, the hosts play an integral role in creating that network. "When I came here, I knew I would be serving the community. Our hosts—people who open up their homes and keep up to 97 percent of the profits—are essential to our company and our community. In my role, I can help our hosts truly reap the benefits."
At the end of the day, Moret says, that sense of economic empowerment and community commitment is what makes Airbnb truly mirror her work on the frontlines of local government. "It's about the constituents," she remarks. "It's about building relationships and creating trust with the people in your community so that you can help fight for them and share their stories."
Moret's own story is bursting with standout moments. She gave Hispanic Executive a behind-the-scenes look at a few of her most memorable experiences:
Consulting Nancy Pelosi
When Moret became the first Latina equity partner at Nossaman LLP in the early 2000s, she did so with the advice of none other than Nancy Pelosi. "I went to college with her son, and at dinner one night, I told her that I was trying to become partner," she remembers. "She told me to go to every partner, to talk to them directly and ask if they had any concerns about making me partner, and to also ask for their vote. She taught me that you can't make assumptions about people—even the people who like you, because they're probably going to be the toughest on you."
Working the Erin Brockovich Case
"I didn't know that the case was going to be a big deal at the time," Moret says of her work on the Erin Brockovich case. "I was very junior; my job was to review a lot of documents and read scientific papers and understand the harm caused by hexavalent chromium. But I learned that the facts, and how the facts are presented, make all the difference in the world."
Cultural Alignment—from Staff to Hosts
"Our team has grown tremendously since I joined in 2016," Moret says. "But we make sure we hire people who embody our core values. In fact, part of the hiring process includes core-value interviewers who ensure we recruit people who embody the same principles as our hosts—be kind, welcoming, and respectful, no matter the position."
---
Returning the Favor
Marisa Moret knows exactly how meaningful it is to have someone reach out and give you a hand. When she was still an associate attorney, she started working with a Latino general counsel who helped transform her career. "The first meeting I went to, he pulled me aside and asked, 'Are you a Latina?' I said yes," Moret recalls. "The next thing I knew, he called the managing partner and said that he wanted me in on all our meetings going forward."
Inspired by the mentors, colleagues, and bosses who gave her room to grow, Moret now makes a concerted effort to spend as much time as possible mentoring and helping younger executives navigate their careers. "It's so important, particularly for Latinos," Moret says. "There aren't that many of us at the top, and the next generation of leaders needs to be prepared to step forward and step up."