Have you ever watched a television series by Aaron Sorkin or Amy Sherman-Palladino? From The West Wing and Newsroom to Gilmore Girls and The Marvelous Mrs. Maisel, they create worlds of fast-paced dialogue in which strong personalities are put in situations of intense vulnerability. These captivating scenarios expose the thoughts and emotions experienced during the human-nature processes of learning and growing, failing and adapting.
If a series were created about the life of Katia Beauchamp, it would be best written by Sorkin or Sherman-Palladino. The fast-talking, quick-thinking, open and honest Beauchamp began her career as an almost instant success. And ever since, she has been learning and growing, failing and adapting in the spotlight.
"[Leadership] is such hard work," Beauchamp says. "Success hides a lot of your flaws. People start to think of you as being so good at your job, and I assure you that when I think about the job title I had then, I'm just like, 'That was robbery. I was not good at that.'"
As the story goes, Beauchamp and her Harvard roommate, Hayley Barna, cofounded a beauty-product subscription service called Birchbox from their college dorm room. Their subscription-service model would go on to be copied by dozens, if not hundreds, of other ecommerce businesses.
Beauchamp's entrepreneurial ambition was driven by her desire for self-realization. She was good at math and had been finding her way into a career in finance. A mandatory class on entrepreneurship—one that mostly covered cases of failure—sparked inspiration. She laughs when thinking about it now. Despite the sobering reality of failure that the class taught, Beauchamp had what she describes as the wrong reaction: "This sounds awesome."
At the time, she felt that no one cared about her brain. "It was like, 'All you can do is this Excel model,'" she recalls. "And I was like, 'I think I can do more.' So, when I started learning about entrepreneurship, I was like, this is the opportunity to find out. Test the hypothesis. Could I do more? What if I was in charge of limiting myself? What if I was the only thing standing between me and the goal? I just became obsessed. I was like, 'I just want to know myself. I just want to know what I could do.'"
To sum it up: Beauchamp looked with disdain on the reality she saw, so she decided to invent her own.
It takes a certain kind of toughness, a fearlessness, to invent your own reality. Beauchamp calls it resilience—"which I define as being knocked down over and over again and being willing to get up," she says. "I have never really been that afraid of being knocked down, and I think it's because if you don't come from a lot, the fall doesn't feel far."
"What drives me and motivates me every day is to change the expectations of what it means to go to work for people at Birchbox."
It's true that she started her business at a very young age, when she was able to take risks without much fear of failure, but Beauchamp's resilience is also a byproduct of confidence—a trait she learned from her grandmother. "My grandmother was this powerful and incredible matriarch, a feminist of her time," she says. "When I was four years old and I said, 'Abuelita, I want to be president of the United States,' she said, 'Absolutely.' And the whole family started planning, who's going to be on my security detail, who's going to be in the cabinet. She was just this really important person in my life."
It was this confidence and resilience that carried Beauchamp through the first few years of Birchbox—years in which she learned some very important lessons: 
1. The Difference Between Delegation and Empowerment
"I always had this feeling that I needed to protect people from what was really hard, protect them from failure," she says. "And that just disengages everybody. It also makes you feel extremely alone. Everyone says it's lonely at the top, but it doesn't have to be. You ask me a question, 'How should I do this?' And of course I have an answer for that! But I didn't realize this was taking away people's agency and really not allowing them to be with me on this journey of evolution."
Beauchamp has worked on finding a happy medium where she leads while also giving away significant responsibility—of choosing the times when she is hands-on, and the times she should step back to let others lead.
2. Which Customer to Target
"The biggest shift for Birchbox was when we had this epiphany in 2014," she recalls. The company was trying to figure out how it fit into the beauty industry and discovered that other beauty companies focused on the hyper consumer—"people who really like beauty," Beauchamp explains. "Someone who walks into a Sephora or Bloomingdale's and is like, 'I'm so excited to see all of these options.'"
These other beauty companies would design their user experience around this hyperconsumer, but Birchbox noticed that its customer base was "the complete inverse of that," she says. "Our customer came in skeptical and moderately interested in beauty, which is exactly how my cofounder and I felt about it. I want to not wash my hair, get out the door in ten minutes, and I would like to freeze myself in time. A lot of women that we talked to felt that way. Like 70 percent of the market was just not even considered [by the beauty industry]." So Birchbox homed in on the everyday consumer. "It was hard," Beauchamp says. "We're going after a customer that is not looking for anything and is, by definition, fine.
"But here's what I believe," she continues. "Beauty is discretionary. No one has to do it. So why should anybody be fine when we spend discretionary dollars? That's BS. Discretionary dollars should be delightful to spend. You should feel smart when you're spending it. And 70 percent of the market is a huge opportunity. So, the biggest shift has been shedding everything that looks like a beauty company and making sure it's about the individual and not the product."
3. Focus on Innovation Relevance
During the journey of self-discovery for both the company and Beauchamp, technology has played an important role. But Beauchamp did her best to steer clear of the bright, shiny distractions of technological advances.
"I think innovation is important, but it gets confusing to focus on innovation," she says. "At Birchbox, we focus on relevance. Innovation for the sake of innovation is like, 'Great, that's a party trick.' There's a lot you can do with technology, but if it's not useful to the consumer, then you've just spent a lot of time impressing somebody else. We learned early on at Birchbox that focusing on relevance could take you to a different place and could be innovative without the traditional way we think of innovation. Our vision, which keeps us on this treadmill of change, is to be forever useful and always delightful."
LISTEN: Latinas, America's Most Powerful Entrepreneurs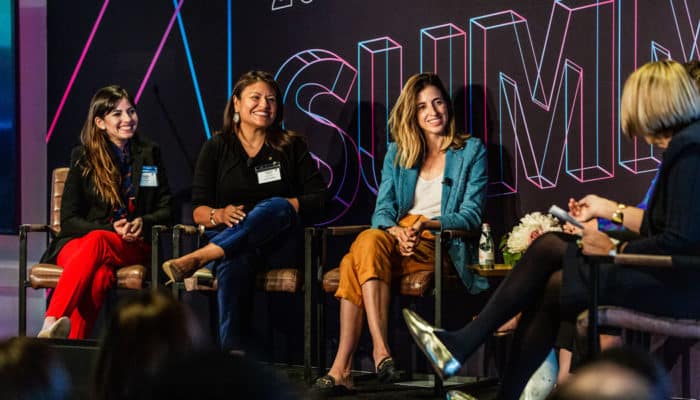 Now ten years since its founding, Birchbox has recently been making some big—yes, innovative—moves to further its relevance with the everyday consumer. A partnership with Walgreens has resulted in a dozen Birchbox shops now open within the drugstore's locations, and a nonbinary rebrand has Birchbox selling gender-free products.
The company's journey is advancing, but so is Beauchamp's own leadership journey. The experience of inventing her own reality has been so powerful, she has become a champion of the mind-set.
"What drives me and motivates me every day is to change the expectations of what it means to go to work for people at Birchbox," she says. Unlike traditional corporate careers, where, as she explains, "you have to wait five to fifteen years in your career before you can have an idea and contribute," Beauchamp wants staffers to have a voice, to be able to create their own realities. "Because once you realize how possible it is to invent reality—inventing reality means you get to define the start line of when it begins—you can just be like, 'Right now, crossing over.'
"I hope that the biggest impact I have from Birchbox is the throughput of thousands of people who have a different expectation and change the workplace so that my kids can go to work and have a voice, be part of creation and inventing their own reality. I want that for my kids, I want them to understand how possible it is to create."
---
Related Links