The most powerful session of The Alumni Society's 2019 Leadership Summit was a panel discussion between five top Latina entrepreneurs entitled "Strength in Numbers: Latinas, America's Most Powerful Entrepreneurs."
The panel included (pictured above, from left): Carolina Bañales, founder of Eyecue Insights; Carolina Huaranca, principal of Kapor Capital; Katia Beauchamp, CEO of Birchbox; Susie Jaramillo, president and chief creative officer of Encantos Media; Marina Diaz Ibarra, partner and managing director of Wolox Inc.; and moderator Monica Mandelli, managing director of KKR.
Listen here for the full discussion, and scroll down for a few of our favorite moments.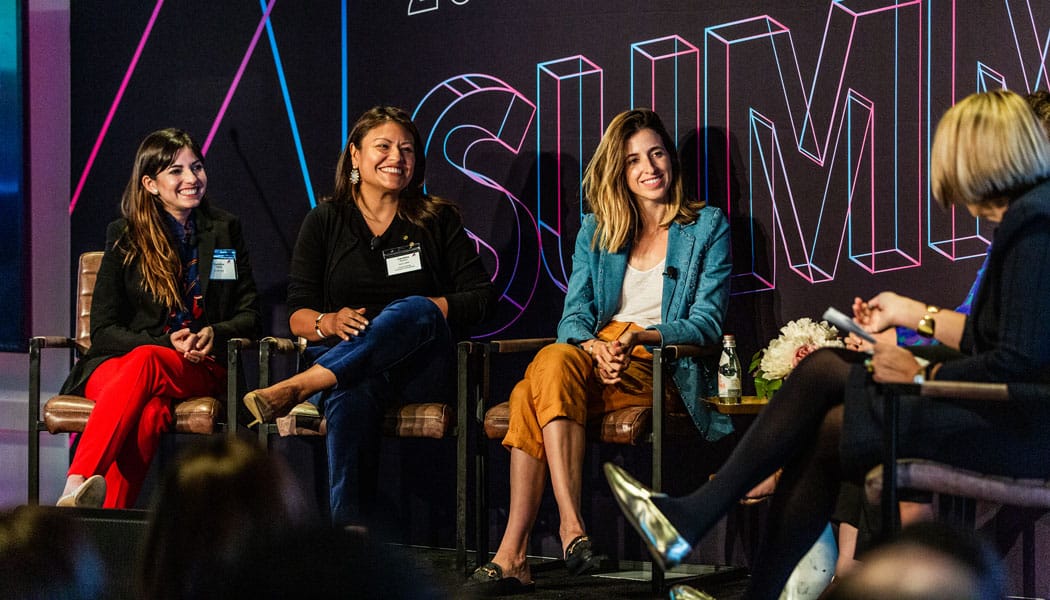 "I've noticed how when I walk into rooms, sometimes I'm treated differently. I remember going to a demo day event at a big tech company and I was doing a pitch. I walk into the room, and a worker who was cleaning handed me a plate. That actually happens quite often. It was a really telling experience for me about what they think someone who is Latina is meant to do. I actually went into that pitch competition and I won it."
—Carolina Huaranca, Principal, Kapor Capital
"Immediately when you get pregnant you're like, 'But I promise I'm committed.' There's this moment when you realize you have to start over to prove your commitment to an organization. But [companies], I can promise you: mothers are your secret weapon. We are so powerful."
—Katia Beauchamp, CEO, Birchbox
"I think that we need to bring more men to the conversation and educate them on why [female empowerment] is so important for the society that we want to build. It has to stop being just a group of women talking about rights—bring more men to advocate. They're actually convinced that diversity has an economic value for a corporation."
—Marina Diaz Ibarra, Partner and Managing Director, Wolox Inc.
---
RELATED LINKS
https://hispanicexecutive.com/2019/leading-latinas-2019/
https://hispanicexecutive.com/2019/zoe-saldana-leading-latina-2019/