Ricardo Madan IV's family fled Cuba for Miami in the late 1950s. His grandparents, uncles, and father (who was eleven years old at the time) escaped the regime of Fulgencio Batista in 1958, with the rest of the family following once Fidel Castro took power in 1959. According to Madan, it's "a story of hardship, sacrifice, austerity—not dissimilar to the story of a lot of people who fled after the Castro regime took over." One thing that makes his family's story different, though, is that Madan's grandfather was a revolutionary who was involved in overthrowing the governments of not only Batista but also the previous dictator, Gerardo Machado.
"When he got to the US, his pursuit of justice didn't cease," Madan says. He was a founder of the Miami Medical Team, which provided medical assistance for wounded Nicaraguan Contra rebels in the 1980s, and later had a street in Miami named after him to honor his humanitarian efforts. (Madan shares his name with his father, grandfather, and great-grandfather.) Meanwhile, Madan's grandmother became one of the first female bank tellers in Miami, while his father began working at a railway depot at age eleven, loading produce onto and off trains (child labor laws were less strict then, Madan notes).
Madan has spent his entire career at the technology and talent services company TEKsystems—rising through the ranks from IT recruiter to vice president of technology products and services—and he credits his work ethic to his upbringing. He grew up in Miami and São Paolo, Brazil, where his father was sent for his job as an industrial engineer. As a result, he became fluent in Portuguese as well as Spanish and English. In high school, he earned both athletic and academic scholarships to Barry University in Miami Shores—where, he admits, he lost focus a little.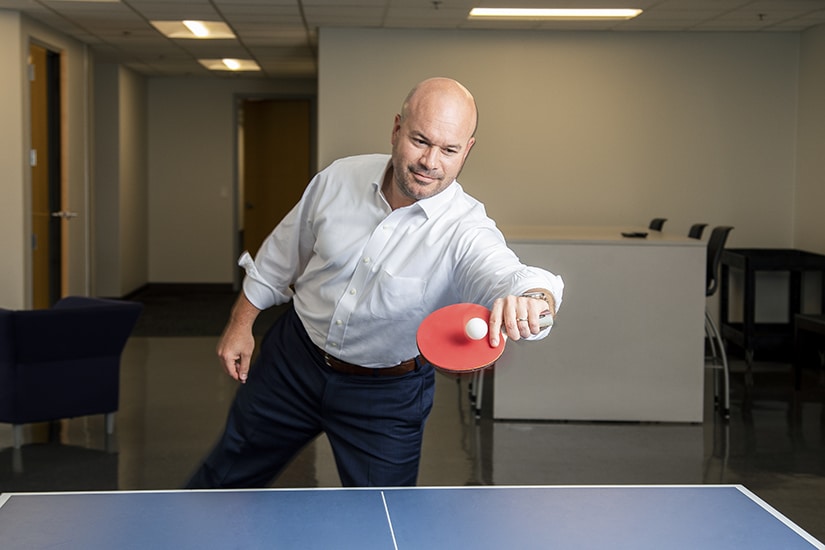 "I was more interested in socializing in Miami Beach during my first couple years in college," he says. "But thank God that my Cuban immigrant work ethic was ingrained in me from the time I was a kid. Even though I would go hang out in South Beach, I still knew I had to work my butt off."
Madan worked three jobs in college, majored in marketing, and did well enough academically to get offered a job as a junior stockbroker at a prominent investment banking firm before he graduated. He'd already accepted the position when a friend asked him to come to a job fair for moral support; the extroverted Madan saw it as a great chance to talk to people and show off the new suit he'd just bought for job interviews. "I was very proud of my new suit," he says.
"There's a reason I'm still at this organization. It embodies the spirit with which I was raised—to value an abundance of diversity."
He ended up talking to some recruiters for Allegis Group, the parent company for TEKsystems, and was impressed by their passion for the company. The next week he visited their Fort Lauderdale office, where he discovered he liked the energy and what he described as an inclusive culture.
"They were totally cool that I was a Cuban kid from Miami," Madan says. "Being welcomed allowed me to show up as my authentic self, speaking Spanish. At [the investment bank], I could tell that I wasn't going to be able to be the true me. You had to dress a certain way, act a certain way."
After being hired as an IT recruiter, Madan has held roles in consulting, sales, marketing, and leadership throughout the course of his twenty-one-plus-year career. He's also helped build many of the company's technology practices, which help TEKsystems' customers successfully navigate areas such as cloud, app modernization, analytics, and information security.
The initiatives he talks about most passionately, though, are the ones related to corporate social responsibility. Women and minorities tend to be underrepresented in the tech industry, which Madan calls a "head scratcher," since there are more IT jobs than there are people to fill them. "You look out across our underserved communities and there's a lot of talented people," he says. To address the issue, TEKsystems has been partnering with companies and nonprofits to fund coding camps and other skills-based training initiatives for women and minorities, with the aim of hiring as many graduates as possible.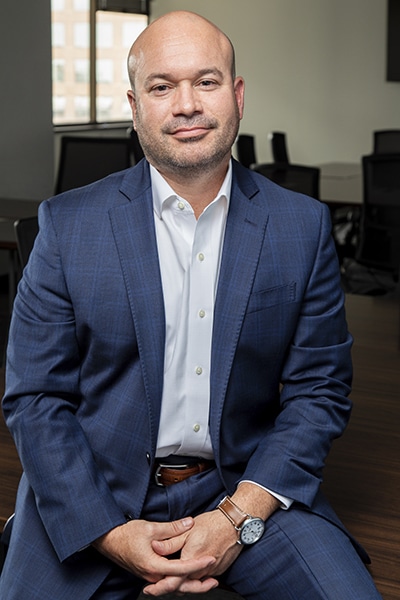 "There's a clear benefit to us—we're able to fill more in-demand tech jobs faster with qualified talent that we have a hand in curating," Madan says. TEKsystems donates more than $2 million a year to these partner programs, which include DEVELOP(her), an initiative from tech training institute Grand Circus that provides scholarships for women to do coding bootcamps; and Per Scholas, which provides free IT skills-based training, mostly for women and people of color. They also partner with the Pat Tillman Foundation and Vets in Tech to help vets and their spouses coming back into the workforce find jobs in technology and corporate environments.
The result, Madan says, is that since 2015 TEKsystems has more than five hundred placements from their partner programs, and, currently, 24 percent of the TEKsystems consultants are women and 37 percent are people of color. "There's a reason I'm still at this organization," he says. "It embodies the spirit with which I was raised—to value an abundance of diversity.
"With the Cuban immigrant culture, there's an ingrained desire to ensure that people around you don't have to struggle as much as you did," he continues. "You're trying to build up the people around you, and in turn they're going to help build you up. A rising tide will float all boats. I believe in that."
---
RELATED LINKS
https://hispanicexecutive.com/2019/christopher-garcia-dell-technologies/
https://hispanicexecutive.com/2019/maria-martinez-cisco/