Dressed in a navy-blue jumpsuit with satin sash—attire that exudes her confidence as a patriot and a feminist—María Teresa Kumar stood comfortably, her hands in her pockets, on the stage at L'ATTITUDE 2019 where she was about to begin her presentation. She squinted and covered her eyes as she looked out over the crowd, saying, "So I don't think you guys can appreciate how bright it is."
Though she was referring to the stage lighting, her statement tells a great deal about her attitude.
Just a few minutes prior, she was seated next to Al R. Cardenas in what Kumar said was supposed to be a conversation that crossed the political spectrum, but really reflected unity. During this session, Kumar's positive outlook became evident.
"When people say America is broken, I say ask any immigrant what broken looks like," she said, with Cardenas nodding in agreement. "That's what they fled."
Kumar is speaking from experience, though "flee" is not the correct term for her story. She and her mother migrated from Colombia when she was four years old so that her ill stepfather could convalesce with his family in Sonoma, California. Kumar continued to spend summers in Bogotá, gaining an acute awareness of the lack of opportunity she would have had in Colombia compared to the wealth of opportunity America offered.
When she became a naturalized US citizen at the age of nine, she went back to school the next day. "I went to a Catholic school and the teacher always asked, 'What are you thankful for?'" she recalls. "People were thankful for things like their cat. I remember raising my hand that day and saying, 'I'm thankful for being an American,' and I could tell that nobody in my class knew what that meant. My teacher looked at me like, 'How do you know what that means?'"
The nine-year-old Kumar may not have been able to explain her statement of gratitude, but she understands it very well now. "I said it because I deeply believe in this country," she explains.
When she was in fifth grade, she came home from school crying. Her father asked what was wrong, and she told him that she had just learned the natural-born citizen clause in her studies of the constitution and realized she could not become president of the United States.
"I was precocious," she says, laughing. "But the reason it hurt me was because I deeply believed that there were no barriers, and all of a sudden a barrier had presented itself in the country that told me I had none."
She explains further, "I've been fortunate enough to travel the world and see very developed countries, and I know that, as a brown woman in any other country born of my circumstance, I would not have been able to self-realize."
Her optimism is radiant—but it should not be mistaken as naïveté. Kumar understands the challenges facing America today. She sees the hatred, the division, the "tribalism," as she calls it, that our current administration champions.
She saw it firsthand very recently, in fact. "I have family in El Paso," she told the audience at L'ATTITUDE. "My kids were playing in that same mall two days before the shooting. El Paso is considered [one of] the safest [cities] in the country and it's 85 percent Latino. This individual jumped into his car and drove ten hours to send a message."
She then read a portion of the El Paso shooter's manifesto: "This attack is in response to the Spanish invasion of Texas. . . . It helps remove the threat of the Hispanic voting bloc."
The Hispanic voting bloc is a group Kumar knows very well. She works to empower and engage them daily in her role as the founding president and CEO of Voto Latino, a 501(c)(3) nonprofit focused on civic engagement, issue advocacy, and leadership development for the Latino community. Since its inception in 2004, Voto Latino work has focused on voter registration, but over time, it has evolved.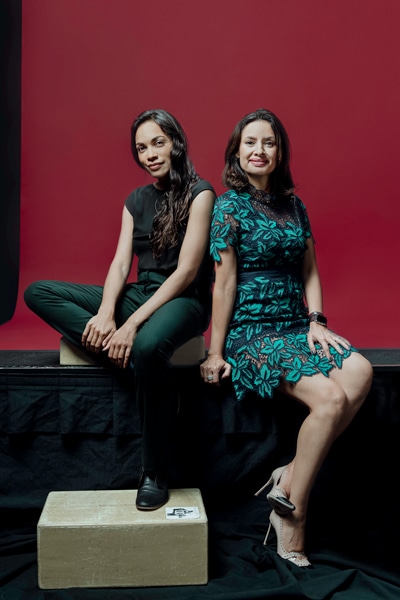 "We do voter registration, but then we identify what issue you care about," Kumar explains. "And once you tell us the issue, then we will tell you how and when to get activated. We will tell you points where you can mobilize, whether you're going to a rally, signing a petition, showing up at town hall, or calling your member of Congress."
Beyond civic involvement, Voto Latino also empowers young leaders with skills that they likely won't learn from their family. "We were finding that 90 percent of the people participating in our conferences were the first in their families to go to college," Kumar explains. "They're just like me; we enter spaces where our parents have limited ability to help and coach us because you're in spaces they'd never seen before, let alone understand."
The leadership development conferences have a curriculum developed by Voto Latino in partnership with the MacArthur Foundation and MIT's civic engagement lab. They focus on building financial skills, teaching how to be mentors and mentees, how to find networking opportunities, and more.
Another part of the leadership-development arm of Voto Latino is a camp that encourages young, aspiring leaders to run for office. "In the last five years, we've had four people [from our camp] run. Three have won and all of them have been the youngest [in their elected office]," Kumar says, listing Alexandria Ocasio-Cortez, Greg Casar, and Wendy Carrillo.
"My hope is that the first Latino president will go through Voto Latino," she continues. "But it's really about just preparing the country because if we do deeply believe in our values, we are a democracy, and that democracy thrives with participation. It is that participation that has actually gotten us to be a world leader. We shouldn't shy away from that. We should own it."
Kumar didn't always work in the public sector. After earning her undergraduate degree from UC Davis, she worked as a congressional staffer for two years before earning her master's degree from the Harvard Kennedy School and beginning a career in the private sector as a healthcare consultant. "I wanted to do that because one of the things I noticed in Capitol Hill was the people who were representing businesses didn't know anything about business," she says.
PricewaterhouseCoopers hired Kumar right out of the Kennedy School, and she was slated to begin her career with the company in New York in late 2001.
This is where her story takes a turn. As it did for so many people, the 9/11 terrorist attacks changed her life.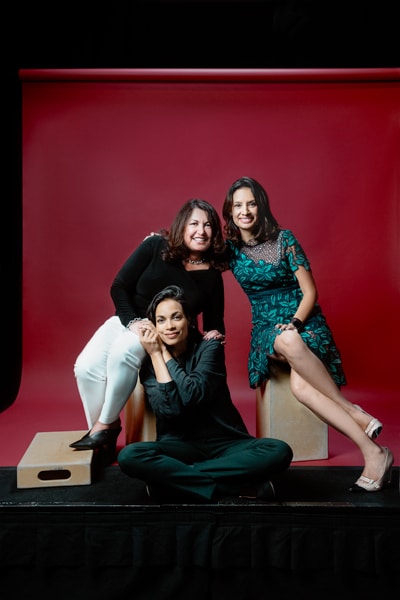 "I was in the area that was cornered off because it was so close to the World Trade Center," she recalls. "My boyfriend at the time—now my husband—and I walked past St. Vincent's Hospital, and I remember very clearly that everybody was just waiting for ambulances, waiting for people. Nobody came. And then we turned the corner and it was the new business school, which was housing the area where people were searching for their loved ones . . . lines and lines and lines of people with pictures.
"So you have no one showing up to the hospital because there's no one to save, and then you have lines of people looking for their loved ones," she continues. "That was a turning point for me. My parents couldn't get ahold of me and I couldn't get ahold of them, and I had this come-to-Jesus moment where I realized I was working in the private sector because I wanted to satisfy my parents. They wanted me to do well and not worry about struggle. So up to that point, I had made a lot of my decisions based on financial factors versus what's actually going to get me up in the morning, what's meaningful and important."
With a new set of priorities for her career, Kumar spent a few years working on optimizing hospital systems, while openly looking for an opportunity to get into community work. In August 2004, Rosario Dawson and Phil Colón launched Voto Latino as what Kumar calls a "PSA partnership with MTV." In the weeks to follow, they began "trying to figure out if it could be something more than a media campaign," Kumar recalls. Her mentor helped her connect with Dawson.
At the time, she had been sending some of her earnings home to support her family. But with the new role, she would have no salary."But my mom was so welcoming," Kumar recalls. "She basically said, 'María Teresa, that's why we're here, because I didn't have these opportunities. This is what your heart is telling you. Let's try it.'"
On the stage at L'ATTITUDE, fifteen years later and now a mother of two, she tells the audience of the incredible turning point she sees in our future, in her children's future—all while emphasizing the importance of participation.
"What is beautiful—and why it's so painful right now in this country—is that our biggest asset is the fact that we come from everywhere with a deep belief that we can make anything happen," she said. "And somehow along the way we've started questioning our ability of greatness. That hurts, because we shouldn't expect less of this generation than of the past, when they didn't have things like technology or medicine. We are in the best position possible and we're not taking advantage and preparing the next generation, who is incredibly diverse."
She explained that, in the 2018 elections, 49 percent of the registered Latino voters were never contacted by a political candidate or a party. Still, 2.5 million Latinos voted. "We have to realize that our power comes not from the parties, but from ourselves," she said. "Because when we start showing up, they start paying attention."
In 2018, Voto Latino's goal was to register two hundred thousand voters. In 2019, that goal increased to five hundred thousand, in concentrated states critical to the spring 2020 primary election. "By March 17, 2020, 70 percent of eligible Latino voters will be able to choose who their candidates are in the primary," Kumar said, encouraging the audience to download Voto Latino's VoterPal app, which simplifies the process of registering yourself and others to vote.
"The only way that we're going to be at the table and not on the menu is for us to ensure we are building the infrastructure that we need, we're registering our friends and family, and we're having honest conversations about what's going on in this country."
This country, the land of opportunity. Where a precocious young naturalized citizen can take a crushed dream of becoming president and turn it into an opportunity to teach, empower, and champion future leaders and presidents.
Facts & Figures
60% of US Latinos are under the age of 33
12M people have turned 18 years old since the 2016 election
2/3 of them are young people of color
4M are Latino youths
In the 2018 midterm election, the electorate was made up of:
11% Latinos
28% young voters (ages 34 or younger)
25% first-time voters
The 2020 Latino electorate includes:
32M eligible voters, up from 29 million in 2016
16M are registered to vote
10M of the unregistered are young people (ages 34 or younger)
"When I met Rosario, I was like, 'Look, I want to give back to my community,'" she says. "And I either wanted to run something or start something, but I knew I wanted to focus on young people. When Rosario asked if I was interested, I jumped at the chance. I quit my job. I left New York and moved back home with my mom."