As a proud media partner for L'ATTITUDE 2019, we are offering exclusive and extensive content from the four-day conference and cultural celebration. In the following links, you'll find an immersive experience, both behind the scenes and in front of the stage.
With "the capacity to unabashedly think big," Gary Acosta revolutionized the business-conference experience with NAHREP and L'ATTITUDE.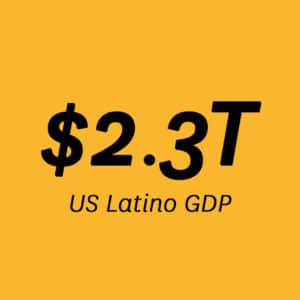 As the US non-Hispanic workforce declines and threatens to stall the country's economy, US Latinos become the engine for growth, the Latino Donor Collaborative's US Latino GDP Report shows.
---
WATCH: Top 10 Sessions from L'ATTITUDE 2019
Full-length videos of our ten favorite sessions, in order of their appearance at this year's event.
The Latino GDP Report: Understanding the Scope of the US Economy
The opening session of L'ATTITUDE 2019, William Lewis, the CEO of Dow Jones and publisher of the Wall Street Journal, leads a discussion about the newly released US Latino GDP Report with Ralph De La Vega, Matthew Fienup, Dr. David E. Hayes-Bautista, and Sol Trujillo.
L'ATTITUDE: A Groundbreaking Platform to Celebrate America's New Mainstream
William Lewis, the CEO of Dow Jones and publisher of the Wall Street Journal, interviews L'ATTITUDE cofounders Gary Acosta and Sol Trujillo.
Latinos Dominating Mainstream Music
A panel discussion featuring recording artist Juanes, Spanish Broadcasting EVP Jesus Salas, and Nielsen VP Monica Narvaez.
Recognition of Studios and Networks Embracing the New Mainstream
Ana Valdez, executive director of the Latino Donor Collaborative, reveals the LDC's newest initiative.
LATINXT: Recognizing the Next Generation of Latino Talent
Headlining day one of L'ATTITUDE 2019, this session features multiple presentations/panels in one, as director Robert Rodriguez and actress and activist Zoe Saldana introduce LATINXT, a group of mid-career arts and entertainment industry talent they've curated to amplify efforts to bring Latinos into the mainstream.
Making Democracy Work
On day two of L'ATTITUDE, María Teresa Kumar, president and CEO of Voto Latino, presents a powerful argument for US Latino civic engagement.
Democratic Presidential Candidate Conversation
Continuing the political theme of day two, NBC News correspondent Ali Velshi interviews Julián Castro.
The Role of Big Business in a Dynamic Economy
United Airlines CEO Oscar Muñoz interviews Salesforce CEO Marc Benioff.
The Future of You, presented by HITEC
Day three of L'ATTITUDE focused on business, with technology included as a large focus. This session is four presentations in one, featuring self-proclaimed "tech badasses":
Match-up
Closing out L'ATTITUDE 2019 was a session focused on entrepreneurship. Nearly $2 million was invested in Latino-led startups during this Match-up session.
Check back in March 2020 for even more content, released with our spring issue!