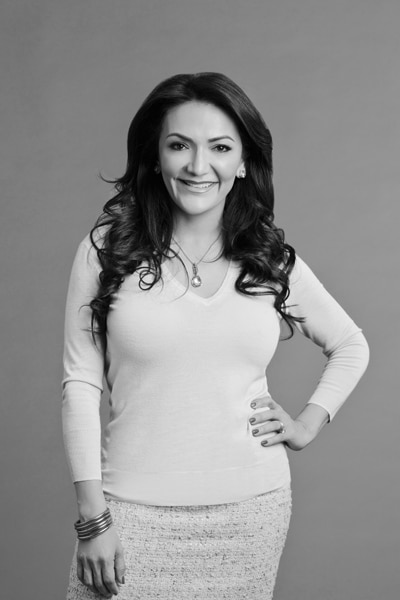 Nina Vaca knows success is a responsibility, and her life's work proves it.
Vaca is the chairman and CEO of Pinnacle Group, the largest Latina-owned workforce solutions provider in the US. The firm has been ranked among the Inc 500/5000 fastest-growing companies in the country for the past decade. Today, it's also one of the fastest-growing women-owned companies in America.
"I decided not to climb the corporate ladder; instead I decided to take matters into my own hands by starting my own business over twenty years ago," Vaca says.
She has since broken her fair share of glass ceilings, not only for Latinas but also for all women: director positions with three Fortune 1000 companies; three honorary doctorates; recognition as a distinguished alumnus of her university, as a Minority Business Hall of Fame and Museum inductee, and as a Trailblazing Woman in Labor and Business by the National Women's History Project; and becoming a German Marshall fellow and a British American fellow are just a few of Vaca's many distinctions.
Being one of the very few women in the early IT world was a "lonely place, but it doesn't have to be," Vaca says. Paving her own path has enabled her to help other women achieve their business dreams in real, tangible ways. Vaca's At The Table Initiative and her work as a Presidential Ambassador for Global Entrepreneurship (PAGE) have proven to be fundamental to the success of hundreds—if not thousands—of women worldwide.
Vaca began her philanthropy and leadership on a local level, becoming chairman of the Greater Dallas Hispanic Chamber of Commerce—the sixth woman in a 66-year history and the first Ecuadorian to do so. Soon, she set her sights higher and made history again by becoming chairman of the US Hispanic Chamber of Commerce (USHCC), which is considered the most powerful Hispanic business association in the country. It would take Vaca almost a decade to accomplish her goal of becoming chairman.
"I was the second woman to hold that position in a thirty-year period—and that wasn't acceptable to me," Vaca says. "Clearly, there wasn't enough awareness of the contributions women can bring to organizations and the economy."
Vaca made her mark at the USHCC by blazing a trail. Today, women make up more than 50 percent of the organization's board. As Vaca neared the end of her term—by term limits she imposed—she began to think about large-scale projects that would attract more women to the organization and that would shine a spotlight on the contributions they were making to the American economy—especially Latinas.
According to 2012 Census data, there was an 87.5 percent increase in Hispanic women-owned operations, which Fortune magazine attributed to a "perfect storm": historically low interest rates, record amounts of cash in the US economy, a growing presence of women on boards, and the rising numbers of women earning bachelors' degrees.
"My desire is that my legacy pertain to people—people I was fortunate enough to help and impact. I prefer to be remembered as a person of value versus a person of success."
—Nina Vaca
In 2014, President Barack Obama appointed Vaca as a PAGE. This is essentially how At The Table was born, an initiative housed within the USHCC that dovetailed with Vaca's work as a PAGE ambassador, which required her to develop a signature project. Vaca describes At The Table as a "multifaceted initiative" that operates like an ecosystem that provides participants with mentors, access to information, inspiration, and education—not to mention access to capital and impressive educational opportunities.
Vaca was asked to work with the Stanford University Latino Entrepreneurship Initiative (SLEI) as a contributor to its curriculum. She then led the charge to establish a memorandum of understanding between the organizations, and today the USHCC is a major feeder of the SLEI program. Many At The Table participants experience the program firsthand thanks to Vaca's sponsorship.
"I truly believe in this program because being an entrepreneur is a lifelong journey, as is education," Vaca says. "Running a $1 million business is not the same as running a $100 million business. I've witnessed how the At The Table initiative and the Stanford program give women entrepreneurs access to capital, investors, and mentors that leads to life-changing business growth."
As a PAGE ambassador, part of Vaca's responsibilities lie in her ability to travel to different countries, utilizing her story, experience, and network as source of inspiration, information, and connection. She has traveled to five continents, inspiring entrepreneurs worldwide. In Vietnam and Jordan specifically, she has successfully enabled women to launch their own businesses, be their own bosses, and take their livelihoods into their own hands.
Last year, Vaca also become a Henry Crown Fellow with the Aspen Institute, a nonpartisan organization founded in 1950 that is committed to fostering enlightened leadership. Fellows are intended to be the next generation of community leaders and each year are asked to undertake a very personal journey that expands their ideas of philanthropy while also resulting in tangible change around the idea of global citizenship. Like many of Vaca's undertakings, her fellowship began with a bang.
The CEO coupled her love of philanthropy and triathlons to raise awareness of and contributions for her home country of Ecuador, where a 7.2 earthquake devastated the country's coast in April 2016—killing nearly 650 and leaving thousands homeless. This year, she founded the Tri For Homes Campaign, aimed at raising funds to build the "Village of Happiness" (Villa de Alegría), a forty-home village with nearly a half-acre of land to sustain families. Vaca launched her campaign by recruiting athletes, donors, and volunteers through her social media network. Donations came in from Hong Kong, the UK, and all over the nation. Athletes—all of whom were woman—flew in from Alaska, the contiguous US, and Ecuador to run the Ironman Manta 70.3—a 1.2-mile open-water swim, 56-mile bike ride, and 13.1-mile run. More than 233 donors shattered Vaca's goal of more than $100,000.
"My desire is that my legacy pertain to people—people I was fortunate enough to help and impact," she says. "I prefer to be remembered as a person of value versus a person of success."
Thoughts from Guest Editor Javier Palomarez
"Nina is a trailblazer in every sense—and she never rests on her laurels. Whether in business, philanthropy, or life in general, Nina inspires people across the country and around the world. The embodiment of successful entrepreneurship and community leadership, she brings the same seriousness of purpose to her philanthropic and volunteer initiatives that she exhibits in business. Her work to advance diversity on corporate boards is also invaluable in today's business climate. We are fortunate to benefit directly from her leadership as the chairman of our own USHCC Foundation."