During The Alumni Society Leadership Summit last year, I witnessed a panel of Latina entrepreneurs discussing their experiences and challenges. It was a dynamic discussion where Marina Diaz Ibarra, partner and managing director at Wolox Inc., challenged the audience: "We need to bring more men to the conversation. It has to stop being just a group of women talking about rights. Bring more men to advocate."
I couldn't agree more. So here I am, in a small part, joining the conversation.
I admit that I struggled with what to talk about in this letter—but, after reading some of the stories of our 2020 Leading Latinas, I knew I wanted to start someplace personal. So I thought about the Latinas in my life.
In my family, male reverence is dominant. My great grandfather, my grandfather, my father—they were all the heroes in my family's narrative. I was enchanted as a young boy by their life's accomplishments. These men were driven by ingenuity, creativity, and passion. I would reflexively credit them as my muse in the pursuit of my own goals.
However, as I grew older and my paternal heroes faded into the background, I realized: what really drove me, what pushed and inspired me, what ultimately set me up for success in life was the leadership of the women who raised me.
Although my dad has been one of the biggest role models in my life, it really was my mom who, every night before la bendicíon, had me recite a mantra: that I could accomplish anything I envisioned. That subtle ritual was the catalyst for the belief that I could, in fact, do anything I put my mind to. I didn't have to prove to anyone why I belonged. I only had to validate that within myself.
"Our 2020 Leading Latinas are powerful because they know who they are. Their power is in being their true selves, not forgetting where they came from, and bringing others along."
Starting this letter with my personal experience is intentional because I feel that the small yet frequent push to think bigger than oneself is a microcosm of what Latinos as a whole need to embrace and what the Latinas in this issue have mastered: a deep-seated belief that we belong and that we can accomplish anything we want to accomplish in life.
This is why I am so fascinated and inspired by María Teresa Kumar, our cover star, and Alicia Menendez, our guest editor for this issue. Both women are incredible leaders and trailblazers in their own right, and they touch on issues that I personally have a passion for: media and politics.
As you will read, what drives them very much aligns with these concepts of rightfully belonging and accomplishing that which is possible in all of us. As María Teresa says, "We should stop having to tell people why we're here, because we know what we're here for. We're here to grow, to contribute, to be the best version of ourselves. [We're here] because we deeply believe in this country. We have to do this unapologetically. We have to flex our muscles unapologetically because when we show up, there's nothing that we cannot do."
And in Alicia's guest editor's letter, she notes that the audience for her Latina to Latina podcast "loves to hear other successful Latinas' challenges, and learn how they overcame them to achieve greatness. [Challenges such as] learning to take our seat at the table, navigating office politics, proving wrong those who don't see us as leaders or visionaries. By celebrating Latina excellence, we're reminding our listeners what is possible."
Our 2020 Leading Latinas are powerful because they know who they are. They know where they rightfully belong. Their power is in being their true selves, not forgetting where they came from, and bringing others along.
It's time for us to stop and listen. These Latinas are giving us the lesson in leadership we all need to hear.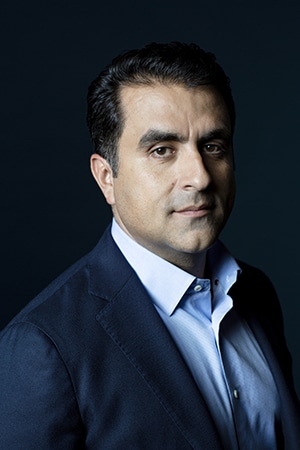 Pedro A. Guerrero
CEO of Guerrero Media
Publisher of Hispanic Executive
Other Letters from the Publisher