When reading the story of our cover subject, Daniel Lubetzky, I am reminded of the depth and complexity of our Latino community. Our histories are rich, our identities are complex, our stories are so varied.
Growing up in a household of educators and Chicano activists, I was exposed as a young boy to the art of Diego Rivera and the concept of la raza cósmica, introduced by the Mexican philosopher José Vasconcelos. The art and ideas of early twentieth century México resonated with me tremendously because they made me feel as if there was something special—even magical—about being Mexican American.
The concept of la raza cósmica underscored what I believed was rich about our Latino heritage: that we are a kaleidoscope of identities and that a new definition was perhaps needed as the zeitgeist of our existence.
Lubetzky's story is a reflection of that wonderful tapestry of raíces that makes up what it means to be Latino.
I think a grasp of this understanding is missing from the outlets of our "mainstream" society, be it in media, marketing, or politics.
But we get it.
There is so much more cross-cultural, cross-national essence that goes into the experience of being Latino, and Lubetzky is a great example of that. His story—which begins in Germany and Mexico and is now rooted in the United States—extends worldwide when you look at the impact his organizations are making.
"Daniel Lubetzky's story is a reflection of that wonderful tapestry of raíces that makes up what it means to be Latino."
And yet many don't recognize Lubetzky as a US Latino. I didn't, mainly because I didn't know of him. Still, it is always an incredible feeling to discover that someone is Latino—or that a brand that I love, a brand like KIND, has a Latino powerhouse driving its success.
It is even more fulfilling to read and see profiles of Hispanic leaders that are focused on positively impacting society, especially when the dominant narrative in media today is the opposite.
There is a lot that goes into being a Latino, and with every story we tell we are reminded of that fact. Ultimately, the creation of this publication is a never-ending exploration into our community—one enhanced by the recognition of how and where we're making a social impact.
When you see a new Orangetheory Fitness studio, know that Carlos Vidal is the leader behind that development. He leads with a passion for the community Orangetheory creates and for the greater social impact of making a healthier world.
When you eat an Oreo, Chips Ahoy!, or Tate's Bake Shop cookie—or really any product from Mondelēz International—know that Chris Montenegro McGrath is ensuring that the cocoa comes from a farm that is sustainable. She believes in prosperous businesses for farmers, empowered and inclusive communities, and forests that are being conserved and restored.
When you use your Uber app for a ride or to order food, know that Luis Madrigal was one of the engineers behind that technology, and he's now an active role model and agent of change for D&I in Silicon Valley's tech community.
These social contributions are yet another expression of what our community has to offer, yet another expression of who our community is. We're a community that can't be defined by a single surname, color, shape, or background, but a community that is distinctly Latino.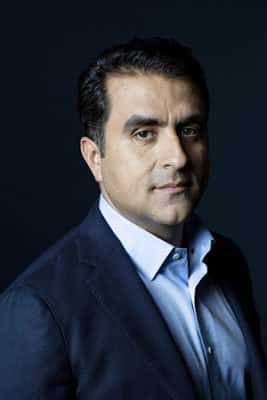 Pedro A. Guerrero
CEO of Guerrero Media
Publisher of Hispanic Executive
RELATED LINKS
Letter from the Publisher: When Business Meets Politics
Letter from the Publisher: Make the Connections