Chocolate may be the lifeblood for many a hungry snacker, but from where cocoa, the essence of that chocolate, originates has come to mean a lot more for food and beverage giant Mondelēz International. In 2018, the company confirmed a commitment to deliver on a broader mission.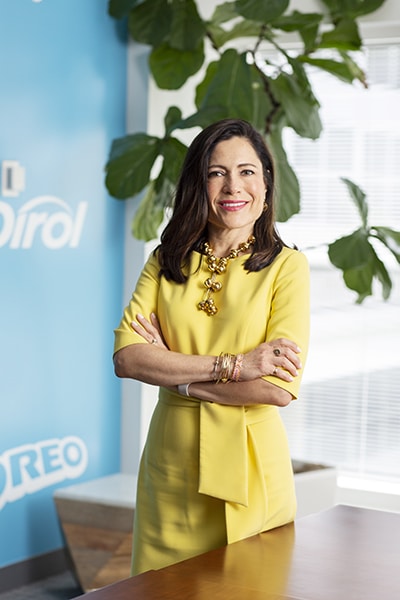 "Our purpose at Mondelez International is to empower people to snack right by offering consumers the right snack for the right moment, made the right way," explains Christine Montenegro McGrath in a company progress report. And as the vice president and chief of global impact, sustainability, and well-being, she recognizes it's on her. "This means offering a broad range of delicious, high-quality snacks to satisfy consumers' growing well-being needs, with sustainably sourced ingredients that people know and feel good about."
One way this purpose comes to life at Mondelēz International is through Cocoa Life, a program launched in 2012 to driving lasting and positive change in the cocoa farming industry and for those who earn a living from cocoa. "We cocreate solutions to make cocoa farming a business of choice and to empower communities to take on their own development while conserving natural resources," McGrath says in the progress report. The VP spearheaded the initiative, ensuring that Mondelēz International is on its way to improving origins around the world from which it sources cocoa.
The Necessity of Now
McGrath says that developing Cocoa Life has provided one of the most rewarding journeys of her career. "I started with a very simple belief that there had to be a better way to solve the challenges in the cocoa supply chain than what was available in the market at the time," she says. "I was able to bring a fresh perspective because I had never worked in sustainability before. I approached it like I would any innovation challenge, and that helped break through some of the previously held beliefs about what was possible."
Cocoa Life's approach is unique in terms of sustainability programs. "For us, making it right means holistically tackling the root causes of the complex challenges cocoa farmers and their communities face, including climate change, gender inequality, poverty, and child labor," McGrath explains. "We are investing $400 million over ten years to empower 200,000 cocoa farmers and improve the lives of more than one million people in cocoa communities." In helping create viable businesses and inclusive communities, those same communities will begin to drive their own development as well as protect human and land rights.
Embodying "The Spark"
McGrath says that it's not often that a big company truly touches and improves individual human lives. As a beneficiary of others' time and talent, the VP says she takes the chance to help others incredibly seriously. "At Mondelēz International, we focus on driving change at scale and focus on the areas where we can make a real difference. For me, Cocoa Life is an important example of that commitment."
She says she was raised to believe that "it only takes a spark to get a fire going" and that her current work is a chance to live the motto. "I love that in my current role I'm able to be a spark and lead change that makes our business better, while at the same time improving our planet and peoples' lives."
McGrath says Cocoa Life is built upon bold ambitions and a commitment to a holistic approach. "Our consumers care about the provenance of our ingredients and the farmers who grow them. Our business growth demands a sustainable supply of this essential ingredient." That has meant developing a network of trusted partners with an emphasis on transparency. Mondelēz currently sources 43 percent of its cocoa through Cocoa Life, working hand in hand with more than 142,000 farmers in 1,400 communities across six regions. Mondelēz is investing $400 million over ten years with an effort to ultimately source 100 percent of its cocoa through Cocoa Life by 2025.
Progress has already been made. "Our 2018 annual report offers the first-ever, large-scale impact report in the cocoa industry, giving us the confidence that we are on the right path to growing a thriving cocoa sector by measuring Cocoa Life's progress and impact," McGrath says. "What this means is that consumers can be confident that the chocolate they love is made the right way."
Sustainability for All
One of the most important components of Cocoa Life to McGrath has been its focus on gender equality. "Women do a significant amount of work in cocoa farming—making a real difference in cocoa productivity—and they were mostly ignored, without access to training or financing," McGrath says. "Cocoa Life has changed this and led the industry to give women access to these things."
She explains that she has met female entrepreneurs all over the world, and their motivation, in turn, motivates her. She believes it's imperative to continue the company's focus on driving lasting change when it comes to gender equality.
McGrath also recognizes that while great strides have been made, there remains an exceptional need for evolution. "The challenges facing cocoa farmers are too interwoven and complex to be solved by just one organization or by focusing on one challenge area alone," McGrath says frankly. "Only sector-wide, long-term strategy with coordinated action by industry producers and government will create sustainable change." The VP says that local government focus on rural economic development and commitment to agroforestry policies are essential to modernizing the cocoa sector.
As Mondelēz continues to align sustainability initiatives with its overall business strategy and brand purpose, McGrath—who managed and marketed brands on behalf of Kraft prior to her current role at Mondelēz—says that staying simple in messaging and in goals was a key to success. "Cocoa Life embodies all that is hopeful and good in cocoa," McGrath believes. "Although we concepted this idea eight years ago, it works well today and aligns to our purpose at Mondelēz International: to empower people to snack right."
The Raw Numbers of Sustainable Ingredients
Christine Montenegro McGrath helped build Mondelēz International's signature sustainability program, Cocoa Life, from the ground up. In 2018, the company provided real numbers measuring impact as part of its annual progress report, evidencing progress of its efforts and offering a road map for future success.
Program Highlights:
142,000
farmers involved in the Cocoa Life program
43%
of Mondelēz's cocoa is sourced through the Cocoa Life program
2025
The year by which all of Mondelēz's cocoa will be sourced through Cocoa Life
$400M 
The financial investment Mondelēz is making to achieve this goal
RELATED LINKS
https://hispanicexecutive.com/2015/mondelez/
https://hispanicexecutive.com/2019/alfredo-rivera-coca-cola/
https://hispanicexecutive.com/2019/arturo-carrillo-bimbo-bakeries-usa/