Edgar Mayorga says his game-changing moment came when he was still in college. His father was working to begin importing products from China to Mexico and asked his son, who spoke fluent English, to accompany him and help translate some of the more difficult business details. "I helped him negotiate the terms for what he was trying to buy and make sure that whatever was said was accurate," Mayorga explains. "It helped me learn to speak to senior people in other companies and provided the soft skills to help me better communicate with people at all levels in an organization."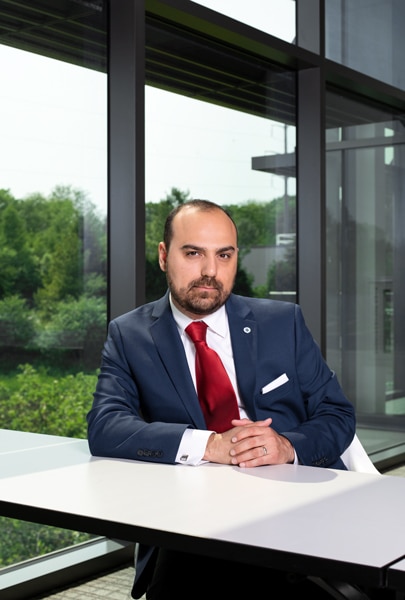 Now global director of a finance organization at Johnson Controls, a global leader in building technologies and solutions, Mayorga worked his way up the ladder at the company in roles that took him from Monterrey to Singapore to Milwaukee. His early experience in navigating multiple cultures aside, Mayorga's career frequently intersects with multicultural opportunities and challenges. As a result, the director has honed one of his most enduring qualities: the ability to get everyone on the same page and get things done no matter the differences.
Mayorga says working globally with team members from Johnson Controls has bolstered his confidence in driving success regardless of what others may see as inhibitors to positive business outcomes. When Mayorga transferred to Asia to take on a managerial role, he knew that many might assume a traditional "western disposition" of showing up, imposing a viewpoint, and simply moving on.
"In my case, I did everything I could to blend in to the culture," he says. "I learned some Chinese, I ate all of the new food that I could, and I even sat in on the Chinese-only meetings where I could only understand about 5 percent of what was being said." But in showing effort, he was able to build trust among his team and foster success when he could have much more easily done the opposite and written off the experience as "cultural differences."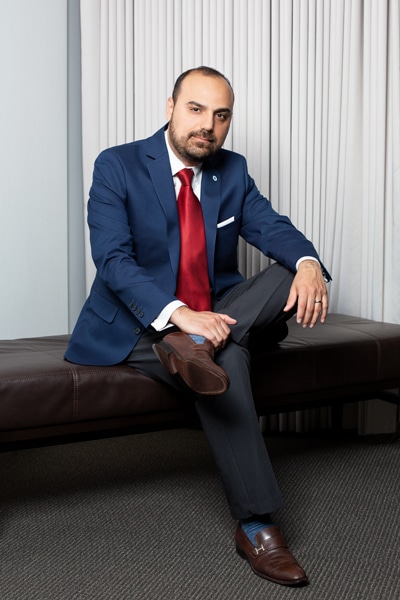 Currently, Mayorga manages a team of more than 150 finance professionals across 30 different locations and countries with a wide array of financial responsibilities. In the past four years, the director has become more heavily involved in driving M&A transactions from the finance legal entity and change management execution side of the business. "I'm part of a team that has enabled the materialization of multibillion-dollar transactions that have helped transform the entire company in the last number of years," Mayorga says. "This was made possible by effective change management and transformation."
From the financial perspective, Mayorga says that his team has worked to harmonize as many processes as possible, but it's never 100 percent effective because of the specificity of local laws and jurisdictions. As finance continues to develop more tools to look at the business from a management-reporting perspective, Mayorga and his team also work to address the need for innovation when it comes to local financial statutory reporting.
By The Numbers: Johnson Controls
4M+
Customers globally
150+
Countries where customers are served
105,000
Employees
~2,000
Locations worldwide
130+
Years of innovation 
8,700+
Active patents
$71M
In charitable contributions in the last five years
1.07M
Volunteer hours recorded in the past five years
Mayorga's team has also been working in implementing a more standard process that can help them better bridge the US and local GAAP accounting. The tools involved allow more insight into visibility, compliance, reporting, and KPIs. "This has been great because it is basically an enabler toward more harmonization to our model and to our using a more consistent model that will help us all identify more efficient processes in time."
As Mayorga's roles continue to expand, it's allowed him to think much more seriously about his own leadership. "Whenever you're in a leadership role, it can be quite lonely," Mayorga admits. "You are always trying to push for change and have to be ready to face a lot of resistance." Mayorga relies on what he calls "corporate mental toughness" and using what he says are tools available to everyone—like meditation and self-awareness—to reflect, grow, and develop. "If I want to lead a large group and drive change, I need to first and foremost have control over myself," Mayorga says.
For his team, Mayorga says it's imperative to remove the mystery of why something can't be done. "It's very easy to speak to an expert who explains why you can't do something," Mayorga says. "But I need them to clearly articulate why." In removing the mystery, it not only provides more insight into a given process, but also helps spotlight potential solutions that maybe hadn't been considered.
"I did some rock climbing and was told that you should never look to the top of the mountain. If you are constantly looking to the top, you're going to start feeling tired and doubtful immediately and you'll never make it."
The most important lesson Mayorga says he's learned during his tenure is to never look up, though he admits it may sound strange at first. "I did some rock climbing and was told that you should never look to the top of the mountain," Mayorga says. "If you are constantly looking to the top, you're going to start feeling tired and doubtful immediately, and you'll never make it." Avoiding uncertainty is not the same as blind certainty.
The same goes for accomplishing just about anything, the director believes. "Focus on the here and now," Mayorga believes. "Don't waste your energy on wondering if you're going to make it—make it where you can make it and let's see what happens after that."
---
RELATED LINKS
https://hispanicexecutive.com/2019/maria-martinez-cisco/
https://hispanicexecutive.com/2019/national-instruments-chris-franco/
https://hispanicexecutive.com/2019/russ-calderon-compugroup-medical/