For Alfredo Rivera, the group president of Coca-Cola in Latin America, change has always been—and always will be—at the center of the conversation.
As both his life and career have blossomed, Rivera, who was raised in the developing country of Honduras, has worked tirelessly to empower those very same types of embattled environments. He's lobbied for increasing consciousness at Coca-Cola as he's worked to build sustainability and economic opportunities for communities in need.
Over the course of twenty-plus years at Coca-Cola, Rivera has helped drive significant progress—the only thing that's remained steady during his tenure has been a commitment to change and his leadership when it comes to cascading that ethos.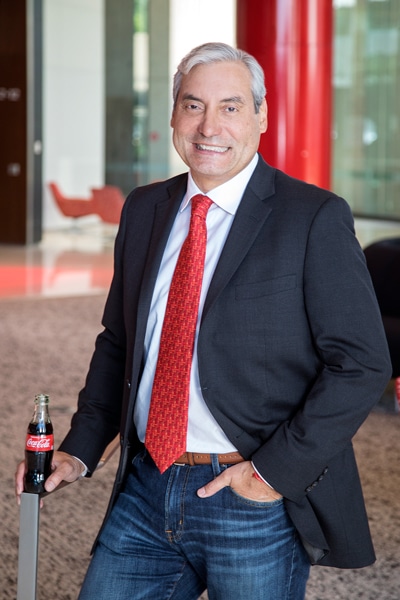 "I think what has made me comfortable at Coke is what I think is usually true for anyone who's in a job for a long period of time that they enjoy: we have the same values," Rivera says. "It has been a tremendous opportunity and privilege to be part of a system that has allowed me to make an impact on the business and the communities in which it operates. The worst thing you can be is a victim of change."
A cycling enthusiast and father of four, Rivera has self-identified as a change agent since reading In Search of Excellence, the 1982 best seller by Tom Peters and Robert H. Waterman Jr. that explores the successful management techniques of high-profile businesses during the fertile era of the '80s.
"Up until then I was only interested in doing good work in my role, doing what was expected," Rivera explains. "That book made me think about how my role could go well beyond that, challenging me to think of new ideas and how things could be done differently to generate better results."
Rivera says the reason for his success lies on the fact that he is never willing to just settle for a position as it's defined. "Every role I've ever had, I wanted to change," Rivera admits. "I understood that my role wasn't just to manage, it was to drive and incorporate different ideas and find ways to positively impact the business."
"I understood that my role wasn't just to manage, it was to drive and incorporate different ideas and find ways to positively impact the business."
​It's due to the commitment of the company and bottlers to build a better world that Rivera has been so energized to double down on Coca-Cola's work with sustainable packaging and water stewardship, as well as its efforts to empower women across countries. In 2010, the company announced its 5by20 initiative with the aim of enabling the economic empowerment of five million women entrepreneurs within the company's global value chain by 2020. That grouping features small businesses in over ninety countries and includes occupations ranging from fruit farmer, shop owner, recycler or artisan, all tied to Coca-Cola's supply chain. At the end of 2018, Coca-Cola had helped to empower over 3.4 million women.
​In Latin America, for instance, the farming quality of a thriving Haitian mango business was so vastly improved that it was able to export fruit to be sold at Whole Foods. In Brazil, women are being taught how to repurpose recycled materials, transforming them into works of art for sale. In Mexico, Argentina, Ecuador, and throughout Latin America, owners of small mom-and-pop operations are able to provide better education, health, and food to their families, thanks to substantial and proven sales and revenue increases.
"We're helping to create a revenue stream for women in low income neighborhoods where they are often the caretakers and breadwinners for their families," Rivera says. "In some cases we're helping develop new businesses, and in other cases we're able to help small businesses become more successful."
​Also in 2018, Coca-Cola announced its World Without Waste initiative, which is focused on the lofty goal of collecting and recycling the equivalent of every bottle or can it sells globally by 2030. It also wants new bottles to contain at least 50 percent recycled content by the same year.
"Consumers around the world care about our planet. They want and expect companies like ours to be leaders and help make a litter-free world possible," explains Coca-Cola Chairman and CEO James Quincey in a prepared statement. "Through our 'World Without Waste' vision, we are investing in our planet and in our packaging to help make the world's packaging problem a thing of the past."
​There have also been significant changes and expansion of the product portfolio, which Alfredo has promoted and led enthusiastically. These respond to the ever-changing consumer tastes and preferences. Coca-Cola Latin America has been expanding its beverage offers exponentially with new products in dairy, plant-based beverages, energy drinks, advanced waters and juices, and juice-based products. Of note is also the strategic intent to reduce sugar in as many products as possible, which has led to trillions of calories being removed from the marketplace.
​Rivera believes that initiatives like these are the changes that will place Coca-Cola and its bottlers in a valued and trusted position in the market for another 130 years. "I feel very lucky that our CEO and chairman, and our COO trusted me enough to give me these responsibilities," Rivera says. "I am committed to helping that transformation, and, to be honest, it's always more exciting to be in a transformation role than that of a caretaker."
"The best advice I can give someone who is young in their career: At some point you will be given a choice, and one choice will seem much riskier than the other. You're young. You have a long life ahead of you. Take that risk."
​Embracing risk has always been a big part of Rivera's philosophy, especially when early in his career he accepted a new job outside of his home country of Honduras.
"My wife and I asked each other 'What is the worst that could happen?' That if things don't work out we might have to move home and rely on our family and friends for a while," Rivera says. "But that's the best advice I can give someone who is young in their career: At some point you will be given a choice, and one choice will seem much riskier than the other. You're young. You have a long life ahead of you. Take that risk."
​Rivera's own penchant for taking chances indicates that the path less traveled is the best road taken. "Some people didn't understand why I took such a risk at a young age—but I just knew I needed a change."
---
RELATED LINKS
https://hispanicexecutive.com/2019/marjorie-de-la-cruz-pepsico/
https://hispanicexecutive.com/2019/dania-blandon-hernandez-bacardi/
https://hispanicexecutive.com/2019/arturo-carrillo-bimbo-bakeries-usa/