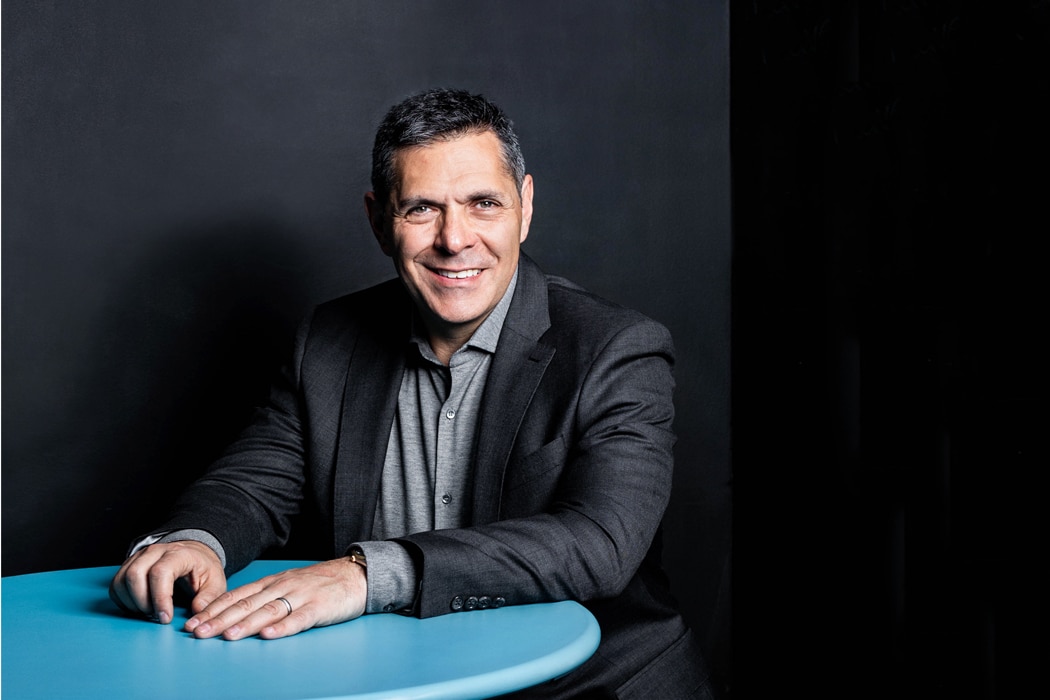 For generations, Jewish people were taught to keep their passports handy. Because, on any continent, if things went south, whom do you think would be blamed? The same folks who have caught blame for more than three thousand years. You had to be ready to grab your stuff and disappear. Daniel Lubetzky chose a different path. As a boy, growing up in a Jewish family in Mexico City, he was enchanted by magic. After all, why disappear—when you can make others disappear?
"I love being a magician," the fifty-one-year-old Lubetzky told me. "It's fun for me. I had daydreams as a young person where my magic-making skills would help me survive in very tough circumstances."
Lubetzky has plenty of skills—fluency in six languages, business acumen, emotional intelligence, and creativity. Perhaps his greatest gift is historical perspective: he knows the stories of those who came before him.
Including his father's story. As a starving teenage boy incarcerated at the notorious Dachau concentration camp at the end of World War II, there were probably plenty of moments when Roman Lubetzky wished he could disappear.
Humanity is scarce in places like Dachau, but Roman Lubetzky once caught a glimpse of it. A German soldier must have taken pity on him when—though it meant defying his superiors—he tossed half of a rotten potato at the boy's feet.
Roman Lubetzky would long credit that scrap of food with saving his life, and the kindness behind the gesture with preserving his faith in his fellow man.
Remember those two themes—food and kindness. We'll see them again.
"When you're trying to build bridges and fight extremism and hatred, that work is never done."
In 1945, when US and Allied forces crushed the Third Reich and liberated the death camps, Roman Lubetzky immigrated to Mexico, where his uncles had settled. Penniless, he taught himself Spanish and English by reading used encyclopedias. He got a job working in a factory, then began selling watches, and soon started his own business. He also fell in love with a Jewish Mexican named Sonia, who became his wife. They had four children, including Daniel.
A hard worker and natural salesman, Daniel Lubetzky credits his parents with instilling in him integrity, grit, and perseverance. He also credits his father's stories about surviving the Holocaust with fueling his desire to do well and do good. He has always wanted to succeed in business, but also serve humanity.
It was this path that led him to me. In 2007, I was working as an editorial writer and columnist at the San Diego Union-Tribune when I got a call from a public relations agent who was eager to share Lubetzky's story.
I remember the pitch: "He's this young, up-and-coming businessman, born in Mexico but Jewish, who went to Stanford Law School. But then he got interested in how business ventures could help achieve peace, so he started a health food company based on this sun-dried tomato spread he discovered in the Middle East, and he donates some of the profits to fund peace efforts. Oh, he also founded an organization that unites Israelis and Palestinians in order to promote moderates in the peace process."
How could I resist? This was a story I had to hear.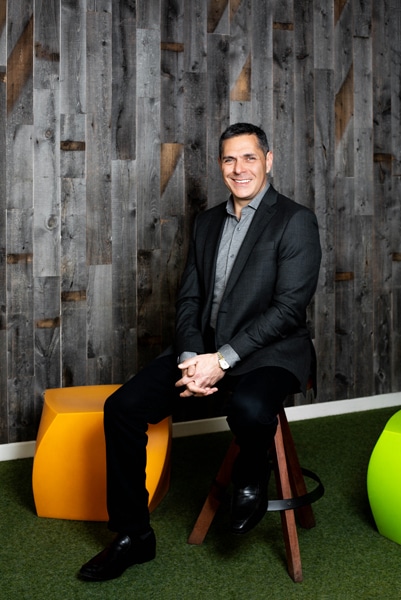 Lubetzky—who was living in New York but joked that he lived "on airplanes"—and I had a nice talk, and I wrote a column. We became fast friends.
The food company that encourages economic cooperation among neighbors—like Palestinians and Israelis—striving to coexist, which Lubetzky founded in 1994, is named PeaceWorks Holdings LLC. The organization that promotes a moderate approach to peace in the Middle East, which Lubetzky founded in 2002, is called the OneVoice Movement.
It wasn't smooth sailing. Lubetzky admits that he made mistakes. For several years, he couldn't afford to take a salary and the overstock filled his cramped studio apartment. But he listened to feedback and made adjustments.
When success finally came for Lubetzky, it would be of such magnitude that neither he nor anyone else could have ever imagined it.
In the late nineties, Lubetzky was traveling, and he couldn't find a snack that was both healthy and tasty, wholesome and convenient.
In 2004, with the help of a dedicated team, Lubetzky created his own snack bar—one with, as its slogan goes, "ingredients you can see and pronounce." And, in a nod to the small act of humanity exhibited by a German soldier at Dachau, he would name the bar, and the snack company that grew from it, KIND.
Today, the company has sold more than two billion snack bars worldwide, and its product is carried by dozens of major retailers. KIND bars are among the most popular healthy snacks in the world. And the company has branched out to granola clusters, breakfast bars, and fruit bars—all while avoiding artificial flavors and preservatives. For a decade, revenue doubled each year. In 2017, sales topped $718.9 million.
In 2015, President Barack Obama named Lubetzky a Presidential Ambassador for Global Entrepreneurship. Not bad for a Mexican kid who—as he recalls in his 2015 book, Do the KIND Thing—started his first business when he was just six or seven years old, organizing carnival games for his siblings and cousins. At eight, he was a magician performing at kids' birthday parties and bar mitzvahs. At twelve, he was making deliveries for a textile wholesaler in Mexico City.
"The process of creativity really turns me on. I've come to accept that creativity is one of my greatest rewards, intellectual stimulation and curiosity also. I love learning from others."
By the time Lubetzky was a teenager, his family had moved to San Antonio, and the young entrepreneur was dabbling in the same business in which his father had carved out a niche: selling watches. In between trips to the local swap meet or to the mall, he graduated from Trinity University. Stanford Law School beckoned, which led to a short-lived career practicing law.
Then, Lubetzky's life changed when he was awarded a fellowship to study joint business ventures between Arabs and Israelis. The rest is history.
It's been a winding road for Lubetzky, and I was curious what lessons my friend had learned on the trip. So, I asked him.
First, I love that—for all the colorful names I've been called during my years as a journalist—there have been only three people who call me "Rubencito." One was my late grandmother, Esperanza. Another is my dear friend and fellow journalist, Macarena Hernandez. And the third is Lubetzky.
"Hola Rubencito!" he shouted into the phone.
After we exchange pleasantries, and ask about each other's families (he's married now, with four children), I ask if the struggles he faced with PeaceWorks helped paved the way for the success he has enjoyed with KIND Snacks.
"It's interesting you ask that question because only in the last week I had the following insight," he said. "The first ten years of PeaceWorks, it was very tough. But in general, I thought that I was succeeding. And then I launched KIND, and very quickly it started exploding. I looked back at PeaceWorks and said to myself that it must have been a failure in retrospect. I guess KIND is how you do things . . .
"Then," he continued, "just a few days ago, I started realizing that all of that is bullshit. To compare one against the other is a mistake. The reality is that it's all about your attitude and your frame of reference at that moment. You have to make the best of it."
Lubetzky has this relentless determination to achieve, create, and accomplish. The entire time I've known him, he has wrestled with unfinished business. He is never done. He is always looking for the next thing.
And so, I ask, what drives him?
"The easy answer is that, when you're trying to build bridges and fight extremism and hatred, that work is never done," he said. "But the other part that I cannot answer is where does my grit, or my competitive spirit, come from. It's definitely not about the money. I'm very lucky that I had financial success beyond anything I ever expected. And I think of myself as a good businessman—I know how to be a tough negotiator and how to create value for all parties. But that's never driven me. I think what drives me is coming up with creative ways to do something. The process of creativity really turns me on. I've come to accept that creativity is one of my greatest rewards, intellectual stimulation and curiosity also. I love learning from others."
It's that love of learning—and the entire educational process—that, in 2017, led Lubetzky to launch a bold initiative to connect students around the world. The KIND Foundation has pledged $20 million over multiple years to fund Empatico, a free and simple tool that lets educators virtually connect their classrooms with other classrooms around the world. For children ages six to eleven, it provides activities, live video, file sharing, and a partnership with another classroom in a faraway place. The goal is to give students a greater understanding of similarities and differences, and to help them learn valuable life skills such as communication, critical thinking, cultural sensitivity, and active listening. All to create something the world needs: empathy.
Lubetzky lights up when he talks about the project, which is now operating in more than 150,000 classrooms in all 50 states and more than 130 countries.
"Of everything that I've started in my life, I think Empatico has the most potential for transformative change," he said enthusiastically. "It's a platform, technology, and a set of tools to help teachers expand the horizons of their children and provide them essential social and emotional learning skills. It connects classrooms to each other, and it's a matchmaking network so the classrooms can help the children discover each other's humanity."
"Of everything that I've started in my life, Empatico has the most potential for transformative change. [It helps] teachers expand the horizons of their children . . . so the children discover each other's humanity."
Lubetzky also thinks a lot about nutrition, and what he considers the sacred duty of all food companies: to ensure their products promote good health. He worries that obesity and diabetes are on the rise in the United States, and he urges companies to not simply fall back on using refined sugar or flour over natural ingredients just because they're cheaper. He says consumers pay for those decisions in the form of greater healthcare costs.
The businessman is backing up the sermon with a commitment of $25 million over ten years to create an independent nonprofit organization called Feed the Truth. Its objective is to fight the influence of the food industry on public health.
You always hear corporate leaders talk about how one can do well and, at the same time, do good. But how often do we see it happen?
Lubetzky is pulling it off.
Recently, Mars Inc. announced that it was buying a 40 percent stake in KIND Snacks in a deal that values the company at more than $4 billion.
As founder, Lubetzky still controls the majority of the company. And just like that—though he would never bring it up—my friend's personal net worth jumped to more than a billion dollars.
After about an hour on the phone, as our time together came to an end, I thanked Lubetzky for his time and friendship over the years.
"I'm very proud of you," I told him. "You're a good man, you've developed good products, you do good work, and you're trying to be a good husband and father. So, in all the ways that matter, I'm proud of you."
Take a look at the extraordinary journey of this young man and his family, from a Nazi concentration camp during World War II to corporate success in America eight decades later. From despair, came hope. From oppression, came opportunity. From darkness, came light.
That's quite a magic trick.
---
On the Family Motto
"Our family motto is 'To be united as a family, to be noble towards all, and—whatever be our quest—to do our very best.'
Unity, to get our kids to take care of each other, is one very important value for me. Being noble towards all, being kind towards all, being respectful towards all, treating others the way you want to be treated, and then doing your best at whatever you do. I don't really care if you end up becoming this or that, for me the success comes from you trying and then you can derive satisfaction from doing your best.
If you go beyond those, the other things I would love to teach our kids include grit, the responsibility we have towards each other and towards our world, and a hard work ethic."—Daniel Lubetzky