Lucino Sotelo says he didn't graduate from Chicago Public Schools (CPS) so much as he survived them. "At the time, it was labeled one of the worst school systems in the country by the sitting US secretary of education," Sotelo says. Out of his high school freshman class of over five hundred, less than 40 percent graduated, and only a handful, including Sotelo, went on to college.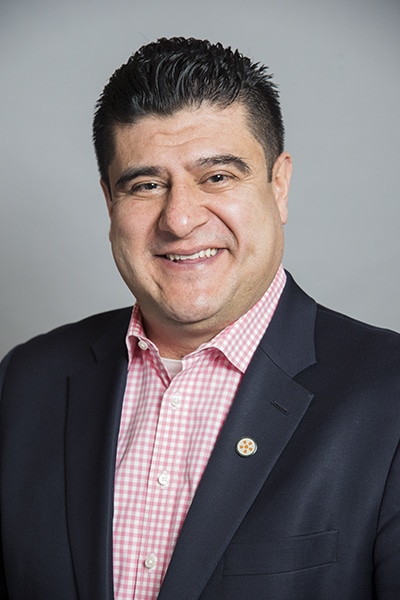 With significant academic improvements in recent years, times have changed in Chicago in many ways. Still, CPS has faced its fair share of challenges and is regarded as one of the most complex and budgetarily challenged school systems in the nation. Now with children of his own in the system, Sotelo is leveraging his marketing, management, and financial expertise accumulated at W.W. Grainger, BMO Harris, HSBC, Grant Thornton, Diamond Technology Partners, and CSC Index—as well as in his current role as chief marketing officer at KemperSports—to help oversee and guide a sustainable balanced budget for CPS.
Sotelo was asked to join what may be the most challenging board in Illinois, the Chicago Board of Education, by newly elected mayor Lori Lightfoot in June 2019. The CMO says he was well aligned with the new administration and that thinking about his own kids in CPS was motivation enough to get involved.
"I've always had a passion for education because I believe it's the great equalizer," Sotelo says. "I know in Chicago that if you look at the overall numbers, you see a great story of significant improvement; but when you unpack those numbers, you can still see a big variance within different ethnic groups and zip codes."
"I've always had a passion for education because I believe it's the great equalizer."
Sotelo has a long history of backing citywide educational organizations. He's served on boards for organizations including City Year Chicago, Leadership Greater Chicago, Executive Service Corps, Chicago Plan Commission, Rauner Family YMCA, and the Peace and Education Coalition.
Joining the seven-person board of education is, however, a responsibility with little precedent in the country. "I'm fortunate to serve with one of the most diverse boards ever assembled, with true experts in different educational fields, urban policy, community involvement and political understanding," he says.
Sotelo continues, "I think I may be the only board member who has big budget responsibilities and experience that can look at how we're going to responsibly manage our $7.8 billion budget that stretches across 38,000 teachers, administrators, and members of support staff—as well as serves 365,000 students. This board has a bigger budget than most private and publicly traded companies." But Lightfoot inherited a significant budgetary gap that stretches back decades, and prioritizing needs will be essential.
The weight of responsibility seems like it would be too much for anyone, but Sotelo's positive attitude is contagious. "All ideas cost money, and so strategy and prioritization are absolutely essential," says Sotelo. "I'm a huge advocate that if we are truly going to fundamentally fix the educational issues in the different parts of the Chicagoland area, we have to address early childhood education. We'll always be trying to fix problems later on if we don't attempt to address and fix them before they even have a chance to become problems."
Day one of the all-new board got off to a shaky start. The new SQRP 2.0, the method by which success and improvements are measured across all schools, was in danger of being voted down because some members believed there was a better system that could be adopted. While Sotelo agreed that a better system should be developed, he patiently asked that the board consider the implications and consequences of moving forward into the school year without a barometer for success.
"We can't responsibly manage a budget and compare performance across similar schools without common and shared metrics," Sotelo says. "If we're going to change things, it's going to take time." The board revoted and approved the system, making plans for changes down the line.
It's difficult to understand that managing a multibillion-dollar budget is what Sotelo actually does in his free time. His day job has been working to market KemperSports' portfolio of golf courses and resorts to compete with the offerings of other golf courses and substitute entertainment options.
Long gone are the days of solitary men heading out for a day on the course, then back to the clubhouse to lounge. Sotelo says the golf and leisure experience needs to be marketed to the entire family in addition to the traditional core golfers. "The reality is that we're not just competing for people's business, we're competing for a more important asset: their time."
"The reality is that we're not just competing for people's business, we're competing for a more important asset: their time."
The competition for time means competing against literally any other form of entertainment in which customers, particularly children, might engage. Lately, Sotelo says he always tries to keep in mind that they're trying to pull kids away from screen alternatives to multichannel entertainment options, which could blend the physical nature-oriented offerings with the virtual through augmented reality or virtual reality options.
"We need multichannel engagement options with different time commitments, and that might mean multimedia centers with an on-premise golf simulator that you can practice on year-round," Sotelo says. KemperSports recognizes that a day on the course has shifted for some people into an opportunity to spend a few hours with the family. "People aren't as likely to come in and devote four to six hours playing as they are to spend two to three hours. So, how do you reconcile that with alternative options?"
It's an important question, and just a year in, Sotelo says he's enjoyed the chance to bring his clubs to work every day. But make no bones about it—he's not here to relax, he's here to disrupt. "This has been a neat, transformative experience helping to alter our industry," Sotelo says. "It's been a fun challenge that, on the surface, you don't see. But it's a great opportunity to bring my experience and expertise from other industries that have faced similar challenges to the golf and hospitality industry."