https://hispanicexecutive.com/javier-diaz-cincinnati-childrens-hospital/
Alina Moran leads the hospital where she was born. Indeed, the CEO for NYC Health + Hospitals/Metropolitan is proud of her special connection to the expansive institution, where she's worked for three-and-a-half years, while having been part of the greater NYC Health + Hospitals system for over nineteen.
When Moran was born, her parents, both from Puerto Rico, sought help at Metropolitan because they were underemployed and lacked insurance. Today, that personal connection helps remind Moran to put patients first. It's also motivated her to partner with organizations in East Harlem to better serve not only Metropolitan's patients but the community at large.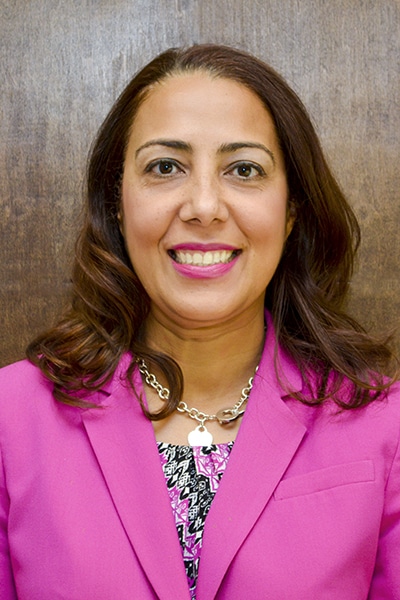 Moran's path to Metropolitan started with her acceptance into the National Urban Fellows program, a leadership development organization that focuses on women and people of color. Its stated mission of developing "accomplished and courageous professionals of all ethnic and racial backgrounds, particularly people of color and women, to be leaders and change agents in the public and nonprofit sectors with a strong commitment to social justice and equity" lined up perfectly with Moran's goals and drive. Through an internship at Bellevue Hospital, she met CFO Aaron Cohen, who Moran says became an invaluable mentor to her, and she was ultimately hired by the hospital as a finance director.
One of the backbones of Moran's leadership is the importance of mentorship, in part due to the guidance she's received from not only Cohen but also former Elmhurst Hospital CEO Chris Constantino. "I credit both Aaron and Chris for supporting me, mentoring me, and sponsoring me to become the CEO that I am now," Moran says.
She sits on the board for the National Association of Hispanic Healthcare Executives and says she's able to provide both formal and informal mentorship to future leaders. "I know the importance of mentorship and sponsorship," she says. "I want to extend my hand to make sure our rising Latinx leaders in healthcare understand the importance of giving back to their communities."
Moran certainly walks the walk. Metropolitan regularly partners with community organizations in order to better connect the East Harlem community with its citizens in need. One such partnership was with Sista's Fulfilling Dreams—an organization created by five entrepreneurial women intent on improving their own community—in an event called Wig It For Cancer, which provides people undergoing cancer treatment with wigs made from human hair. "Wigs are things that, depending on their socioeconomic background, people in our communities can't always afford," Moran says. "We were able to provide joy to fifty of our patients."
"I want to extend my hand to make sure our rising Latinx leaders in healthcare understand the importance of giving back to their communities."
Metropolitan also partners with many senior healthcare organizations to provide information, education, and assessments for a growing patient population in need of support. "We want to make sure we're a partner in all these efforts not only for the hospital, but for our larger community," Moran says.
Moran is able to connect with her community as a board member of the East Harlem Community Alliance. She says the board is a perfect cross-section of organizations that gather quarterly to share their experiences and work to promote services in East Harlem. Those initiatives include working to better promote the community, strategizing interorganizational opportunities to share resources, and looking for ways to promote the use of services located within the East Harlem community.
While the CEO is often focused on the financial health of the hospital, she also deeply understands the need to be connected to patient experiences. Metropolitan includes a Patient Family Advisory Council that Moran says provides an open dialogue for patients to share their stories. "We love when we're able to celebrate successes, but we're also aware that there are opportunities for us to improve, and it gives us the chance to work together in those efforts," she says. "Our values at Metropolitan [ICARE: integrity, compassion, accountability, respect, and excellence] recognize that our patients and families are undergoing an often uneasy situation, and we want them to have the best experience they can have."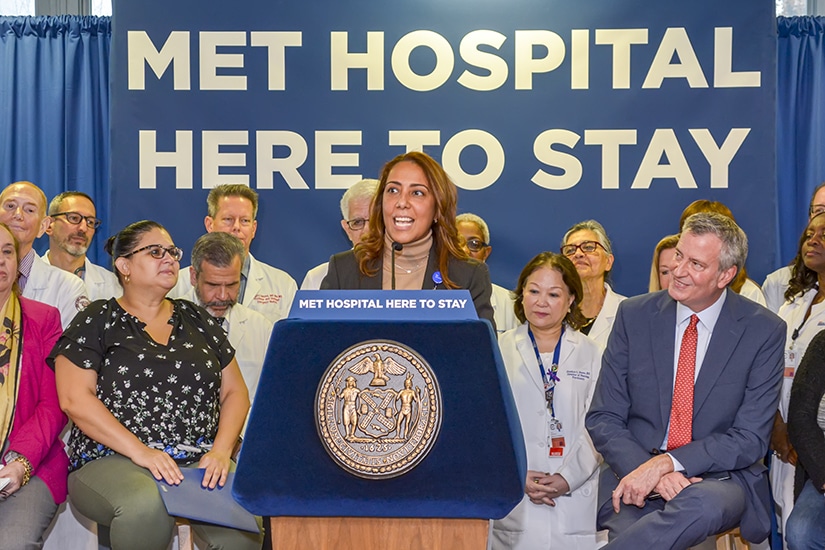 For the last three years, Metropolitan's community efforts have been largely focused on the management of chronic diseases like diabetes and hypertension. Supplemental treatment and lifestyle integration opportunities have ranged from apps that measure blood sugar and connect directly with clinicians to cooking classes for those looking to change their diets. There's even a farmer's market from June to November; participants receive "healthy bucks" they can exchange for food. "It's almost a food prescription," Moran says.
It's just another way to show that Metropolitan is committed to the community outside of its doors—and Moran is intent on being the one holding open the door.
---
Related Links
Mayra Boitel and Randy Martinez: "The idea is to change an industry"