Miguel Centeno was raised with plenty of hardships. "When I was growing up in the Bronx, my family lived in public housing," he says. "Sometimes we didn't have heat in the winter or hot water." Rather than become embittered, however, he turned that early frustration into motivation.
Centeno took advantage of a test prep program for promising minority students to attend the private Ethical Culture Fieldston School. He later earned a degree in urban studies from Columbia University and a master's of public administration from New York University's Robert F. Wagner Graduate School of Public Service. "I knew firsthand that some people have a harder route than others and that unfair policies often prevent them from getting ahead," he says. "I wanted to do something to level the playing field."
A five-year stint advancing economic development, minority opportunities, and community engagement in the Brooklyn Borough President's Office convinced him he was doing the right thing. The opportunity to expand the playing field—to include all of New York City, Long Island, and the mid-Hudson Valley—appeared in 2001 when he was offered a job with the US Small Business Administration. In his first year as a business development specialist for the Hispanic community, the Small Business Administration's New York district office saw a 40 percent increase in loans to Hispanics.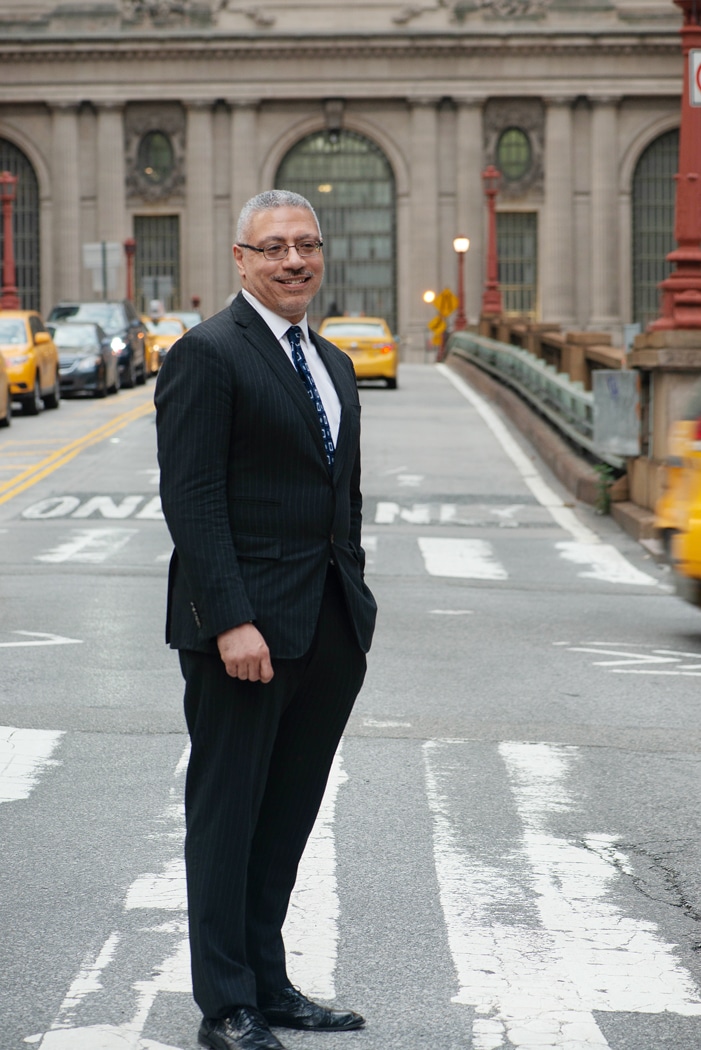 One of the businesses Centeno helped was Delicioso Coco Helado, makers of frozen tropical treats. Started in the 1960s by three brothers from Honduras who sold the treats from street carts, the company now has more than three hundred employees and distributes its products in several states. "The company has been described as the Ben & Jerry's of the South Bronx," Centeno says. "We provided them with assistance at a critical time in their growth. It's great being able to help people in my own backyard."
In 2007, he got a chance to expand his reach even more by accepting a job at healthcare giant Aetna. His latest promotion there made him senior director of community marketing for the East, which covers thirty states in the Northeast, mid-Atlantic, Great Lakes, and Southeast. As in his previous jobs, Centeno taps into local community groups to achieve shared objectives.
One such project involved the Sphinx Organization, which is dedicated to expanding diversity in the arts. "Kids don't get to see African American and Hispanic classical musicians very often," Centeno explains. "This organization shows them it is possible." Aetna decided to help sponsor the group's national tour, and in exchange, the company asked Sphinx's performers to become health ambassadors.
In fact, Aetna created a special curriculum for the Sphinx musicians to present in the schools they visited; the program has benefitted more than 100,000 US students in its 20-year history. "The health ambassadors/musicians talked about how difficult it is to eat, sleep, and exercise on the road and provided lots of healthy tips," Centeno says. "The kids were a lot more receptive to hearing these things since they weren't coming from a clinician." The musicians have performed in schools that are current Aetna customers, thereby enabling Aetna to do well by doing good.
The Sphinx partnership was the result of innovative thinking, which fits well with the five principles Centeno encourages the twelve members of his team to embrace. These are diversity, teamwork, balance, boldness, and performance. "We have to embrace our diverse perspectives, support each other, and ensure that we are physically, emotionally and mentally healthy. We need to be bold and fearless," Centeno says. "I urge everyone to take calculated risks, to try new things, and to stretch beyond where they've gone before. Performance means we have to put our plans into action. We can't just talk the talk; we have to deliver and get results, which means improving the lives of existing customers and attracting new ones."
Another way Centeno and his team enhance lives is through volunteer activities. "At Aetna, we have an ethos of volunteerism," he says. "The latest numbers indicate our employees have donated more than 500,000 hours in their communities, but I think that is an understatement, as not everyone logs their hours."
Centeno volunteers a significant amount of time by serving in leadership capacities on the board of directors of three nonprofits: Hispanic Federation, National Urban Fellows, and the American Diabetes Association, Greater New York Chapter. "These great organizations do so much to enhance the quality of life for their communities," he says. "I am honored that they give me the privilege to serve them in meaningful ways."
Centeno says his approach to leadership is captured by the acronym BEST, which stands for blessings, empathy, service, and time. Blessings, in this case, is defined as being willing to pass on the gifts he's received. Empathy is to try to see the world through someone else's eyes. Service means that Centeno is supporting everyone on his team, both in their professional and personal lives. And time means investing time. "I invest the time to get to know my team as people, not just employees, and I celebrate their successes and provide extra help when someone is struggling," Centeno says.
Sentiments like this and the successes Centeno has had throughout his professional career propelled him onto Crain's New York Business's "40 Under 40" list in 2009. "Of all the honors I've been fortunate to receive, I'd have to say I am proudest of this one," he says. "It's extremely competitive and the 2009 class included lots of talented and dynamic individuals, including Lin-Manuel Miranda [the creator of Hamilton who, like Centeno, also happens to be of Puerto Rican ancestry].
In the future, Centeno has considered running for elected office. "Over the years, people have encouraged me to seek public office," he says. "It is something that I am considering going forward." It is not hard to understand why given Centeno's commitment to serving others.
Let the Music Move You
In Miguel Centeno's spare time, he loves to play salsa music. In fact, he recently started his own band, called Grupo Centeno. He is the lead singer, as you can see in this clip from one of their recent performances.