Artist Daniel Lind Ramos specializes in transforming the ordinary into the extraordinary. In his hands, and through his paintings and sculpture, everyday objects become points of fascination and poignancy.
Ramos has been rightfully celebrated throughout his career, earning major distinctions (including a MacArthur fellowship) both in his native Puerto Rico and in the United States. I sat down with him to reflect on his journey thus far, the meaning that his work holds for Black Puerto Ricans, and more.
I believe I met you back in 1994, when we were both invited to participate in the Segunda Bienal de Pintura del Caribe y Centroamérica in the Dominican Republic. I remember your paintings—they were very beautifully crafted, stylish, and masterfully made. What role does painting play in your work nowadays?
In painting, I was looking for the "personal sign:" a signal that could be recognized as the main characteristic of my formal vocabulary. I was trying to create a particular luminosity, not necessarily from the claroscuro approach but from the simultaneous contrast effect of color and the way that light reflects when it hits different levels of pigment application.
I was also in search of the conquest of "psychological space" (the superposition of a primary or secondary color over a background of tertiary or chromatic or achromatic grays that produces the sensation of a figure against a background). In this figurative painting program, every square inch of the canvas was thought of in terms of nuances of complementary colors applied either simultaneously or tonally contrasted. It was as if I wanted to "weave" the construction of the painted image with well-thought-out refinement of color where there was no place for randomness. Nowadays in my assemblages, when I play with the objects, this approach to color is strongly taken under consideration.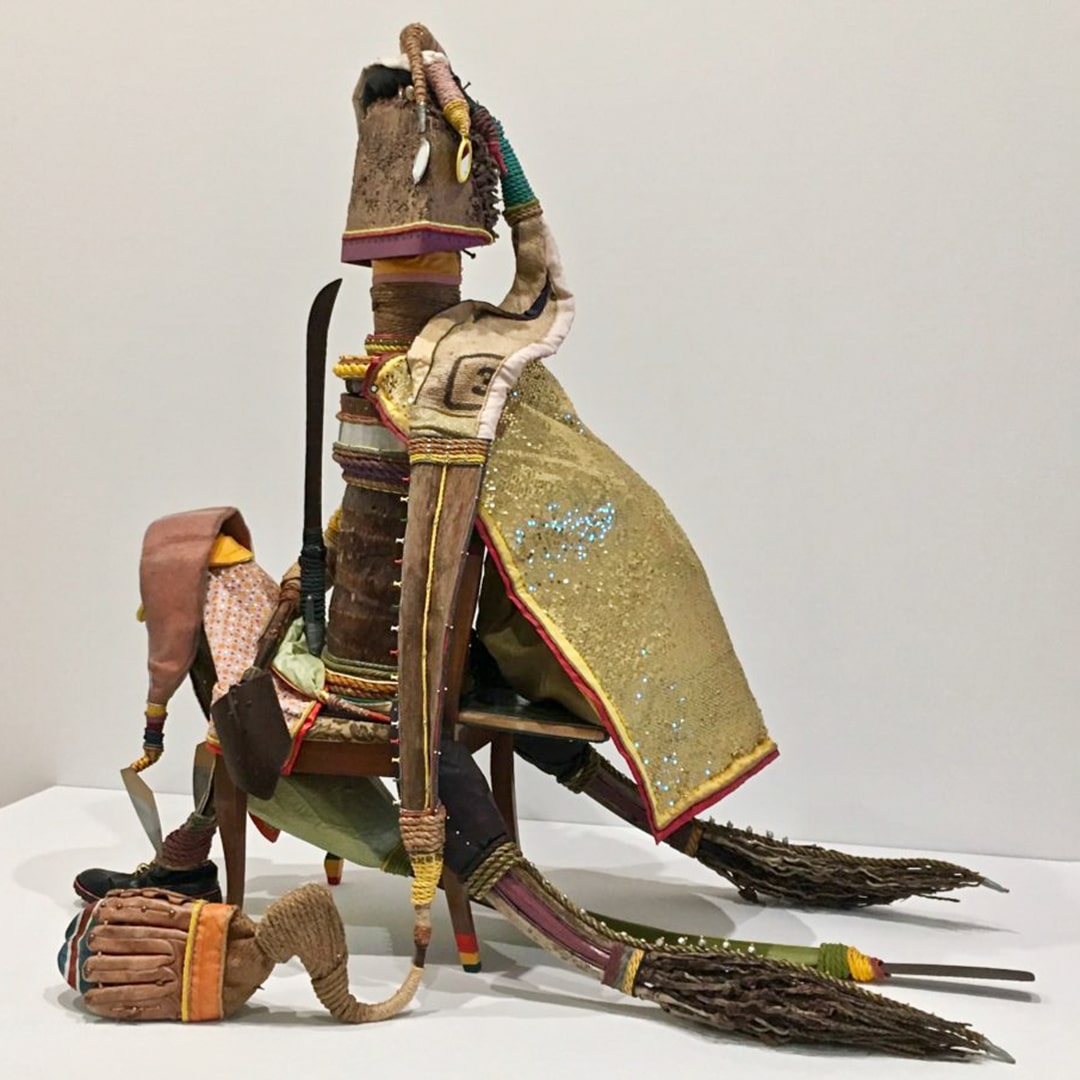 In a recent press release, you mentioned that your goal with your practice is to "Transfor[m] everyday objects into assemblages that speak to the global connections inherent in Afro-Caribbean and diaspora legacies." Can you tell us about your relationship to found objects? How do you source them? Does the way they are sourced influence the direction or the meaning of the artwork they end up being a part of?
Normally, a found or given object activates my memory and imagination in different ways; the person that gives it to me or the context where I find it provokes different stimuli. The development of ideas—and consequently the creation of the image related to the form, utility, story, or materiality—connects me with experiences and memories linked to the piece. After this, other pieces that are bought, exchanged, or created by me are incorporated through a process in which I see myself as free to incorporate other medium materials or techniques.
Here is an example: my neighbor Enma, a great and venerable cook from my community, was ninety-two years old when she came to my studio with a big old cooking grater in her hands. "Junior," she said, "I know you will do something with it." I knew from her that the grater used to belong to her grandmother. In that precious moment, I felt that she was an old emissary, passing to me through the symbolism of her action the ancestral knowledge related to nourishment based on the coconut and the yucca, two of the principal ingredients in our traditional food and two ingredients that were, on many occasions during hazardous times, our source of nourishment.
We should never forget that nowadays, famine still affects many countries. With this in mind, I added and constructed other objects and brought different materials related to the narrative of sustenance of the collectivity to create Figura Emisaria (2020), where the grater given to me by Enma is part of the focal point of the composition.
During one of my latest trips to Puerto Rico, I noticed that in mainstream local television, the inclusion of Black-skinned individuals is often highlighted as a novelty. How does your practice push boundaries for other Black Puerto Ricans?
I think that my practice might push boundaries for other Black Puerto Ricans because, at least with my formal system and narrative, I could be proposing the possibility of bringing about a space of expression that is not necessarily the canon of cultural officiality. We should be considering the experience of Negritude in order to provoke a wider, richer, and multidimensional manifestation of Blackness in any other discipline.
Can you tell us a bit about your experiences with artistic learning—both your studies as a young artist and your experience as an educator in Puerto Rico?
In my childhood, my house was like a collective workshop where my mother made crafts with natural fiber, my grandmother was a seamstress, one of my uncles was a cabinet maker, and my other uncle was a coconut mask maker. At one time, I could see all of them working in different places of the house, including the yard. Meanwhile, they allowed me to draw on the cardboard walls of the home. My first encounter with pigments and brushes was in my residence, with the ones that my Uncle Luis used to paint his coconuts.
During the 1970s, at the University of Puerto Rico, Professor Felix Bonilla Norat introduced us to color theory, including through a course related to "the twenty pictorial situations" in which we were introduced to an experiment with the found object and arte povera. In the 1980s, at New York University, Professor Idelle Weber (a pop and photorealist painter) was always encouraging my inventiveness.
As an art educator in Puerto Rico, my intention was to expose students to art fundamentals and the history of art and to create situations where the students could look into themselves. Then, they were encouraged to use this experience to create visual symbols regardless of the intellectual, emotional, or retinal approach of the chosen vision for expression.
What do you see as your biggest calling as an artist at this historic moment?
[Telling] our particular stories through a system of expression based on the materials, techniques, and practices that are connected to those stories is an important way to celebrate diversity as a beautiful and necessary component of our human experience.
---
Puerto Rican born, Edra Soto is an interdisciplinary artist and codirector of the outdoor project space the Franklin.
Recent venues presenting Soto's work include Crystal Bridges Museum of American Art's satellite, the Momentary (Arkansas); Albright-Knox Northland (New York); Chicago Cultural Center (Illinois); Smart Museum (Illinois); and the Museum of Contemporary Photography (Illinois).
Recently, Soto completed the public art commission titled Screenhouse, which is currently at Millennium Park. Soto has attended residency programs at the Skowhegan School of Painting and Sculpture, Beta-Local, the Robert Rauschenberg Foundation Residency, the Headlands Center for the Arts, Project Row Houses, and Art Omi, among others. Soto was awarded the Efroymson Contemporary Arts Fellowship, the Illinois Arts Council Agency Fellowship, the inaugural Foundwork Artist Prize, and the Joan Mitchell Foundation Painters & Sculptors Grant, among others. Between 2019-2020, Soto exhibited and traveled to Brazil, Puerto Rico, and Cuba as part of the MacArthur Foundation's International Connections Fund.
Soto holds an MFA from the School of the Art Institute of Chicago and a bachelor's degree from Escuela de Artes Plásticas y Diseño de Puerto Rico.