Gisela Colon's organic minimalist structures are taking over the world. The LA-based, Puerto Rican artist's monoliths are intriguing, flawlessly made, and visually mesmerizing.
In a male-dominated public art industry, Gisela's work defies expectations and trends, and stands on solid ground, while giving the experience of the sublime.
I had the pleasure of engaging in conversation with Colon to discuss her upbringing, work and career, and future goals.
Please tell us about your upbringing in Puerto Rico and what influenced you to pursue an artistic career.
My formative years in Puerto Rico were a mixture of experiential highs and lows where creating art and acquiring scientific knowledge coexisted with major life adversities. On­­e of my first childhood memories was watching the moon landing, which led to my lifelong fascination with astronomy. As a teen, I also visited the Observatorio de Arecibo (until recently, the largest outer space telescope in the world). I studied the vastness of the cosmos and dreamt of becoming an astronaut.
My father was a scientist (chemist) who worked for Puerto Rico's government in the 1970s conducting air quality studies. He discovered that dust from the Sahara Desert reached Puerto Rico through trade wind currents, providing me with an early understanding of planet Earth as an interconnected ecosystem. I also learned a love of gazing at the Earth from above from my maternal grandfather, a skilled cartographer.
Both my grandmothers were scientists (one a phlebotomist and the other a pharmacist), and they taught me the wonders of the microscopic world. My Puerto Rican grandfather owned a hardware store in the 1950s in Bayamón: at his store, Ferretería Colón, I learned the value of industry and creative experimentation through tools and construction. Collectively, these eclectic formative experiences nurtured my deep connection to the scientific and cosmological realms.
My mother, a painter who appreciated art in all its forms, exposed me to art at a very early age. From the age of four, applying oil impasto on wood, I painted landscapes, still lifes, and quotidian scenes of our island surroundings­­—nurturing rich connections to the Earth and natural biodiversity.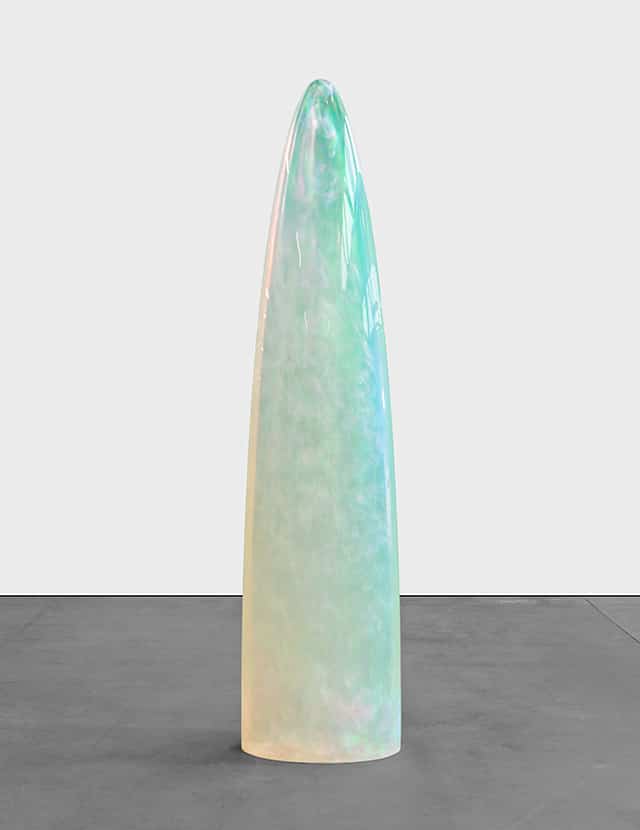 I lost my mother at the crucial age of twelve. Soon after, Huracán David hit Puerto Rico and my father's government position was terminated, leading to complete financial distress and dire circumstances for an already dysfunctional family. My ensuing teenage years were filled with hunger, poverty, suffering, and violence. Madre Naturaleza (Mother Nature) became my steadfast source of power and strength.
The plants, animals, trees, mountains, and all the nature around me provided me with survival and coping mechanisms. These painful experiences taught me to turn trauma, ugliness, and despair into energy, beauty, and light, much like the natural world's own process of regeneration. These lessons in transformation fundamentally shaped my life and became the overarching catalyst for my art practice.
What constituted the early developments of your work?
I started as a painter in childhood, spending many long hours creating oil paintings of sugarcane fields, tropical flowers, maracas, guiros, clay pots, ceramics, bohíos, rolling green country landscapes, the rainforest, and many other natural and quotidian subjects in Puerto Rico. I painted intermittently as a student at the University of Puerto Rico and during my twenties and thirties in Los Angeles. In my forties, I turned to sculpture, creating the work I am known for today.
Though I am in a sense a late bloomer, art has been in my life from the beginning. The rich moments that I spent painting with my mother taught me valuable life lessons: I became autodidactic. I learned that art was transcendental and had the power to transform reality. The lessons from my childhood in Puerto Rico carry through every aspect of my practice today.
When you've spoken about the intersection of art and science in your practice, you've emphasized the importance of time, place, and energy. What is essential for viewers to understand regarding these conceptual aspects of your practice?
We humans often forget that we are part of the universe at large—we are located on this precarious blue ball floating in space. Our existence is almost miraculous. My work attempts to bring into focus the unseen wonders of our existence. I want the viewer to feel the power of the transformative energy that surrounds us and to experience invisible phenomena of the natural world.
I am so impressed by your Monoliths series. How did it originate? Can you tell us about the various types of monoliths that you have created?
My first monolithic form emerged early in my practice in a painting titled Pinnacle (1996) that incarnated a mountain form inspired by El Yunque rainforest in Puerto Rico. The mountain form brought me a powerful source of strength and resilience, which I channeled into my early paintings and which ultimately became the fundamental form of my monoliths. I have created two kinds of monoliths: monumental land art sculptures composed of aerospace carbon fiber, and human-scale urethane monoliths that channel cosmic energies.
The monoliths originated from my desire to access universal connectivity between humans and to create an unspoken language of semiotic forms that we can all intuit. The monolithic form dates to prehistoric times when humans engaged the sacred realm through ancient cultural artifacts like totems and amulets. Archeological structures from early civilization—such as Stonehenge, Native Taíno ceremonial stones, and even the Giza Pyramids—all employ a similar intuitive vocabulary that invokes a mystical world beyond Earth.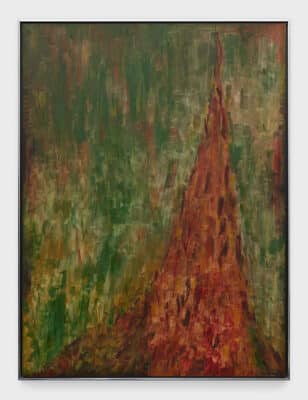 Your monoliths are intended to challenge the male-predominant minimalist canon. Can you expand on this subject? Are there any other female artists in this field that you identify with or admire?
Historically, minimalism has been dominated by white men, with very few women and no Latinx people. It's an ivory tower lacking identity content. The select few women in this realm who I admire, like Ann Truitt and Mary Corse, had to create art that was devoid of gender identity to fit into the prescribed discourse of the time. My organicminimalism practice challenges and deconstructs this hermetic history, bringing a fresh view to this world. Both literally and conceptually, I provide new life.
I gravitate toward creating singular, reductive forms because they feel atavistic and serve apotropaic purposes. Applying principles of transformation and organicism, I imbue these singular forms with pulsating life force, creating a new universal language of humanized geometries.
You recently presented the work Eternity Now (Ellipsoidal Dome Iridium Gold) as part of the exhibition Forever Is Now at the Great Pyramids of Giza in Cairo, Egypt. Please tell us about this experience and how the physical site informed your work process.
Eternity Now is a Land Art project that presented a fantastic experience of time travel! I created a site-specific installation of a 30-foot-long gold dome sculpture resembling a glowing sun. The sculpture comprised one part of Forever is Now, a historic international contemporary art exhibition on the 4,500-year-old UNESCO site of the Pyramids of Giza.
Created of aerospace-grade carbon fiber, the giant dome laid at the foot of the Sphinx and the Pyramids, activating a direct dialogue across time with its historic and cultural surroundings. The monumental golden sculpture paid tribute to Egypt's legacy as a 'cradle' of ancient culture and was informed by the astounding volumes of ancient Egyptian knowledge across astronomy, science, mythology, art, architecture, and sacred geometries.
The installation's formal geometric aspects embodied the mythical shape of the Sun God Ra's glowing orb: the venerable chroma of gold is omnipresent in Egyptian symbolism and ritualism. Through semiotics and the embodiment of a universal geometric language, Eternity Now envisioned a future of humanistic solidarity, reconciliation, and unity.
What future projects are you looking forward to?
I am always excited about the future! I am continuing my expansion into the realm of Land Art as part of the curated exhibition Godheads – Idols in Times of Crises this summer. I will embed a monumental work into Lustwarande, a baroque forest in Tilburg, the Netherlands.
---
Puerto Rican born, Edra Soto is an interdisciplinary artist and codirector of the outdoor project space the Franklin.
Recent venues presenting Soto's work include Crystal Bridges Museum of American Art's satellite, the Momentary (Arkansas); Albright-Knox Northland (New York); Chicago Cultural Center (Illinois); Smart Museum (Illinois); and the Museum of Contemporary Photography (Illinois).
Recently, Soto completed the public art commission titled Screenhouse, which is currently at Millennium Park. Soto has attended residency programs at the Skowhegan School of Painting and Sculpture, Beta-Local, the Robert Rauschenberg Foundation Residency, the Headlands Center for the Arts, Project Row Houses, and Art Omi, among others. Soto was awarded the Efroymson Contemporary Arts Fellowship, the Illinois Arts Council Agency Fellowship, the inaugural Foundwork Artist Prize, and the Joan Mitchell Foundation Painters & Sculptors Grant, among others. Between 2019-2020, Soto exhibited and traveled to Brazil, Puerto Rico, and Cuba as part of the MacArthur Foundation's International Connections Fund.
Soto holds an MFA from the School of the Art Institute of Chicago and a bachelor's degree from Escuela de Artes Plásticas y Diseño de Puerto Rico.