The past twelve months have been, in many ways, a grand experiment. They've tested the resiliency of our communities, both as it pertains to our national citizenry and to our gente.
As a result, we've been compelled to elevate our commonalities, to bridge our differences in the face of forces seeking to divide and conquer us. And while "divide and conquer" is such an obvious strategy—and such an obvious cliché—the fact remains that it's also a maxim that was ever present throughout much of 2020 and into this year.
If last year's presidential election taught us one thing, it's that the Latino community is ripe for division. The issues that have become mainstream both in society at large and within corporate America are also clearly present within the Latino community. Every day, we grapple with matters focused on race, nationality, class, immigration, gender; the entire spectrum of "Latino-ness."
Our recent Identidad Issue touched on the very topic of our identity, exploring the complexities (and contradictions) of Latinidad. In many ways, it is those complexities—the very nature of our Latinidad—that make our group both vibrant and susceptible to division.
For us to make traction on issues impacting the Latino community, we need to find as much common ground as possible, extending a hand to—or rather, locking arms with—others in our community with the same goals.
I'm not advocating for the historically elusive idea of political unity. But I do believe there is a level of commonality we need to reach as members of a greater Latino community—one that understands and accepts the aforementioned intricate nature of our identity—in order to have productive conversation that leads to productive action.
We must ally ourselves from within. As our cover star Jessica Alba exhorts, "Why can't our community wrap our arms around each other and lift each other up, the way other communities do for each other?"
But Latinos alone cannot effect the changes that are needed in the C-suite, in the boardroom, and at all levels of the workplace. Allyship must become a prominent part of the discussions we have both within our community and in the broader business landscape. The decisions we make must ensure that allyship is not a buzzword but rather something that is truly sustainable, something that drives results and engenders sympathetic love for the success of other individuals and groups instead of envidia.
That is why we are including, for the first time, non-Latino executives within the Hispanic Executive brand. The leaders included in this issue—Jennifer Soliman, Yau Cheng, and Jennifer Mancuso—have spent years building bridges between the Latino community and other groups. They have fought for fair treatment and reasonable working conditions for Latinos living in Florida and Texas, changed their company's approach to diversity and inclusion from within, and stood beside students and young professionals in need of a mentor.
We felt it important to include these examples of allyship within our annual Leading Latinas issue because of the commonalities shared with the inspirational Latinas featured within; leaders who have not only benefitted from strong allyships but continued to forward that message in the work they do each day.
We see an embrace of allyship in Eva De La Rosa, who has risen to a global marketing role at Citi thanks to both Latino and non-Latino mentors and advocates.
We see it in Dianne Morales, who is fighting not just for the Latino community but for the entire city of New York.
And we see it in Betty Francisco, who grew up in public housing in that very city. Today, Francisco stands as an ally to all women and people of color, supporting low-income families of all backgrounds as general counsel at Compass Working Capital and advocating for both Black and Latino leadership on corporate boards.
The Leading Latinas and Allies featured in this issue have proven that results-driven allyship is not some far-off dream. It has been a part of their leadership philosophies and the workplace for years, even decades, and will continue to play a critical role in the success of both Latinos and members of other communities. Because while the scope of allyship will certainly change in the years to come, one truth remains constant: the impact we make working together, locked arm in arm with a vision of a more just society in sight, is always greater than when we work alone.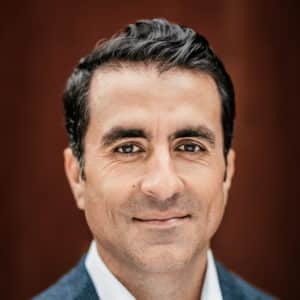 Pedro A. Guerrero
CEO of Guerrero Media
Publisher of Hispanic Executive
Other Letters from the Publisher
Bridging Borders: The Power of Global Citizenship