A lifetime ago I was a young, aspiring artist enamored with the creative process. I had an insatiable urge to accept the challenge of any blank canvas ready to stare me down—daring me to make a mark, daring me to begin the messiness that is creation. I fell in love with that process because every now and then, if I was lucky, those brush strokes, lines, corrections, and revisions would somehow harmonize as one, and a work of art would reveal itself.
Over the course of life, many of us have experienced the magic that happens when serendipity finds us—be it through a "small world" coincidence, the rediscovery of an idea that was long forgotten, or a chance meeting that leads to an unforeseen, exciting solution.
Producing a magazine like Hispanic Executive is a creative process in and of itself, one that requires a company of hands to build. It's creation also involves collaboration with, and an awareness of, those outside of the production process. In our instance, that means the executives whose stories we share and our audience of readers.
Rarely, however, do we allow ourselves the latitude to view our own process as one that can summon a moment of magic akin to the development of a work of art.
I have been anticipating this inaugural Identidad Issue with excitement because as we started to conceive it, we began to hear a signal cutting through the noise that we were onto something. But it wasn't until the pieces started falling into place that we knew the issue we were working on was something special.
As we debated who the cover star would be, it was by chance that John Leguizamo was in Chicago for his production of Latin History for Morons and open to a photoshoot at the historic Cadillac Palace Theatre. And it was pure coincidence that, during the same week I spoke with a Latina CMO of a blue-chip Fortune 500 company (who asked me what words we use to describe Latinidad), I was gifted a copy of Making Hispanics, written by our guest editor Dr. G. Cristina Mora. It quickly became clear that in this issue we needed to tackle the matter of Latino identity by showcasing the complexity and history of how we name ourselves.
In many ways, how each of us identifies is at the core of who we are collectively, precisely because it's completely personal, familial, political, and historical. The answers are forever colorful and ever-changing. It is so wrought with context that thirteen years ago it quickly became the first big decision we had to make. What do we name this magazine?
In launching Hispanic Executive, the goal was to raise the caliber of how Latino success stories are told by presenting their narratives in a sophisticated way. We wanted to speak directly to Latinos in the private sector and use a term that, at the time, was readily accessible and understood by all.
To be honest, I was not particularly comfortable with including Hispanic in the name of this magazine as it was somewhat foreign to me. Over the course of my life I've gone from Mexicano to Chicano to Latino. Never had I identified with Hispanic. But a decision was made because we needed a common place to begin, and as Dr. Mora states in her guest editor's letter, "You cannot have something called Hispanic Executive, in which we can come together to debate the boundaries of the group or the values that bring us together, without having some sort of starting point for what Hispanic means."
One man who is well-educated on the complexity of identity is this issue's cover celebrity, the great John Leguizamo.
In Latin History for Morons, Leguizamo digs into the sad truth that Latin Americans have too often been deprived of a beginning. Though they fought for the country en masse during the American Revolution, the Civil War, and both world wars, their contributions are regularly glossed over, regularly diminished to footnotes. For Leguizamo, the representation of Latin Americans over the course of the country's history deserves a rewrite—or, rather, a beginning.
Considering that the American identity itself is bright with Latino elements woven into its fabric over the course of centuries, Leguizamo is perplexed by the void of unique Latin American richness in daily America.
Still, as I paged through the impressive individuals that follow Leguizamo's feature in our Top 10 Líderes section, so many of them innovative thinkers and leaders in media, I began to see the fruits of our culture's labor to be both better heard and better seen.
With One Day at a Time, co-showrunner Gloria Calderón Kellet did more than just reboot a Norman Lear sitcom with a Cuban American family, she redefined what a traditional sitcom will look like into the future. Ramon Escobar, CNN's vice president of talent and recruitment, has literally spent decades finding and developing diverse on-air talent—from Lester Holt to Ana Cabrera to Enrique Acevedo. And Sylvia Banderas Coffinet, former publisher at HOLA! USA, believes that "content should reflect the reality of the audience that it serves." She goes on to put it more poignantly: "The truth is that multicultural is the new mainstream and that multicultural done well is mainstream done right."
These special leaders have made their voices louder because they've embraced their identities, and their stories are examples of valiant efforts by Latinos to shape America's identitad.
I believe the breadth of this issue underscores the war Latinos are often required to fight around who they are—not just on a personal level but on a macro one as well.
So, while the stars may have aligned for this issue, there is still work to be done. There are many more identidades to recognize, many more stories of success to share. Hopefully, what we are witnessing is an alignment on a much grander scale, one where we can take a step back together and say, "Wow, we have arrived."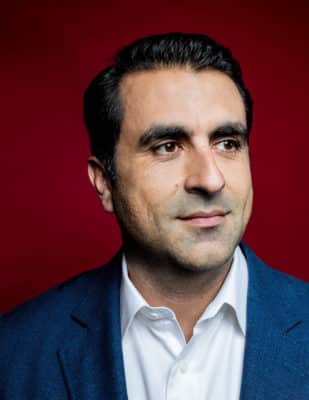 Pedro A. Guerrero
CEO of Guerrero Media
Publisher of Hispanic Executive
Other Letters from the Publisher
Bridging Borders: The Power of Global Citizenship