To Ramon Escobar, the story of how he became a vice president at CNN Worldwide begins not with his education at the University of Missouri School of Journalism or with his first position as a producer at Univision WXTV Channel 41, but with a love story.
"My father had a very eclectic upbringing in El Salvador—he ran away from home at thirteen and traveled the world working on boats. He even joined the circus at one point," Escobar says. "But one day, in Colombia, he met this beautiful woman on a blind date and decided to marry her. That was my mother."
Escobar's parents initially planned to settle in New York, stopping only briefly along the way in Arkansas to visit some relatives. But as soon as they got to Little Rock, a snowstorm set in and made travel impossible. "My parents had nothing, no money. But they had a newborn to take care of—my older brother," Escobar says. "So, my father went to the Catholic church and asked for help. They gave him a job in maintenance, and we stayed in Little Rock for the next twenty years."
Growing up in Little Rock, Escobar and his family lived paycheck to paycheck. "But my siblings and I didn't know that," Escobar says. "We never felt that we were poor. I work with a lot of smart people, but I still consider my parents to be the two smartest people I know because of all that they were able to pull off despite the sacrifices they made."
Escobar's parents allowed him every opportunity they could, he says, whether that meant ensuring that he visited El Salvador and Colombia during school vacations, or helping him travel to the White House as the Arkansas state representative of Boys Nation—an honor for which he was congratulated at the time by Governor Bill Clinton, a former Boys Nation representative himself.
"My parents were very insistent that we not forget where we came from," Escobar says. "That meant talking with our relatives about the culture, the customs, and the food—but it also meant getting all sorts of magazines and newspapers to keep up with the news from back home. So that created in me a tremendous desire to follow what was going on in the world.
"But the media was also how my parents learned everything they knew about America," Escobar continues. "When they first got here in the early 1960s, they watched the civil rights movement unfold on TV and then again right outside their house."
This experience inculcated in both Escobar and his parents a deep appreciation for civil rights, an appreciation that was only compounded by the discrimination that Escobar and his family faced as a result of their "foreigner" status.
But even when he watched television coverage of international events, Escobar says, he did not see many people who looked like him. And those who did weren't often portrayed in a positive light.
"I saw civil wars, drug wars, and people in bad situations. But I had been to El Salvador. I had been to Colombia. So, I knew that that wasn't the whole picture," he says. "I decided that that was what I wanted to do—become a part of the world that helps shape not only opinions but the reality and facts of life for people all around the world."
And for nearly three decades now, that is exactly what Escobar has done. From breaking the news of the Gianni Versace murder and becoming the youngest news director in the history of NBC to covering the Bush-Gore election in 2000 and going days without sleep to cover the chaos and trauma of 9/11, Escobar has become an undeniable force within the industry.
But these days, Escobar finds himself behind the scenes, working to find and develop the next generation of reporters, producers, and editors as VP of talent recruitment and development at CNN.
"We have to constantly think about how to find the best and brightest people in the world, for on-air and off-air positions," Escobar says. "We need to find fantastic people and figure out why they aren't with us, and sometimes that means finding people before they even realize how good they are."
You have to have an eye for talent in this line of work, Escobar says, a knack for spotting talented young men and women who will turn into respected journalists like Lester Holt, Natalie Morales, Mika Brzezinski, and Ashleigh Banfield. But you also have to be mindful of how all those talented individuals fit into the bigger picture.
"A lot of the people that I've worked with or brought on have changed the face of the network by diversifying it—people who are Latino, or African American. But people forget that I am also from Arkansas," Escobar says. "And being from Arkansas is just as much of an asset and a component of my diversity as anything else."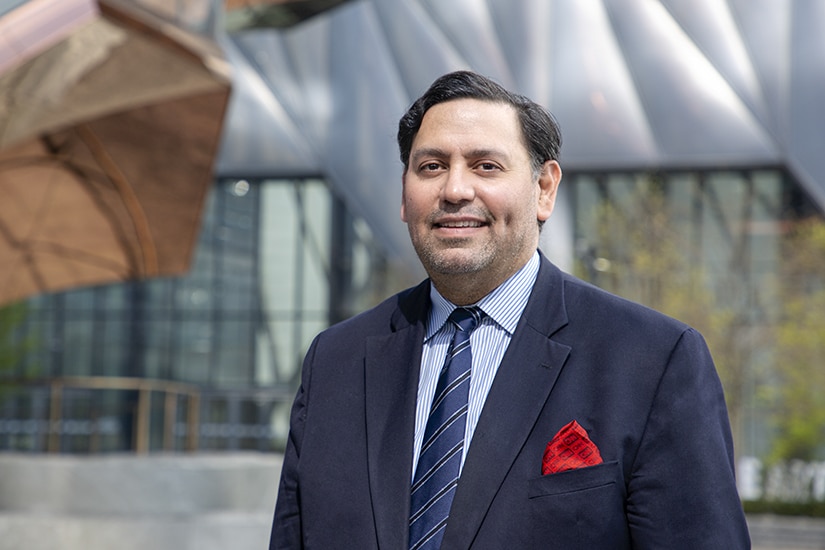 All of the different components of who we are and how we think are important, Escobar stresses. And we need to understand that from as early on as possible.
"When I was first starting school, my mom came to me and said, 'I just want you to understand that it's possible they're going to make fun of you,'" Escobar recalls. "And I just thought, 'Why? Why would anyone make fun of me?'"
"'Because you're different from them,' she said. 'Your parents come from another country, you speak a language other than English, you have an accent, and your name is so different. You are different.'"
"'So, what should I do?' I asked."
"And she said, 'Let me ask you something, Ramon. Do you think speaking two languages is better than one?'"
"Yes."
"Do you think that having traveled and understanding multiple cultures is better than knowing just one?"
"Yes."
"'I think so, too,' she said. 'This is a strength. But they're going to make it seem like a weakness because they don't understand it. So, educate them. Tell them about Colombia, tell them about your family. You can help people not only understand difference but celebrate it, too.'"
As a journalist as well as an executive, Escobar has strived to live up to his mother's words. And now, as VP of talent recruitment and development, he has the platform he needs to help ensure that everyone else at CNN recognizes their value.
"Embracing diversity isn't just the right thing to do, it's the right business thing to do," Escobar says. "When you have a newsroom that truly looks like the world, he notes, a room with people from Arkansas and Korea, people from conservative as well as liberal backgrounds, people who are gay and straight, white and black, you'll have better journalism, higher ratings, and a better business all around.
"If we profess to be a news organization of the world," the VP says, "we must reflect the world."
For decades, Ramon Escobar has discovered, developed, and mentored elite on-air talent. More than just a knack, that distinct ability has practically become a super power—as evidenced by the media personalities he's affected over the course of his career.
"I've known Ramon for more than twenty-five years, and in that time, have had the pleasure of watching him grow and develop into a great leader with one of the best eyes for talent in the business. He's helped change the face of CNN, ensuring that we have the most diverse on-air talent in the industry."
—Jeff Zucker, Chairman, WarnerMedia News & Sports and President, CNN Worldwide
"Five minutes into my job interview with Ramon it became clear the virtues of diversity were personal to him. He spoke about it with true passion and was obviously very proud of the team he built and the advantages of an inclusive work place, and he wanted folks joining his team to understand that from the start. That was twenty years ago, and in some ways it felt like we were ahead of the game."
—Lester Holt, Anchor, NBC Nightly News with Lester Holt; Anchor, Dateline NBC
"Working with Ramon Escobar was one of the highlights of my career in journalism. During the 2000 Florida recount, I was reporting on the Palm Beach votes coming in. Ramon called me and encouraged me to call a few more of my sources. With his brilliant insight as an editor, we broke huge news during one of the closely watched stories of my lifetime as a presidential election hung in the balance. He is a great executive and producer."
—Norah O'Donnell, Anchor and Managing Editor, CBS Evening News and a 60 Minutes Correspondent
"Ramon is every definition of leader. He leads by example, uplifts colleagues, and invests in people to help each of us reach our potential. His contributions to CNN are visible on air and felt behind the scenes, in the collaboration of colleagues representing diverse backgrounds and perspectives, which Ramon has prioritized in his recruitment and development role. His passion inspires, and his compassion has helped create a culture of familia at CNN.
"Ramon first reached out to me when I was a local news anchor at the ABC affiliate in Denver, my hometown. I was reluctant to leave my work situation at the time, but Ramon's energy and vision convinced me to take a leap of faith and explore the mission of CNN. Six years later, I'm grateful to consider Ramon a friend and mentor. I have never felt more satisfied or passionate about the work I do as a journalist, thanks in large part to Ramon's guidance and support.
"As an organization, CNN is lucky to have Ramon among its leadership. And as a Latina, myself, Ramon's success is aspirational. He's like a North Star, exemplifying what's possible through tenacity, relationship building, and commitment to having a positive impact—at work, in our community, and around the world."
—Ana Cabrera, Anchor, CNN
"Ramon was one of the first executives in our industry to recognize and address the lack of diversity in our newsrooms. Not just gender and race, but culture, sexual orientation, age, and points of view. He understands the value this generates for the companies he's worked for and for the audience. I'm lucky to call him a mentor and a friend."
—Enrique Acevedo, Anchor/Correspondent, Univision Network News
"Ramon has been instrumental in shaping the journalist, newsroom leader, and person I am today. Whether it is pushing me to produce content that is fair and accurate, nurturing a newsroom environment that is collaborative, or reframing diversity and inclusion as a problem to be solved to an opportunity to be realized, Ramon has been an important resource for me."
—Hugo Balta, President, National Association of Hispanic Journalists and News Director, WTTW (PBS Chicago)