Bittersweet. It's an adjective Tanya Saracho knows all too well. Earlier this year, about a month before season three of the hit television series Vida returned on the Starz network, the forty-four-year-old showrunner and television creator took to social media and used the oxymoron to let followers know that it was time to put her "baby" to bed. This would be the show's final season.
She wrote: "This goodbye is too bittersweet for words. I'd be lying if I said I'm not sad about not getting back into that magical writers' room to keep crafting our story. But after all, I got to tell the exact story I wanted to tell, exactly how I wanted to tell it, and that is rare in this industry."
Rare indeed—especially rare for Hispanics. And for Latinas in entertainment? Dios mío. If you want to see the odds really skyrocket, factor in another piece of Saracho's identity: queer. "I'm a queer Mestiza Latina born in Mexico who was raised on the border," she explains.
The fact that Saracho got to tell the story about a community of which she herself is a part—that is, to tell her own story—is in itself a narrative of inspiration for the greater LGBTQ community. That fact is not lost on her—and neither is the significance of her groundbreaking deal with Starz to develop new content.
Saracho is largely where she is today for one reason: because she proudly lays claim to who she is. She represents. And she relishes this fact. "There are a lot of people that feel limited or pigeonholed being considered a Latinx writer or creator," she says. "But I never felt limited by this."
She's dedicated herself to telling these types of stories from the very beginning. Back in 2001, she created Teatro Luna, an all-Latinx theatre company in Chicago. "I will never run out of our stories to tell," she says.
She probably also knows she will always have a career in Hollywood. From the moment she arrived, Saracho never tried to hide her identity to get ahead. This was her ticket in. "When I came to this town, I made it known to executives that if they needed this type of Latinx experience or representation to give me a call, particularly anything Latina centered," she explains. "Anything around political brownness or queerness or involving immigrant status, I can speak to well."
Saracho was dubbed a "diversity hire" during her first writers' room gig on Lifetime's Devious Maids. Nevertheless, she later earned a spot inside the writers' room for HBO's Looking, which gave her a chance to show her range.
Despite her uphill battle, she was able to navigate around obstacles to reach where she is now. Today, that includes a writers' room she's assembled that is all Latinx, queer-inclusive, and, as with season three of Vida, all Latina.
"I wasn't very gracious in the beginning and was in darkness a lot, especially during that first year," she says. "I sort of got thrown into the pool without any planning or any design. I didn't politically know anything about it either—about what it means to be a brown-bodied person in such a white space as the writers' room. I wanted to quit all the time."
Lucky for us, Saracho didn't quit. And, after Devious Maids, her experience on Looking was the catalyst for showing her what she could do within the television landscape. "You can make art," she gushes.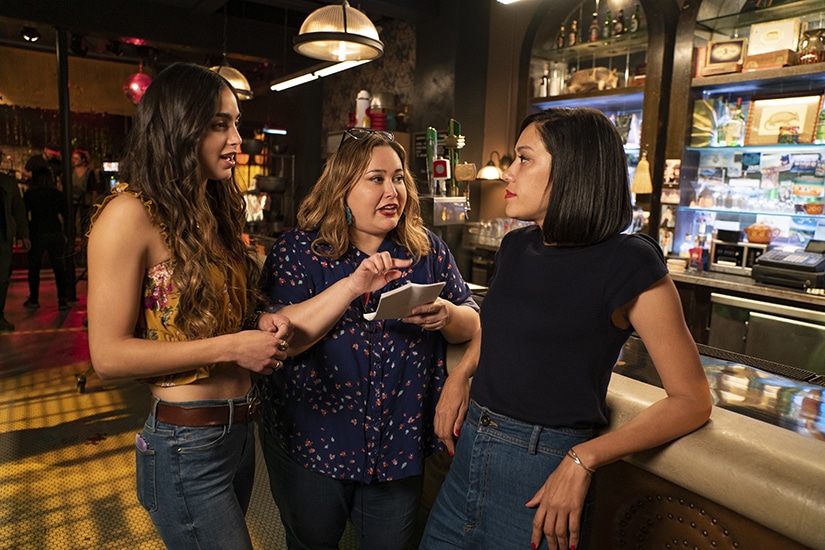 She explains that there is Looking DNA in Vida, talking about how the scenes are creatively shot to help tell the story. The way in which she describes her techniques alludes to her innate ability to incorporate a "Latino lens."
Saracho possesses hustle. She's full of hustle. And other Latinas in the business, many of them actresses, possess that same hustle. Whether it's exemplified on another Latinx television hit, like Hulu's East Los High, or during auditions for Saracho's show, they all hustle. But is that enough in Hollywood?
With an in-depth focus on "gentefication," LGBTQ issues, and family, Vida was a critical hit. It was praised by industry execs, journalists, and the Latinx community. It boasts a 100 percent rating on Rotten Tomatoes. It was named 2019's Outstanding Comedy Series at the GLAAD Media Awards. Yet the ratings struggled, and many say that it wasn't easy for Hispanics to access. You had to pay $8.99 to watch it on the Starz app, which doesn't really offer other Latinx-focused shows or Latinx actors. The end was inevitable.
Bittersweet indeed. But for Saracho, as leader of her own show, the silver lining shines bright.
"One of the best things about Vida was being able to hire people and give them their first shot, just like I got my first shot as a showrunner," she says. "Nothing excites me more than that."
A true chingona, Saracho knows that sometimes to take up space means you have to demand it, and she believes that type of mentality applies to all types of careers. The battle cry "No stories about us without us" is a way of life for her. But it's also a theme she hopes others will incorporate into their lives.