At the 2019 L'ATTITUDE conference in San Diego, I saw my good friend Victor Arias give a presentation on behalf of the Latino Business Action Network (LBAN) and the Stanford Latino Entrepreneurship Initiative (SLEI) on how the Latino community was "coming to the rescue" of the American economy. With comedic bravado, Victor galloped across the stage, humming the infamous theme song from the classic TV western Bonanza and grabbing everyone's attention.
His point was that the Latino demographic, with an average age of twenty-nine, is rapidly changing the labor demographic in this country, adding to the workforce in droves, helping to grow the GDP, and not only contributing to social security but helping keep it solvent for the benefit of an older (and whiter) America. Victor rightfully believes it's high time for the "movers and shakers" of the mainstream economy to step into reality and "get with the [Latino] program." If not, they'll risk missing out on the greatest economic opportunity of a lifetime. (Imagine it as something akin to an investor actively ignoring California's mining industry in 1849, or one purposefully declining to buy stock in Amazon for $18 a share when it went public in 1997.)
In other words, the Latino community is a force to be reckoned with.
As I sit here writing this letter just a few months prior to the end of 2020—one of the most tumultuous years of this country's lifetime—a different reckoning is happening. And it's a reckoning impacting our community disproportionately. It's a force that aims to cripple the ability of the Latino demographic—the engine of our American economy—to remain that vibrant force driving sustainable, macro-level economic growth. I'm talking about the COVID-19 pandemic and its impact on our gente.
A Note on the Cover
As some of you may know, in a previous life ages ago I fancied myself an artist, so much so that I pursued an MFA in painting at the School of the Art Institute of Chicago. It therefore brings me great excitement to introduce to you all our first artist-commissioned cover by Carlos Zamora. Typically, we highlight executives or individuals on the cover. But for this complicated and important theme of healthcare and wellness, we wanted to introduce a concept cover while also elevating a Latino illustrator. Hope you enjoy.
Healthcare has never been more important for us to consider as a cause. And with COVID-19, the chickens are coming home to roost. Historic delays, indecision, and outright ineffectiveness on issues ranging from access to healthcare for immigrant communities to labor rights for farm and frontline workers to access to healthy food options for Latinos to the availability of Wi-Fi for remote learning—while having the job flexibility, space, and language accessibility required to educate children from home—have placed our community in unique jeopardy. The list of issues and problems our nation is facing seems infinite.
The Latino community is at the heart of this crisis. Since the pandemic hit, I have seen report after report detailing the disproportional impact of COVID-19 on communities of color, including Latino communities. Some of our obstacles were created inadvertently, others intentionally. But no matter the cause, the result is the same: community-wide disparities and disservices that demand radical change.
For the clerks, waiters, and nurses who keep showing up to work day after day, exposure is not their only worry. Many of those working on the front lines are more susceptible to the virus due to underlying health conditions like diabetes and heart disease—conditions that have been linked to diet and conditions that statistically affect Latinos more severely than other populations.
Those of us in the business community cannot ignore these issues.
We are not separate from the greater Latino community. We may not be on the front lines, but we employ frontline workers, have family who are working on the front lines, or manage a team that deals with the benefits of frontline workers. And while we may not personally be at a greater risk of contracting the virus, none of us are immune.
And none of us are unaffected. As CEOs and VPs, presidents and directors, we all have to contend with the physical and financial disparities impacting both our loved ones and our professional communities. And as the Latino business leadership of this community and of this American economy, we must. It's an outcome of our collective job description. It's our responsibility.
Like Carlos Soto, we must reckon with the fact that not all of our people can stay home and be protected during this crisis. We have to watch as our team members "[come] to work having to manage their fears." And we have to continually push ourselves to find more and better ways to support those individuals throughout the pandemic.
Like Laura Morales Garcia and Edwin Millan, who pay witness to our nation's systemic gaps in care every day in their work for the AIDS Healthcare Foundation, we must live with the knowledge that our brothers and sisters in the Latino community who are "afraid to seek medical advice or attention" may not receive the care they deserve if affected by the coronavirus.
And like Javier Oroz, we must recognize "this is not a one-man show." We must bolster our teams, seek out the tools and resources our people need in order to adapt, call on old allies and establish new ones, and do everything in our power to ensure that no one faces this crisis alone.
Of course, these are just three examples of Latinos leading in the area of health and wellness. As Victor noted—and countless studies and reports have confirmed—the Latino community is indeed coming to America's rescue: a great majority of the unsung heroes on the ground risking it all are members of our Latino family.
That is the type of rescue that we need, one in which the hero courageously gallops into the frame to help a nation that is desperate for good news. For that "come-back" narrative. Because Latinos, like the rest of America, love a Hollywood ending.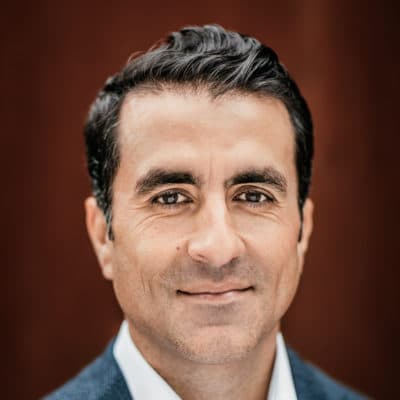 Pedro A. Guerrero
CEO of Guerrero Media
Publisher of Hispanic Executive
Other Letters from the Publisher
Bridging Borders: The Power of Global Citizenship