If there's one word that's come to define Jennifer Soliman's life and career, it's "service." Now, Soliman is executive vice president and chief human resources officer at Diamondback Energy, a large oil and natural gas company operating in Texas's fertile Permian Basin. She has also long served as a board member at the Jones Business School of Rice University for Rice Business Partners.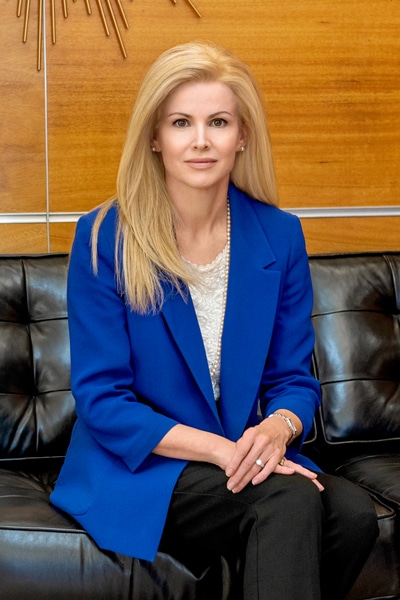 Throughout her career, Soliman has had countless outlets to serve those around her, and she's developed a passion for connecting people with their own inner light and mentoring the leaders of tomorrow. Here, the sought-after executive, board member, and career coach shares her top advice for today's rising stars.
Find a Mentor, Even If There's Not One Around
"Everyone ready to grow needs a mentor," Soliman says, "someone who will tell you the truth and not just compliment you but discuss your opportunities to improve."
She's had many beloved mentors in her own life, both when she was a young girl participating in the youth development program known as Girls in Action and as a leader at global, large-scale companies such as Koch Industries and BP.
But while Soliman has enjoyed many formal and informal mentor relationships over the years, she's also learned a lot from the mentors she's never met: her favorite authors.
"So many young people tell me they can't find a good mentor, and think it is holding them back. Don't let it," she emphasizes. "Always remember that a good mentor is as close as your internet or bookstore. With the internet, you can learn from many mentors, all at the same time. Learn from their expertise in a particular focal point, then move on to the next. The best leaders in the world can be your personal guide through a book." Soliman cites Zig Zigler and Dale Carnegie as her childhood favorites. For anyone interested in an analytic perspective, she suggests reading Malcom Gladwell's work, Outliers: The Story of Success.
Know the Difference Between a Plan and a Goal  
A career in HR and compliance has taught Soliman the importance of clarity. Those who succeed, she says, set goals that are achieved through a well-executed plan. Those who fail often confuse goals and plans, giving up after a setback to their plan.
Some people know Soliman as Diamondback's CHRO. Others know her from various executive and leadership roles she's held in her career, or from her board service at Rice. Still others know her as a past advisor to the board of directors for the Hispanic Chamber of Commerce. No matter what role she's held, Soliman has enjoyed talking with others about their goals.
"When choosing your goal, set your sights high and broad on a set of capabilities you want to grow into to fulfill your life's purpose," she says. "Consider who you are becoming. What capability do you want to develop and offer to the world? What contribution do you hope to enjoy making? Focus on answering those questions, and you'll go far.
"Next, your plans are tactics for how you'll reach your goal, and your plan should change as you learn, develop, grow, and get a new vantage point," Soliman continues. "Love your goal. Hang on to your goal. But be willing to change your plan."
Never Quit Your Dream, Believe in Yourself Instead
At the age of eighteen, Soliman enlisted in the Air Force Reserves and took a vocational aptitude test that returned surprising results: she was qualified for a sign-on bonus as a sheet metal mechanic. She accepted the position and soon the young, patriotic Soliman found herself in a military technical training school as the only woman in her program.
She had arrived at the school full of enthusiasm, dreaming about the future. However, it didn't take long for Soliman to realize the magnitude of the challenge before her. But while others may have quit, Soliman decided to stay.
In doing so, she found her strength. "I had never faced a challenge even close to this difficult, but somehow I would wake up each day and try again. Day by day, I would decide that failure was simply not going to be an option," she explains. "Ever since graduating from the school, I've had the confidence to believe in myself and know that with hard work and perseverance, obstacles will fall away in the end." Soliman draws on these experiences when advising others who face adversity.
Serve Others On Your Journey
Soliman has helped unlock the potential in those around her through one-on-one coaching, group mentoring, in-person meetings, and phone consultations. Some mentor relationships last many years, and others last only a few sessions. No matter the length of the relationship, Soliman offers the same advice. "As you grow, never forget to reach back a helping hand to someone else. Yet remember, growing is hard and does not generally feel comfortable. Not everyone is at a stage in their journey where they are interested in evolving."
Soliman has had many opportunities to serve those who do wish to grow. One of Soliman's contacts is a director at the Jones School at Rice University, where she obtained her MBA. In addition to helping drive the connection between the Jones School and the business community, Soliman also mentors students (including many Hispanic students) sent to her by the director. Some students need help with their résumé, some want general career advice, and others come prepared with specific questions.
"I love helping students to believe in themselves, to see their inner strength," she says. "I try to quickly establish trust that my agenda is simply to see them shine—then the walls come down, and we can get to work discussing their growth opportunity."
Life, Soliman notes, is fulfilling when you serve along the way.
Why Is It Important to Mentor Members of the Hispanic Community?
As Told By Jennifer Soliman
Mentoring is an essential element of how we learn from each other. When you couple this with diverse participants, then you really have something powerful. Once you realize that the benefits of mentoring and diversity are a two-way street, it becomes a natural part of you. We all have something to learn from each other.