Not many hardworking high school students turn down an offer to attend Harvard, but Gabe Vazquez was never one to follow conventional routes to success.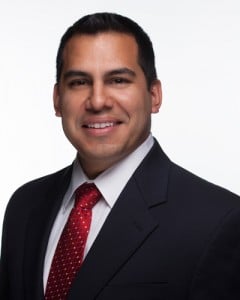 The first of four children born to the son of a Mexican immigrant from a small farming community, Vazquez blazed his own path to success, always choosing what felt right over what may have sounded right. Vazquez's father moved from Mexico to Dallas, putting himself through technical school by repairing consumer electronics, and his mother was a social worker.
"My upbringing brought a lot of humility, which I think is a good thing, and my parents sacrificed to give us opportunities," says Vazquez, whose rise into the professional world has been meteoric: at the age of 38, Vazquez is vice president and chief legal officer at TXU Energy, the largest retail electricity provider in the state of Texas.
When Vazquez declined offers from both Harvard and Stanford to instead attend Southern Methodist University, many of his peers didn't understand. SMU offered a full financial ride, which meant it would be much easier for Vazquez's parents to put his other three siblings through college. More importantly, SMU was close to home. Familial roots have always been important to Vazquez, but it wasn't just the physical distance that made Harvard and Stanford seem too far away—Vazquez was wary of losing his sense of authenticity amid the entrenched notions that others have about Ivy League graduates. "At SMU, I felt like I wouldn't fall into the trap of thinking I was guaranteed success. I thought, 'If I'm going to choose my own path, SMU is just as good a place to start.'"
After graduating magna cum laude with a liberal arts degree at SMU, Vazquez's career trajectory began to unfurl quickly. He was accepted to SMU's Dedman School of Law under the prestigious Sarah T. Hughes Fellowship; he worked at the Supreme Court of Texas as a recipient of the William E. Collins Clerkship; and he was inducted into the Order of The Barristers, an organization dedicated to service and leadership.
After passing the bar exam in 2002, he chose to accept an employment offer from Gardere Wynne Sewell, even though the firm was strategically growing slower than some of the others who were recruiting him, including the Dallas law firm Haynes and Boone. Vazquez, who interned at both firms, felt like he would have "more of an opportunity to have an impact at Gardere."
"Haynes and Boone had a much larger summer associate class that summer than Gardere, so I felt like I could position myself to be a more valuable attorney at Gardere sooner," he says.
Vazquez knew he would benefit from learning the ropes of his profession in the setting of a private law firm, but when the opportunity came, he wasted no time going in-house, which he felt would align much more with his "customer-centric" outlook, even if doing so initially resulted in a significant pay cut. After a few years at Gardere, Vazquez moved into an in-house counsel position at Michaels, the largest arts-and-crafts specialty retailer in North America, which is based in Irving, Texas. A few short years later, he got a call from a head hunter who said that TXU Energy was looking for a lawyer with "retail experience" to join their team.
Coming from a company selling 40,000 different stock-keeping units—everything from flowers to picture frames —the connection to retail wasn't immediately apparent at TXU Energy, which at the time primarily sold a single commodity: electricity. TXU Energy has since branched out into selling home warranties and smart thermostats and is "getting deeper into the solar space," according to Vazquez.
TXU is ranked as the top energy provider in Texas by customers and seventh best large company to work for in the Dallas–Ft. Worth area
Upon arrival at TXU Energy in 2008, Vazquez remembers being met with a dense rulebook containing Texas's robust set of energy regulations. "I remember coming in the door, and one of our regulatory specialists handed me the rulebook—it's all micro print—and said, 'I know you're probably a smart guy, and I like you, but it's going to take you a couple years to understand how this works.' I remember thinking that two years seemed like a really long time. Who is going to keep me around if it takes me that long to figure things out?"
Eight years later, Vazquez is an energy expert. He explains that within the energy industry, Texas is known as one of the best examples of a deregulated market—where consumers can choose among several competing retail providers. Despite this term, "deregulated," and the connotations sometimes attached to it, Vazquez is quick to clarify, "that doesn't mean we are not regulated." TXU Energy is a retail electric provider that operates under the Texas Public Utility Commission's customer-protection rules, compliance with which is one of Vazquez's main areas of responsibility. In this arena, the importance of understanding retail compliance's nuances is clear. "It's the space where you have the privilege of serving the customer," he says. "We take it extremely seriously."
One practical matter in which TXU Energy's legal department is heavily involved in the consumer-facing side of the business is in helping write the scripts for call-center workers. Vazquez's staff works with the business teams to come up with wording that meets the strict requirements of consumer-protection rules, while not alienating potential customers. "There's always a healthy tension between marketing and legal objectives … but we have a great relationship with the business," Vazquez says.
Vazquez enjoys the challenges of interdisciplinary collaboration. "Our ad pops up on TV, and my six-year-old says, 'Hey Daddy, that's TXU Energy'—and I say, 'Yeah, our team wrote that disclaimer! Nobody really thinks it's that sexy, but in the lawyer world, it's fun."
Vazquez has also seen TXU Energy through some difficult transitions. He joined the company in 2008 just as the economic downturn was beginning. TXU had gone private the year before in an equity transaction worth over $40 billion, but the coming years revealed that the company was overleveraged—"partly because of economic dislocation," he says, "and mostly because of the natural-gas price depression, [resulting from] fracking and the glut of natural gas that was found in the US." The  holding company, Energy Future Holdings (and its related subsidiaries), filed for Chapter 11 bankruptcy in April 2014. TXU Energy's general counsel at the time helped manage the restructuring process at Energy Future Holdings, leaving a vacancy for a general counsel on the retail side of the operation. Vazquez was asked to step into the role.
While the bankruptcy process continues to play out at the holding company level, Vazquez says the role of everyone at TXU Energy is "what we call 'job one': run the business. Ultimately, if we don't keep the business performing at the highest level, whatever financial restructuring is done on the back end is not going to meet the objective of adding value to the new owners." For these reasons, Vazquez is especially proud of the fact that TXU Energy has had some of its most profitable years during the restructuring process. TXU also continues to be ranked as the top energy provider in Texas by customers and was recently ranked in 2015 as the seventh best large company to work for in the Dallas–Fort Worth area by The Dallas Morning News.
Vazquez says the key to keeping his head on straight has been maintaining a modest perspective. "There's been a number of challenges in my life, some good and some bad, and I've just worked through all of those to the best of my ability. But it all comes back to this grounding that I get from my parents, which is to be very humble," he says. "There is strength in the recognition that it's not so much titles or money that defines us. At the end of the day, it's really our actions that matter. The more I can keep it all in perspective and balance, the better I operate as a leader for my team and my company."