https://hispanicexecutive.com/nextgen-collective-embrace-vulnerability/
One of the most intimidating aspects of the job search is the salary negotiation process. The anxiety usually stems from not wanting to come off as difficult, or the fear that the employer will renege on the offer. I'm here to tell you: DON'T LISTEN TO THIS! Salary negotiation needs to be normalized as the standard procedure that it is. No reputable employer will renege on an offer because you decided to negotiate—because salary negotiation is an expected step in the hiring process.
It's no secret that the wage gap affects women and women of color disproportionately. In many states, including New York, Black women make 63 cents to a white man's dollar, and Latinas may lose up to $1 million over the span of their careers for lack of salary negotiation.
Make sure you don't lose out on a single dollar. Let me take you through some simple tips to help you ease into the process, learn your worth, gain confidence to ask for what you deserve, and get that dinero!
Preparation and Research are Key
To ease your nerves, be as prepared as you can be. There are many helpful websites, such as Salary.com, PayScale.com, and Glassdoor.com, where you can view the salaries of specific job titles at different organizations and customize your salary range based on personal information such as your level of education, geographic location, and industry. Going to these websites is the most basic way to find out about the market rate of your industry and figure out a $5,000—$10,000 salary range that you can cite during negotiations. You can also use websites such as the Occupational Outlook Handbook and O*Net to search for specific titles and industries in which you might be interested. Salary range information is usually available on these websites.
I'd also encourage you to use your network to get the scoop. Conduct informational interviews with professionals who work at the organizations where you'd like to work. Although you're not going to ask for their salaries, you can certainly inquire about starting or medium salaries for the kinds of jobs you're interested in, as well as how the company approaches compensation, bonuses, and merit increases. Conducting both formal and informal salary research will allow you to be more confident in discussing a fair compensation when you're offered the job.
Don't Be Adversarial—Enjoy the Process!
Part of the resistance to salary negotiation involves the erroneous belief that it has to be a contentious process. On the contrary, salary negotiations should be seen as a dance where you're moving in sync with your human resources partner to reach a mutually agreeable decision that is fair to both you, the potential employee, and to the company, which will be compensating you for your acumen and expertise. If you approach the salary negotiation process with this mindset, you'll feel calmer and do better in your conversations with HR, which will then put the prospective employer at ease.
It is very important to note that women may especially dread the salary negotiation process because of biases related to women being seen as difficult or adversarial. This is known as competence/likeability trade off bias, and it is unfortunately very common in the workplace. To combat this type of bias, stick to facts and research when asking for more money. Provide examples of how your overall expertise, credentials, and special skills (for example, a knowledge of a foreign language or coding) can bring value to the organization. Avoid words such as "want" or "deserve" during negotiations. Stick to the market rate, quote benchmarking salary research from competing companies, and discuss your relevant skill set.
For those of you who are visual/tactile learners, there are great salary negotiation resources such as LinkedIn Learning, and Udemy. Your alma mater's career services office should have additional helpful resources and webinars.
Below are some examples of how you can start the salary negotiation talk:
"Thank you for taking the time to discuss the details of the offer. Based on my research, the industry standard for this position is between $______ and $______. I'd like to discuss moving closer to that range."
"Given my expansive and relevant experience, and my strong skills in ______, I know I will add a lot of value to your organization. I'd like us to explore a starting salary closer to $______."
"That sounds like a good starting point; let's negotiate the details."
Money Isn't Everything
If you weren't aware, l would like to tell you something: Whatever your salary is, that is not what you're getting per year. Subtract about 30 percent (taxes, health insurance premiums, and 401(k) contributions, to name a few) to determine your actual take-home pay. This means that even if you accept an offer that is $10,000 more than what you were making previously, you can still lower your salary if your new job doesn't have competitive fringe benefits. If your new employer is rigid about increasing your initial salary offer, ask if there are other areas that you can negotiate. These may help fill the gap from a lower salary than you expected.
Identify your top one or two negotiation points from the list below, as opposed to asking for everything that you can negotiate:
Sign-on or yearly bonuses
Tuition reimbursement
Relocation assistance
Subsidized meals
Better healthcare benefits
More paid time off (e.g., vacation, sick, and personal time; parental leave; and bereavement)
Pet insurance
Gym membership
Company computer, phone, or car
On-site or free childcare
Title, start date, supervisor
Flexible work hours or ability to work remotely
Get It in Writing
Whenever you get an offer, it should preferably be in writing. This allows for transparency, and it will make negotiations easier as both parties have a reference point that is clearly delineated and not open to interpretation. The offer should include information about your initial salary, fringe benefits, benefits package, start date, your supervisor, and any information regarding unions, if that is offered at the organization.
If you get a verbal offer, you can thank them and tell them you're very excited about it, but that you'll prefer a written offer in order to further evaluate it and make a decision. Once you get the full offer and benefits package in writing, it shouldn't take more than a few back-and-forth negotiation discussions with HR, preferably in person, via Zoom, or over the phone. The entire negotiation process, when it's conducted in good faith, shouldn't take more than a few weeks. Don't be put off if the organization's representative goes back-and-forth to get approval for your requests. Also, be willing to give up something. Giving the organization a win shows that you're willing to be flexible. Remember, it's a dance!
To Accept or Not to Accept?
Your negotiation skills worked! You got the offer that you wanted and now you must make a decision—because even if you get what you wanted, it is still up to you whether you want to/can accept the offer. No matter what your decision is, make sure that you call HR or your future manager to personally accept or decline the offer. When rejecting an offer, be appreciative with employers and close the loop amicably. Let the other organizations know that you would like to stay in touch for future opportunities.
If you accept, ask what other formal steps you need to take to accept, stop interviewing elsewhere, and stop the job search. Just like you don't want an employer to renege on an offer, you also need to act in good faith and stop the job search once you accept an offer. Then you can celebrate your decision!
Salary negotiation should make you feel accomplished, not defeated. I hope that these simple tips allow you to feel empowered to ask for what you're worth, to be compensated fairly regardless of your gender, to stand your ground as a candidate bringing a lot of value to a company, and to get that dinero! Best of luck!
---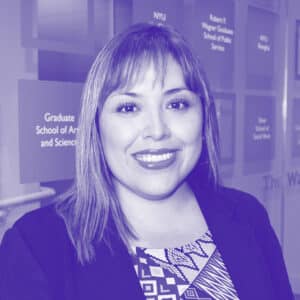 Diana Mendez was born and raised in Bogota, Colombia. Her experiences as an immigrant Latina and first-generation college student have shaped her lens as a student affairs professional for over 10 years. She currently works at the NYU Wasserman Center for Career Development as a senior assistant director, providing career coaching services to diverse undergraduate and graduate student populations (both domestic and international), and overseeing DEI programming and initiatives for STEM students. Diana has effectively managed large internship programs, student diversity initiatives, and student leadership development efforts at different institutions in New Jersey and New York. She serves in various career development leadership roles within regional and national professional associations, such as the National Association of Colleges and Employers (NACE).
---
Related Links
NextGen Collective: The White Couch—a Piece of My American Dream