Even as a child, Deanna Salazar knew what she wanted out of a career—opportunities to help improve others' lives. Today, she fulfills that passion in her role as chief administration officer and general counsel at Blue Cross Blue Shield of Arizona (BCBSAZ), as well as through her various positions as a board member for organizations such as Teach For America and Expect More (now known as College Success Arizona). These opportunities have enabled her to drive change at both the individual and community level.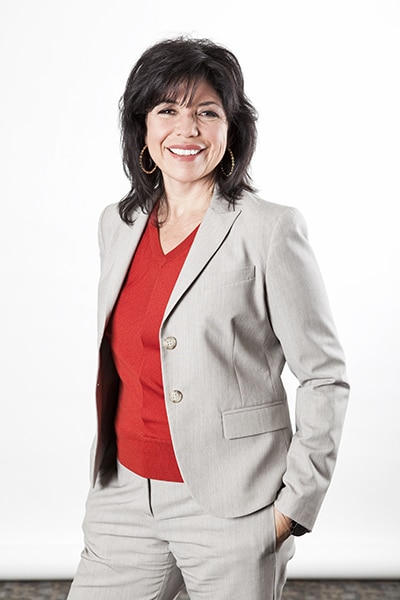 A graduate of the Arizona State University College of Law, Salazar considered joining the Peace Corps after obtaining her JD. She soon realized, however, that the Peace Corps was more in need of medical professionals, teachers, and engineers than they were of attorneys. Pivoting to private practice, Salazar joined Phoenix-based law firm, Lewis and Roca (now known as Lewis Roca Rothgerber Christie), where she eventually became partner.
"It was the first place where I was exposed to people who were not only going to teach me how to practice law but also teach me how to get involved in the community," Salazar says.
Salazar continued to build out her experience as senior counsel at both Wells Fargo Bank and professional employer organization Employee Solutions before joining BCBSAZ in 1999 as associate general counsel. Before her promotion to her current role, she served the insurance company as senior vice president, general counsel, and vice president of human resources.
"Most of my work at BCBSAZ is contracts, regulatory work, and implementation," she explains. "There has been some pretty significant federal legislation that has either come out through executive orders or legislation in the past three or four months, and the scope of those policies is actually bigger than the Affordable Care Act. We play a big role in analyzing all of that and making sure not just that we implement it but that we're optimizing business strategies and opportunities that the legislation may bring to us."
Salazar is also responsible for managing BCBSAZ's office of the Corporate Ombudsman, the company's state and federal legislative activities, and, importantly, its Community Health Advancement efforts. In the first three months of 2021, BCBSAZ provided support to two state-run vaccination sites at Chandler-Gilbert Community College in Chandler, Arizona, and at State Farm Stadium in Glendale, Arizona. According to Salazar, the state of Arizona sent out a call for assistance, asking for volunteers to help run the 24/7 drive-through at the Glendale site—and BCBSAZ employees readily volunteered their time.
From January 11 through early March 2021, Salazar says, hundreds of BCBSAZ volunteers traveled every day to Glendale, where they were met by BCBSAZ employees who had taken temporary assignments as site leads and site managers. On March 3, when the Chandler-Gilbert site opened, BCBSAZ volunteers transitioned their efforts to that site and continued to support both patients and clinical staff. Salazar and her team had provided legal support to help get the site up and running, and when it opened, she volunteered yet more of her time, helping to direct traffic flow and check in patients.
Volunteering was a remarkably emotional experience for many reasons, Salazar says, including the fact that she had lost someone very close to her to shortly before vaccines became available.
"We witnessed tears of joy and were thanked by so many of the 496,000 patients that came through the vaccine sites," Salazar says. "We knew it would be a big ask and require the utmost bravery to take on the tremendous lift, but working together as a team allowed us to accomplish something truly amazing for our state."
Despite the impact she has already made, Salazar is determined to continue giving back. As a board member, mentor, an advocate for diversity, equity and inclusion, and community leader, she and her team at BCBSAZ are proud to inspire health and continue to serve their community.
---
Related Links