Patty Juarez knows what success looks like. An entrepreneur at heart, she has spent the past three years of her twenty-five-year career at Wells Fargo honing and developing a focus on diverse-owned businesses with the intent to empower and support the needs of these business owners across the country.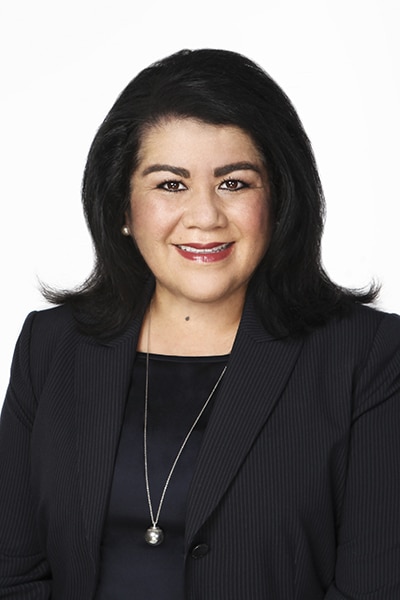 "I've been with Wells Fargo my entire adult life," Juarez explains. Throughout her long tenure at the company, Juarez has worked in a variety of areas within the bank, serving as senior vice president and loan team manager, regional vice president, and now the national wholesale diverse segments leader. But she credits her time at the bank's Santa Clara Valley office with truly jump-starting her career.
"I worked with technology companies that are just phenomenal—today they're household names but back then they were just getting started," Juarez recalls. This was around the time of the dot-com boom, she explains, so her experience in Silicon Valley gave her a great deal of perspective on what a company goes through when it gets funded, as well as everything that happens after that. And for the bank, how does it lend to companies that just have an idea and may not have turned a profit? To help answer those questions, Juarez and her colleagues developed tech-lending policies, many of which are still in use by Wells Fargo today, she says.
After witnessing the market's crash, Juarez explains, she was left with some pretty crucial questions: For the companies that survived, how did they do it? And the ones that didn't survive—what went wrong? The experience of seeing what works and what doesn't work for over twenty years and in multiple industries is what Juarez now leans on to advise her growing diverse clients.
But Juarez felt that she needed something more in order to get to the next stage of her career. In 2007, she began an MBA program at Saint Mary's College of California to add to her University of California at Berkeley undergraduate finance education—and soon after completing the program, she was promoted to senior vice president and tapped to run a new commercial banking office for Wells Fargo in Anaheim, California.
"I did everything, from picking out the office space to hiring a new team and figuring out how to go to market," Juarez says. "And I was also very active in the community. I was the chairwoman of the Orange County Hispanic Chamber of Commerce, and I sat on boards for many great organizations, so I really became aware of the trends of Hispanic-owned businesses and how much that segment was growing.
"And when I was booking new clients for the bank, I noticed there were a lot of women and minorities. That was a moment of clarity," Juarez continues. "I thought, 'I should look to see where this is headed.'" After looking at the statistics, Juarez says she was blown away by the growth potential of this and other minority-owned business segments. "I knew that we, as an organization, should enhance our focus on these growth areas," she says.
After creating a business plan that encompassed all of the statistics and data she had found, Juarez asked for an audience with Wells Fargo's head of the commercial bank. "That was my Shark Tank moment," Juarez explains, laughing. "It was my moment to sell my idea. And he absolutely loved it—he was incredibly supportive and said that he wanted me to look into it more, refine it, and decide what the market strategy would be across the country."
"We're seeing more and more minority-owned and women-owned business coming into the fray. . . . Whatever these business owner need to grow and expand their businesses, we strive to provide."
Juarez did just that, and for three years now, the diverse segments business has been a tremendous success. "We're seeing more and more minority-owned and women-owned businesses coming into the fray," Juarez enthuses. But Juarez emphasizes one key point: the diverse segments business is not successful because it provides capital to minority-owned businesses. Rather, it has flourished because it is holistic—it provides capital as part of a larger package of support, education, training, and critical business connections. "Whatever business owners need to grow and expand their businesses, we strive to provide; we want to be their bank of choice." Juarez says.
And on a broader level, the success of the diverse segments business is an incredible achievement for Wells Fargo as a whole. "For the first time ever in the commercial bank, we've had women-driven and minority-driven marketing campaigns," Juarez says. In fact, the comprehensive nature of this diverse segments business makes Wells Fargo a pioneer within the industry, she explains.
"Right now, even though most other large banks have some sort of consumer-oriented business that targets all these segments, and they generally target the smaller end of businesses—those with annual revenues under $5 million," Juarez says. "But we aren't going to be alone for long. People recognize that this is our demographic footprint, that in order to truly serve the communities we live and work in, we must reflect the markets we serve and continue to help the growing communities that are the fabric of our economy."
Watching the diverse segments business grow has made Juarez incredibly proud, she says. "I continue to be so impressed with the resiliency, work ethic, and ability of these women and minority-owned business owners to gracefully handle so much all at once," Juarez says, admiringly. "It's been so rewarding to give diverse business owners some of the tools they need to succeed." Juarez is especially proud of the tremendous growth of Latina business owners, the fastest growing segment in the country. She wants Latinas to continue blazing trails, and as for the glass ceiling, her advice is, "break it ladies—this is our time."
Fostering Education
"My education opened up so many doors: for me, it is the greatest equalizer no matter the circumstances you've grown up with."
And for eight years now, Juarez has worked with CASA-OC, Court Appointed Special Advocates of Orange County, to ensure that children in the foster care system are able to take advantage of that equalizer and be paired with a strong community volunteer. "Children in foster care are often vulnerable," Juarez says. "They're some of the most abused and neglected children, oftentimes ending up homeless on park benches or in jail. I don't want those to be the outcomes for these children; we have a responsibility to help."