Many in the talent and recruitment world need to learn an industry from the ground up. Alessandra Ginante Yockelson, chief talent officer at Hewlett Packard Enterprise, was certain she'd work in the technology field far earlier than she fell in love with information systems.
"HR found me," she says, with a laugh. She accepted an HR position to help pay for college with the plan of taking an applications and system development job once she graduated. But the latter career didn't quite pan out. "I did it for three months and hated it," she says. "I knew I needed to go back to HR, and I've stayed there for most of my career since then."
While she'd always been fascinated by the ways in which technology impacts how people work and live, Ginante Yockelson quickly found herself fulfilled by learning the ways in which people enable performance. There was much more to hiring than filling seats; HR could be a strategic driver of change and success for the business and enable individuals to fulfill their visions for their lives.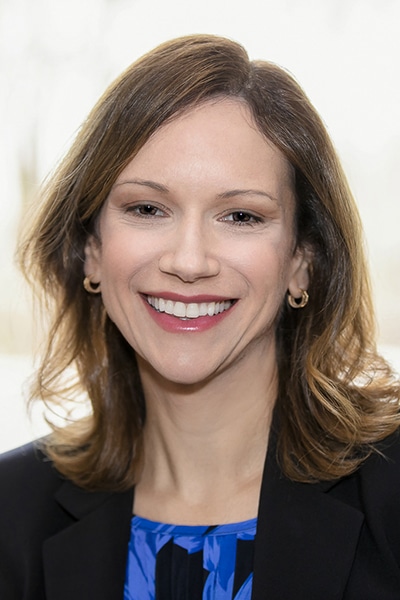 As she earned her master's degree and executive MBA in her native Brazil, Ginante Yockelson quickly rose the ranks in HR, holding leadership positions at companies like Banco de Credito Nacional, Volkswagen South America, Philips, and Diageo. In order to broaden her skill set, however, she moved into a strategy job for two years, developing strengths in business excellence with lean, six sigma, and other business transformation approaches.
She served as the president for Avon Foundation in Brazil, helping fight against domestic violence and breast cancer. But the whole time, Ginante Yockelson kept her eye on the HR office. "Those experiences helped me become a better HR person and more employable outside of Brazil," she says. Ginante Yockelson left Brazil and her family a few times. She lived in the Netherlands and in locations in the US and has learned tremendously from different cultures.
Additionally, Ginante Yockelson found the experience important to reinforce her passion for identifying strengths and individuals that may otherwise have been overlooked. "It's really important that people look at me and see the potential I have, not necessarily the experience I have," she says. That's especially important considering her place as a Latina in a leadership position in a technology giant like Hewlett Packard Enterprise. The technology field generally lacks representation from both women and people of color in leadership roles; and driving stronger diversity in her organization will benefit HPE and its many clients.
In order to be ready to face the variety of transformational moments and massive challenges that face any modern business, the HR team has to staff with an appropriate selection of skills and approaches in mind. "To advocate for talent and diversity, you need to be open-minded about who you recruit," Ginante Yockelson says. "We talk a lot about diversity from the standpoints of ethnicity and gender, but also background. There is so much to gain by recruiting—and retaining—people from different industries to technology to drive business results. It's also paramount that we give a chance to people who are not in our own networks, because we tend to like and stay connected to people who think similarly."
That's especially true as HPE transforms its portfolio to be offered as a service by 2023. Ginante Yockelson's role has incorporated everything from talent recruitment, acquisition, and retention to succession planning, performance and career management, and inclusion and diversity—and she has also been welcomed in as a full partner in achieving that goal. "We need to ensure we have an aligned culture and talent pool that enables us to achieve that vision," she says. "We are evolving as a company, and my job is to guarantee that our workforce is prepared to compete in the future we've developed."
Bringing that vision to more than sixty thousand people, however, requires an incredibly strategic mind working at a quick pace. One method that has enabled that agile workflow has been Ginante Yockelson's analytic approach to focal points like diversity and inclusion.
"By looking at data and market availability for the balance to hire, we can make sure that we're recruiting the right people according to what's available," she says. "We usually tend to network with people that are like us, and by bringing data and making sure that our interview panels are diverse, we can make that difference. Different people bring more ideas, and Hewlett Packard Enterprise thrives on innovation. We need the power of all their hearts and minds to achieve our vision."
But ensuring diverse candidates enter the organization is only the first half of the work. Ginante Yockelson is also dedicated to making HPE an inclusive workplace as well, retaining those talents and making everyone feel like part of the team. "We're having our ten thousand leaders worldwide go to a mandatory inclusive leadership training program," she says. And after starting from that level, the organization is dedicated to seeing diverse representation at leadership levels to reinforce the inclusivity throughout the entire culture.
"For gender equity to happen, for example, women need to be at the top. They need to have access to the spaces of power," Ginante Yockelson says. "And to do that, we are supporting our female executives' efforts to join boards outside of the company, training them on how to have an executive bio, how to interview, and how to work on their executive presence." Leaders are also incentivized to drive diversity and inclusivity within their teams. While leaders' other goals may be important, Ginante Yockelson wants to ensure they find these representation goals equally important.
These efforts have seen early success: Hewlett Packard Enterprise has already seen around 5 percent more female team members globally than its competitors. "But that's not good enough," Ginante Yockelson says. "We need to always be striving to be best-in-class as far as diversity goes."
Getting Down to Business
"Diversity drives better business outcomes, but you need to look for it," says Alessandra Ginante Yockelson, chief talent officer at Hewlett Packard Enterprise. Growing up in Brazil, she knew that many might not see her country as a source of technological impact. But Ginante Yockelson wants to be sure that organizations like HPE look for talent around the globe and bring the best teams together across industries, functions, and countries to achieve business aspirations.
In striving to be a role model and make herself more visible to global opportunities, Ginante Yockelson has focused on her education and is about to earn her doctorate in business administration. "I had to catch up to insert myself, globally. Today we can make that easier for others to make a difference," she says.