During many summers when I was younger, I would go with my aunt to work. She was a nanny and took care of the kids of an affluent family. My aunt, mom, and many other Latinx share a common narrative—the story of immigrants who come to the US in search of the American Dream, work as nannies (among other jobs) to provide for their families, and at times have to bring their children to work because that was the only option.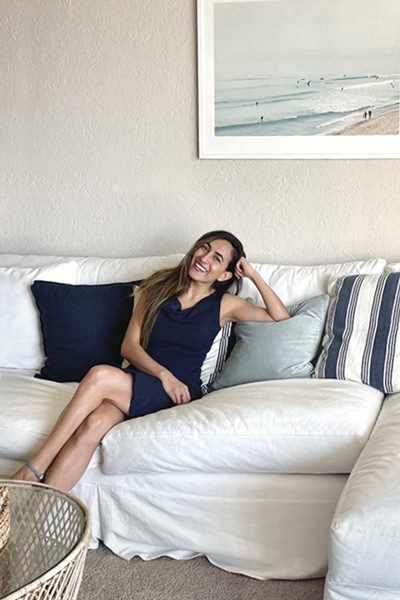 I loved going to work with my aunt because that meant I got to play with my friends (her boss's children) and their latest-and-greatest toys. We would even get to go out for walks around their neighborhood (where I grew up, safe walks were not a guarantee).
One memory that sticks out from those days is that affluent family's white couch (weird, I know). I remember being in awe of it. It was large, comfortable, and even had a distinct "fancy" smell to it. I remember sitting on it and feeling like a queen on her throne. It made me feel like I was part of another universe. It made me want a white couch of my own, and it motivated me to work for it.
I'm a native Angeleno. I grew up in the suburbs of Los Angeles, and I lived in a low-income part of the city. Even though my family didn't grow up with much, they instilled in me a fervor to do more. They told me that the pathway to success was through education, so I spent my summers being a nanny alongside my aunt and the rest of the year giving my best to academics. This academic-centric mindset pushed me to believe that I was going to make it to college no matter what it took. I wanted to be successful because in the future, I wanted to own a white couch myself.
Throughout elementary, middle, and high school, I worked hard to excel academically—only to hit a roadblock as a junior. One day, my dad sat me down and said, "Mija (daughter)—we know you've worked hard and have done well in school, but we just can't afford to send you to college." My dreams of going to college were shattered. But I decided that that was not an option. I was determined to figure out a way to get to college—and I did.
Philadelphia
I was fortunate enough to get a full-ride scholarship to attend the University of Pennsylvania (Penn) through an organization called QuestBridge. QuestBridge is a nonprofit organization that helps high-achieving low-income students get to the nation's top schools. I was elated when I found out my dream of being the first in my family to attend college was going to become a reality. There was sadness mixed with this news, however, because it meant I was going to be leaving my family and the comfort of living in a Latinx-rich city like Los Angeles. Family is the nucleus of the Latinx community, and by moving two thousand-plus miles away from mine, I was disrupting tradition.
I tackled this sadness and fear because I knew I had been given a once-in-a-lifetime opportunity, and I headed to Philadelphia for college. While there, I struggled with my identity as a first-generation low-income Latina at an Ivy League institution. The imposter syndrome settled in for much of my time at Penn, and it wasn't until I landed a coveted investment banking internship my junior year that I started to see that I did belong at an Ivy League institution like Penn.
New York City
I started my career as an investment banker on Wall Street in New York City. The hours were (as expected) brutal. Even though those years are now a bit of a blur, since one day always merged into the next, I'm grateful for the experience because it taught me discipline, raw technical skills, and the importance of having a support system. My parents didn't know what investment banking was, but their determination to cheer me on was what kept me going after an eighty-plus-hour workweek. Truly, that's why I was able to stick through it.
After a few years of this lifestyle, though, it was time for a change. I realized that what made me a "buena niña" (good girl) growing up was going to be what held me back professionally: as a kid, I never spoke up or out and I never disagreed because I wanted to be respectful. Maybe this works for ten-year-olds, but as a businesswoman, that wasn't going to cut it.
I knew business school would push me out of this comfort zone. I applied to business school with the purpose of developing myself so I would be empowered to speak up and feel brave enough to disagree. It took me sixteen months to go through the painstaking application process, during which time I participated in Management Leadership for Tomorrow's (MLT) MBA prep program, switched from the GMAT to the GRE because I couldn't crack the GMAT after taking it four times, and applied to six schools coast-to-coast. I felt like I was running 100 mph the entire time.
The whole application process was a roller coaster. There were so many moments when I told myself, "There's no way I can get into these top business schools." There were also moments when I told myself, "You've got this. You are an amazing Latina leader, and you need to show that to admissions."
I doubted myself. I empowered myself. I discovered myself. I'm so glad I went through the business school application process, not only because it led me to an incredible experience in business school but because it made me really think about what matters to me and why. At Penn and on Wall Street, I started to lose sight of who I was. The more milestones I achieved, the more I wanted to keep achieving—but despite my achievements, I was never satisfied. I started to forget about those summers as a kid when I would go with my aunt to her workplace to help take care of the affluent family's children. I had a reality check and realized that just because I went to a fancy school and had a fancy job, it didn't mean that at the core, I wasn't still that kid who was awed by the white couch of the affluent family.
Boston
It was through this process of self-discovery while applying to business school that I recognized what my life mission was and is: to elevate Latinx leadership across the US. I want my younger Latinx peers who have also been awed by white couches because their moms, dads, or family members brought them along for work to have the opportunity to buy their own white couch—or whatever their equivalent is—one day. I'm still trying to figure out how exactly I'm going to elevate Latinx leadership in the US, but if there's one thing I've learned about myself over the years, it's that I will figure out how to make it happen.
I ended up getting into my dream school, Harvard Business School (HBS), and during my second year I served as copresident of the Latino Student Organization (LASO). This was one of the most rewarding experiences I've had to date because I was able to see firsthand the impact of a supportive Latinx community. I really struggled my first semester at HBS, but thankfully my LASO familia was there to support me and help me get through it. We all supported each other, and that made the difference in creating a space where Latinx leaders on campus could thrive—not only at HBS but afterwards as alumni.
Today, as a proud HBS alumna, I hope to continue creating these supportive Latinx communities as part of my mission to elevate Latinx leadership in the US.
Los Angeles (again)
After my HBS graduation—and eleven years on the East Coast—I finally moved back to Los Angeles. I was driving around LA recently and drove by an affluent neighborhood, like the one where my aunt used to work. It made me think about the affluent family's white couch and how it seemed like it was part of an alternate and unattainable universe when I was growing up.
Three cities, two degrees, and one decade later, I am now the proud owner of a white couch. I would like to think I bought the white couch because it went with the "aesthetics" of my coastal-themed white and blue apartment, but that's not really why I bought it. I bought that couch because it felt like I was achieving part of my American dream. I reached the alternate universe I only dreamed of growing up, and I hope to help other Latinx achieve their dreams and earn whatever "white couch" they want in the future.
---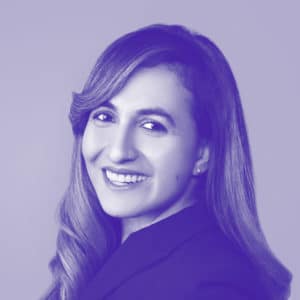 Amy Hernandez Turcios is a Wall Street alumna, first-generation Guatemalan American, and community leader dedicated to advancing Latinx leadership. She founded Haz Ruido, a community dedicated to elevating emerging Latinx leaders. Amy holds a BS in economics from the Wharton School of the University of Pennsylvania and an MBA from Harvard Business School. She is based in Los Angeles, CA.
Follow her on Instagram (@hazruidoamy) or email her at ahernandezturcios@mba2020.hbs.edu.