Dolores Huerta coined the phrase "Sí, se puede" in 1972, and it has rapidly gained in popularity since then. Indeed, in 2008, Barack Obama used it for his presidential campaign ("Yes, we can").
Ever since Huerta's phrase caught on, the Latinx community has been striving to prove it true, to show that we can be successful in America and that we can achieve the American Dream that so many of our parents and grandparents had in mind when they immigrated here.
Now, many of us Latinx have done just that. We are graduating from college and graduate schools, entering corporate America, and driving the US economy forward. "Sí, se puede" will always be a part of who we are, but it is time to add in a new call to action—one that tells us, "Haz ruido."
Now that we've proven we can enter these exclusive spaces, we need to prove that we can succeed in them. The only way to do that is to listen to that voice telling us to hacer ruido. I wrote the piece "Haciendo Ruido in These Spaces" to show how we can make noise. Now, I want to share why this matters.
I am the proud daughter of Guatemalan immigrants. Like many others, my parents crossed borders and came to America with nothing. They had to live in the shadows to stay. They had to accept whatever job they could find, taking whatever hand they were dealt and saying yes to everything. They had to endure every insult, every mocking taunt, every minimizing comment. All they could do was nod and put their heads down, because speaking up was not an option.
When I was younger, I would go to the store with my parents and they would say, "Mija, pregúntales dónde está" ("Daughter, ask them where this is"). I would get frustrated when I had to ask the store clerks where a certain item was, and I always wondered why my parents couldn't do it themselves. But as a buena hija, I never asked and did as I was told.
Years later, I reflect on those moments and shake my head at younger Amy, who wasn't patient, compassionate, or understanding. My parents avoided speaking to the store clerks in English because they had tried to do so before and been humiliated. They constantly had to put their heads down at work, but when they were in the store, they could be proud of me because I spoke English. Not only did I speak English, I spoke "good English"—the type my parents' bosses spoke. It was through me that they felt a sense of empowerment, and I took that for granted when I was younger.
"We are no longer bound by the confines of the saying, 'Calladita te ves más bonita.' We are in positions where we are often in the spotlight, and we can use such moments to make a difference."
As Latinx raised in the US, we have the luxury of learning English in school. We have a choice of majors and career pathways to pursue in college. We have the option of choosing which job we want to take after college. All of this isn't easy, of course: we often have to figure things out for ourselves. But the beauty is that we have become problem-solvers who approach the world with an unwavering sense of grit and resilience.
It is because of the great sacrifices our parents and grandparents made that we have all these choices. Their generations were driven by the "Sí, se puede" mantra, driven to push forward despite the humiliation they experienced for not speaking fluent English. Huerta's message inspires us too, of course, but now we need to build on that sentiment and hacer ruido.
We are fortunate to be part of a diverse America where we can and should make noise, proudly and loudly. We owe it to our parents and grandparents to speak up, even if we're the only one with a certain perspective. We owe it to them to drive change, to inspire the community with our stories so that the younger generations can see that it really is possible to achieve one's dreams.
We are no longer bound by the confines of the saying, "Calladita te ves más bonita" ("You're prettier when you're quiet"). We are in positions where we are often in the spotlight, and we can use such moments to make a difference.
So, haz ruido. Haz ruido at school, at work, with friends, and in relationships, for the community as well as for yourself. Stand up for what is right, even if you're the only one doing it. Have faith and confidence that what you're saying matters. Encourage other Latinx leaders to use their sacred voice. You have a superpower—use it!
---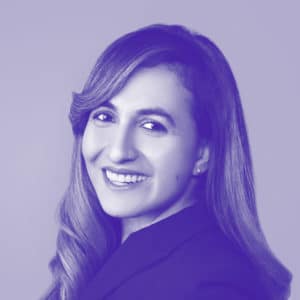 Amy Hernandez Turcios is a Wall Street alumna, first-generation Guatemalan American, and community leader dedicated to advancing Latinx leadership. She is in the process of founding Haz Ruido, a community dedicated to elevating emerging Latinx leaders. Amy holds a bachelor of science in economics from the University of Pennsylvania's Wharton School and a master of business administration from Harvard Business School. She is based in Los Angeles, CA.
Follow her on Instagram (@hazruidoamy) or email her at ahernandezturcios@mba2020.hbs.edu.
---
Related Links