A reputation for friendly professionalism, cutting-edge technology, breathtaking views, and legendary service precedes The Ritz-Carlton Bal Harbour, Miami. Located in one of Miami's largest business districts, the hotel is also unsurprisingly reputed for hosting executive conferences.
The facility was designed with the business traveler in mind, able to nimbly meet the needs of meetings ranging from a high-level business dinner to a large-scale corporate convention. A variety of meeting spaces comes with audiovisual and technology experts onsite. The full-service business center is open 24 hours, and the hotel offers complimentary Wi-Fi in all the rooms and public areas. In between meetings, guests have the opportunity to relax in a world-class spa, unwind at the beach, or browse the nearby shopping district.
The overall theme of the hotel is "fashion meets the ocean," which is reflected throughout, from a modern sculpture and fire pit on the Guy Dill Terrace to the delicate, handmade carvings of birds and birds' nests in the lobby.
The rooms and suites are distributed across four towers: The Atlantic, Baker, Haulover, and Oletta. A personal butler service is available from 8 a.m. to 11 p.m. every day. Rooms and suites are equipped with full kitchens, and a chef can come in to cook at the guests' request.
"The hotel has just 120 rooms, which allows us to get to know our guests by name and treat them like family in an ambiance that is relaxed and warm, but also definitely refined," says hotel manager Winfred Van Workum. "Our motto is, 'We are ladies and gentlemen serving ladies and gentlemen,' and we live up to it."
Ritz-Carlton
Headquartered: Chevy Chase, Maryland
Founded: The first Ritz Hotel was opened in Paris in 1898. The company was renamed the Ritz-Carlton Hotel Company, LLC in 1983.
Global Reach: 90 hotels worldwide in 29 countries and territories
Bal Harbour: The One Bal Harbor location opened as a Ritz-Carlton in 2014, becoming the 10th property in the company's Florida portfolio. It is a five-star ocean resort catering to the relaxation seeker and business traveler alike.
Not Your Typical Conference
The Ritz-Carlton Bal Harbour Hotel has four event venues that can accommodate anywhere from 12 to more than 200 guests and provides a conference concierge who takes care of all the organizational details.
"We help put the event together so you and your team or clients have the best possible experience," Van Workum says. "Though our conference rooms have all you need to hold meetings here, you don't have to restrict them to the inside areas. If you want an unforgettable business meeting, hold it in one of our cabanas. The  ocean views and private, open-air setting are sure to make an impact."
A light menu that includes shrimp quesadillas and specialty cocktails has been designed for the cabanas. It can also be tailored to the guests' specifications.
"The pool area is also a great networking space, where people can chat in a relaxing, pressure-free atmosphere," Van Workum says. "It has direct access to the beach."
As for teamwork and leadership activities, there are a number to choose from. "We can customize special activities like beach volleyball and a kayak relay race or treat your clients to parasailing, jet-ski tours, and more," he says. "We have something for everyone."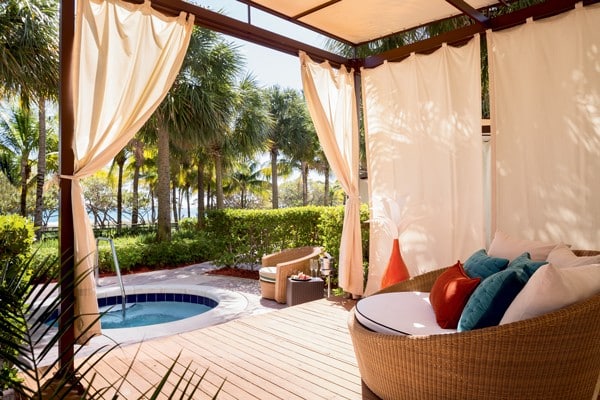 A Sanctuary for Body and Soul
Exhale Bal Harbour, the hotel spa, offers various treatments, services, and packages designed with relaxation in mind. There are saunas and steam rooms, a hydrotherapy room, and a special nail-treatment area where clients can enjoy a cup of tea while getting pampered.
"We have everything from facials and massages to manicures, pedicures, and alternative healing techniques like Reiki," says Nicola Wellner, the spa's guest experience lead. "For those who feel stressed out after—or before—a meeting, I definitely recommend our Swedish massage, which includes a soothing aromatherapy session."
Yoga and Core Fusion classes are also available in the wellness center. "Business executives aren't dealing with 'business' all the time," Van Workum says. "They can also learn the art of the cocktail from the Bistro Bal Harbour mixology team or just relax and watch the sunset across the Atlantic."
The Menu: Ocean-to-Table
Executive chef Felipe Arango Salazar makes sure that the menu at main restaurant Bistro Bal Harbour, as well as the pool bar and grill, strengthens the Ritz-Carlton's reputation for culinary excellence. The Bogotá native has created an ocean-to-table menu that features an extensive selection of wines and local craft beers to accompany it. He favors Mediterranean style dishes with a Miami twist.
"To wrap up a long day of meetings, my recommendations for dinner are simple, invigorating dishes," he says. "I would put a table outside the dining room, where patrons could enjoy our breathtaking views. A shrimp cocktail and a ceviche are great starters—very local and fresh—followed by pan-seared salmon or lobster pappardelle. A fresh-muddled blood-orange mojito is the perfect finale to a relaxing and nutritious meal."
"From unique experiences to elegant networking events, tell us what you need and we will make it happen," Van Workum challenges. "That's what the Ritz-Carlton Gold Standard of legendary service is all about."