Iris Rosario, senior counsel of franchise for Choice Hotels International, found an interest in law early in her life.
Rosario's grandparents came to the US mainland from Puerto Rico in the late 1950s. With her grandfather working the fields of grape farms outside of Buffalo, it wasn't long before both her parents joined; working the fields, as well as working in factories and other odd jobs.
When Rosario was born, she became the first generation of her family to be born in the mainland, speaking Spanish at home and around her community, but learning English in school.
"We moved around quite a bit, from Buffalo to Puerto Rico to some other states, though the majority of time was in the Buffalo, New York area, in a predominant Spanish community," she recounts. "As one of the few in my family who speaks English—my parents speak broken English—you become a translator and review documents for family, as well as neighbors."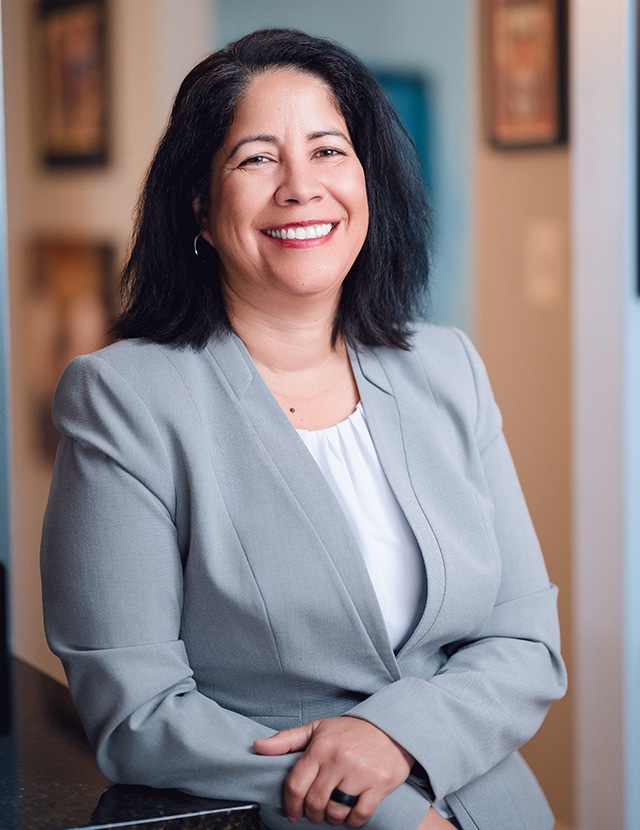 That experience led her to think about law. Even her high school friends wrote in her yearbook greetings wishing her well in her legal career, knowing that's where she would be headed. In the early 90s, Rosario got a job in Washington, D.C. with the National Puerto Rican Coalition, working on advocacy issues, including housing, and trying to figure out if she truly wanted to go to law school.
"There was no one to support me financially with law school, so I wanted to make sure it was something I really wanted to do," she explains. "It took me a good five years to get around to deciding to make that investment."
She headed to American University's Washington College of Law, while working full-time during the day to pay for her education so she wouldn't be saddled with a big debt upon graduation. Those jobs included a few boutique law firms specializing in telecommunications law, a stint at the US Attorney's Office to get a taste of criminal law, and working on automotive environmental issues for the Environmental Protection Agency.
"I was figuring out what I wanted to do," Rosario says. "I was thinking I wanted to have more of a transactional regulatory career and ended up taking litigation classes to make sure this is what I wanted to do, and really enjoyed it."
Around 2002, the telecommunications market hit rock bottom, so Rosario transitioned into litigation. She found a job at a firm with attorneys that later joined Gray Plant Mooty, a Minnesota-based firm specializing in franchise law.
"I started working with a group of attorneys—many former prosecutors—on franchise matters, which touched upon all areas of law, including employment, tax, underreporting, and immigration issues," the senior counsel recalls. "I was really enjoying the litigation portion and did that for about fifteen years."
In 2019, Rosario had the opportunity to work on franchise issues at Little Caesars in a secondment role (also known as a job rotation) while still at the firm and enjoyed her taste as an in-house attorney. Around this time, a friend invited her to join the legal team at Choice Hotels International. Thrilled, Rosario came on board.
But then COVID hit, and she found herself laid off for the first time in her life and experiencing her first-ever summer off since she was young.
"Along with my parents and grandparents and other family members, I started working the farms of Western New York when I was 14, picking strawberries and grapes and other fruits," she says. "So, I enjoyed this unexpected time off during COVID-19."
It didn't take long for Choice Hotels International to call her back, and Rosario is now senior counsel of franchise for the company, providing legal counsel on franchise regulatory matters and titanic mergers and acquisitions.
"Day-to-day, I support the development team when it comes to the Cambria and Ascend brands, so I'm there to help them negotiate agreements and ensure we represent the best interest of the company, and the contracts reflect what the parties have negotiated," she shares. "Beyond that, I oversee the team that works on the company's secondary amendments and get involved when things become tricky."
She also supports the Cambria operations team, working on hotel management agreements and a lot of other facets of the hotel business, be it operations or anything else requiring contracts or legal advice.
"I feel grateful for what I've accomplished; it's been a lot of hard work," she shares. "There was a lot of support along the way from my husband, family, and friends and a lot of luck. Just thinking back to where I started, and not expecting to achieve what I have so far. I feel grateful for the opportunities and loving support of my husband and family."
In 2023, Rosario hopes to do more pro-bono work, something she did a lot of for Gray Plant Mooty and something that has always been an important focus of her law career.
She remembers working on an asylum application for a man from El Salvador, who had experienced firsthand the civil war in that country. Being one of the few attorneys at the firm who spoke Spanish, she helped him get what he needed to stay in the US and to start the path of allowing him to bring his family. She also worked with homeless veterans, helping them obtain the help they needed, as well as families living on section 8 and other social programs, who were facing eviction and homelessness.
"It reminds me of the community that I came from," she notes. "It's something I definitely want to do more of and that is important to me, in addition to my daytime job at Choice Hotels."