In 2019, her career in the gaming industry brought Sandie Barrera back to the Catskills, New York, only thirty minutes from where she grew up.
Many of Barrera's family members worked in the resort and hotel industry, which was reminiscent of setting for the movie Dirty Dancing. It was in the Catskills where her parents met.
Today, she's vice president of compliance at Genting Americas and leads from the example her mother and grandparents set for her. "My grandfather showed me what it was to work hard and with dedication, and I really do owe my success to them," Barrera says. "With my team, I want to ensure that I'm able to provide the same support to them as a leader. I like working alongside them to build and support their success."
Barrera and her family didn't stay in the Catskills, moving when she was seventeen to Iowa, where she finished high school. Her first foray into the gaming industry was when she was earning her associate degree in accounting.
"A casino was opening up on the way to college, and I had a moment where I said, 'I want to work there,'" she recalls of the Isle of Capri Casinos. "I started working there as a slot attendant. Within a year, I became the revenue audit manager for that property."
Even though she spent much of her young adulthood in the Midwest, she never lost the itch to return to New York. "New York was beginning the process of legalizing commercial gaming, which is why I wanted to come back home," explains Barrera, who had experienced quite the culture shock when she first arrived in the Midwest. "That was the goal."
From Iowa, Barrera was transferred to a new casino they were opening in Missouri, where she stayed for five years until New York was ready for her.
In 2016, Barrera played a pivotal role in the opening of Tioga Downs, the first-ever commercial gaming property in New York State. Just less than a year later, she was recruited to join the team at Resorts World Catskills, which brought her back to her roots on the same land that her family had worked on decades before. Her return also meant being close to friends from her high school years.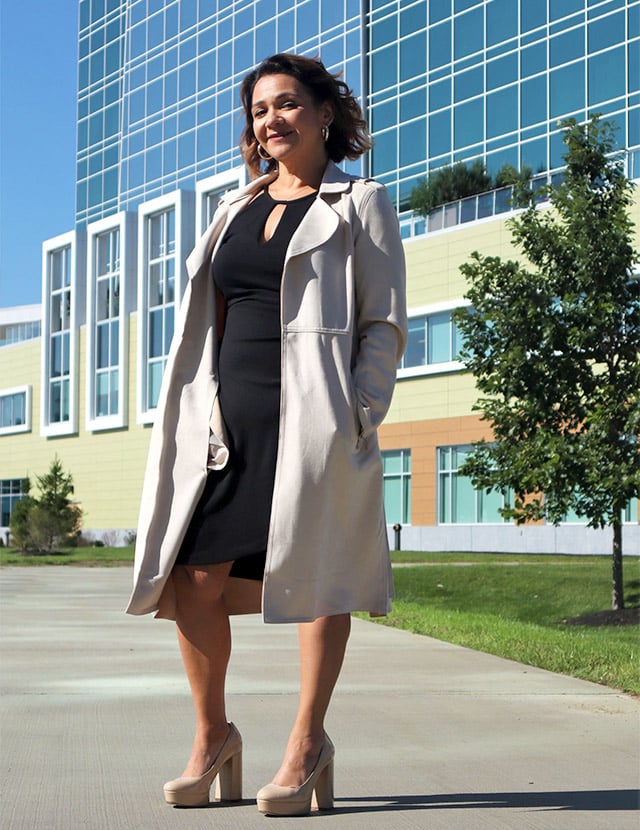 Barrera quickly rose in the ranks. She was promoted to casino controller and oversaw financial operations for the property. In 2019, the Genting Group began managing operations at Resorts World Catskills, and she received the opportunity to become the director of compliance for the property.
It wasn't long after the acquisition that Barrera and her team faced a dramatic landscape shift in the COVID-19 pandemic. They pivoted to make gaming safe throughout the pandemic, and now she is confident that they are back to normal, if not better than they were before. She attributes a lot of their success in that realm to the family atmosphere that she finds among the personnel in the gaming industry.
Since then, the State of New York has legalized mobile sports betting, allowing Genting to launch, Resorts World Bet, its mobile sports betting app. "As long as you're in the state of New York, you have an easy, secure app that allows one to place a bet from anywhere—on your couch or in your office," says Barrera, who was promoted to her current role of vice president of compliance when two new properties opened, including Resorts World Hudson Valley. The advancements in technology keep her and her team on their toes and offer them new ways to support and strengthen the business.
In addition to the example that her mother and grandparents set for her, Barrera is grateful for the mentors that she has had over the years that have helped her thrive in her career, particularly female mentors. She's been lucky to have many female managers and bosses who have helped her grow through their different managing styles.
Advice that Barrera offers to young up-in-comers in the casino industry is, first and foremost, to put in the work, not get discouraged, and see challenges as opportunities.
"Every time that I was challenged or given projects that were probably above my scope, I was able to gain priceless knowledge and experience that was able to benefit me in my future," Barrera says.  "So always the hard work is worth it in the end."
---
Everi's mission is to lead the gaming industry through the power of people, imagination, and technology, focused on player engagement and assisting our casino customers to operate more efficiently. The
company develops entertaining game content, gaming machines, gaming systems, fintech and loyalty products, and services for land-based, iGaming, and bingo operators.