I did not graduate from high school and, in general, was not destined to apply for and get accepted into the full-time MBA program at Arizona State University's WP Carey School of Business. Quite the opposite: I was more destined for a jail cell, or an early grave. Fortunately, I had a few pivotal conversations with some great people and recognized the importance of having positive influences and mentors in my life. I also had my first child at twenty-two—which, as you can probably imagine, was a real eye-opener and started me on the path to turning my life around. I then sought out a career as a firefighter and joined the Army National Guard.
Having recognized the importance of getting a degree, I started at a community college, then enrolled at ASU, and am happy to report I went from being a high school dropout to a first-generation college student. My undergraduate graduation was a big moment. I recall looking up at my family in attendance and shedding a tear or two: I was incredibly proud to be setting an example for my children. I also created and established my first venture during this period of my life and began to consider getting an MBA.
Why I Chose to Get an MBA
During my first venture's growth phases, I realized I had the necessary intangibles for starting and scaling a company—but I also noticed some gaps in my hard skills. So, in 2018, I began researching the process of applying for MBA programs. This process was very illuminating, as I learned that Hispanics and Native Americans make up some of the smallest populations within MBA and graduate programs. Similarly, there is low representation of our brothers and sisters in Black communities.
Soon, however, I was offered a partnership opportunity that took me off the MBA course for about six months. During that partnership, I still felt like I wanted to learn more and decided to put my application in after ASU called to encourage me to apply.
One of the most significant factors in my decision to do this program was the amount of available concentrations. I decided on two, marketing and entrepreneurship. I picked marketing and entrepreneurship due to my experiences with starting and running businesses. After my first business, I launched a few others alongside a mentor I came across during several collegiate funding competitions, and I have found that the critical components to success are managing people and effectively marketing your firm.
Many "quants" (the quantitatively inclined) will likely disagree with my thoughts on what is more integral to successful company launches, but that's OK. If your marketing team does not sell your product and bring money in, guess what's irrelevant? Finance and accounting.
I also had a very successful internship with Adobe while getting my MBA. I received a full-time offer, and they specifically said how they appreciated that I was focusing on entrepreneurship. Never doubt how much the entrepreneurial spirit is valued in business.
Career Goals and How My MBA Helped
Ultimately, I did not accept the full-time offer from Adobe, as I did not believe moving my family to San Francisco made sense in a world with a pandemic going on. Moreover, post-MBA target roles are brand/product management roles within the consumer-produced goods (CPG) industry at top companies. I was also interested in consulting roles on teams that would align with my experience and interests. Today, in addition to seeking out such roles, I am also working on launching a new venture designed to help underrepresented groups.
The Latinx MBA Experience: My Perspective
As a career switcher with a non-traditional background, I have found an MBA to be critical to my ability to get a foot in the door.
Without it, I wouldn't have even been able to apply for the roles I have been seeking out or obtain an internship at Adobe. The MBA program has been an invaluable and fulfilling experience that impacted all areas of my life. I have had the great fortune of collaborating with top talents in the ASU MBA program as well as MBAs from M7 schools during my internship. I have also been made aware of how differently I grew up and lived compared to many of my peers.
On the first day of my program, I recall looking at one of my partners for a group exercise and telling him, "I have no idea what I'm doing here." Yeah, it was a lot. I felt outclassed, out of place, terrible about how far away I was from others in the program, and simply overwhelmed. I had a similar experience during my internship, where I was one of only two Latinx MBA candidates. What made things, even more, intimidating was the fact that most other MBA interns at the company, if not all, were from top ten programs.
Accelerated Leadership for Underrepresented Minorities
My life, MBA application, and program experiences—coupled with the social justice issues that occurred during the summer of 2020—inspired me to figure out some way to make an impact. Watching everything unfold hurt and confused me. It felt incredibly personal; something was broken, and I felt powerless.
I wanted to do my part. I also recognized that the ASU program did not have any clubs with the mission of empowering our underrepresented community to prepare for and obtain high-level roles with top companies—something most top ten programs already have.
Out of my desire to do something, Accelerated Leadership for Underrepresented Minorities (ALUM) was born. I immediately started reaching out to the colleagues I regularly seek counsel from, and then looked to add a cofounder or two. We currently have a membership roster of about thirty individuals, including our Cofounder Simone Bayfield, who has done an incredible job helping to lead and drive the club forward.
The team comprises incredibly talented individuals and leaders, but what I believe to be more important is that they all are just as driven and passionate about the mission as I am. I can say with certainty that ALUM would not be where it is today without everyone working in collaboration toward our common goal. I'm honored to have worked alongside each of them.
ALUM focuses on four areas of engagement: speaking events, community outreach, perspective-sharing opportunities, and pipeline formation. We're working to partner with companies interested in recruiting directly from our club, which has proven to be a bit challenging. The team has also put on several events with minority business leaders and business owners who add to our leadership development by sharing lessons learned while navigating their careers. We are also in the process of wrapping up a food drive in honor of Black History Month and are forming partnerships with high schools and undergraduate student clubs to engage in speaking events at schools with high proportions of minority students.
I Believe in You
At the beginning of my MBA program, we were told that a full-time MBA program is transformational. I recall skeptically thinking something to the effect of, "Way to hype up the program." But looking from then to now, I can confidently say that the experience was indeed transformational. I went from wondering what I was doing there to being nominated for Poets&Quants' 100 Best & Brightest MBAs: Class of 2021 and getting nominated to interview to be featured as this year's Outstanding Graduate Student Speaker at the WP Carey School of Business Convocation this May.
I want to leave you, the reader, with this message:
If you ever feel like you're not worthy or cannot do something, I can tell you unequivocally that this belief is not valid. I felt like that many times, and it's understandable to feel that way—but it is simply not true. If no one else believes in you, know that I do. If you're willing to dig in and work your ass off, you can achieve your goals. You deserve to live life as you wish, just the same as anyone else.
Set your goals high, outwork everyone, believe in your abilities, overcome obstacles, and keep pushing.
---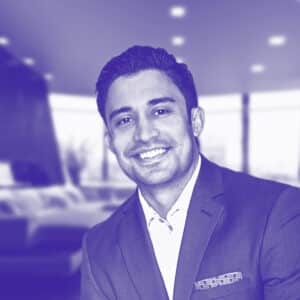 Daniel Valdez is an innovative entrepreneur, customer-centric marketing professional, and US military veteran. Valdez believes in being fast and nimble while applying lean and design-thinking methodologies to today's complex business problems. He is in the process of engaging in recruiting with many top companies and is working hard to launch a new venture dedicated to elevating underrepresented minorities. Valdez holds his bachelor of science from Arizona State University and is in the process of completing the full-time MBA program at the WP Carey School of Business, which he received a scholarship to attend. Connect with him on LinkedIn today.
---
Related Links
NextGen Collective: The White Couch—a Piece of My American Dream