Luis Esparza's mother knew he was cut out to be a lawyer when her curious child started peppering her with questions about, seemingly, everything. One of seven children in a bilingual El Paso household, Esparza recalls a particular line of interrogation around a topic of grave importance: why Lou Ferrigno's pants don't burst after he transforms into the Incredible Hulk on TV.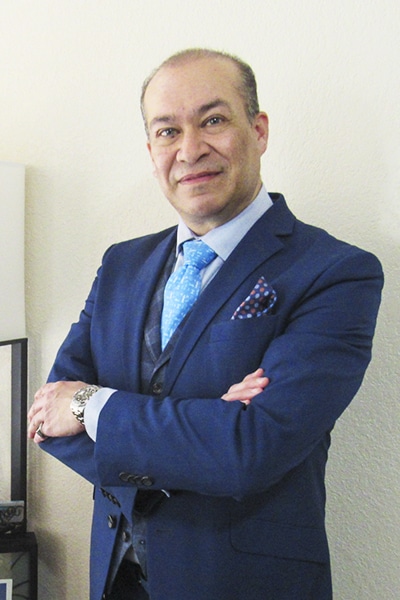 His mom provided a quick answer—stretch denim!—but that did little to abate Esparza's inquisitive streak.
"Since I was little, I was observing and analyzing things, and I always had questions; it would drive my mom crazy," Esparza recalls, adding that she was encouraging nonetheless of this level of curiosity. "What she tried to instill in all her boys and girls was [a desire] to question things—not just for argument's sake but for us to go and investigate to form our own opinions and conclusions."
What began as a few reasonable questions about jean cut-offs led Esparza to a career in law, culminating with his latest position at Conduent, a company that specializes in business process outsourcing and customer experience. Esparza currently serves as associate general counsel for Latin America, in which role he oversees and assists Conduent's legal needs for conducting business all through Latin America, including labor, data privacy, corporate, and litigation matters, as well as everyday business activities.
Though Esparza entered law school without a clear idea of what he ultimately wanted to practice, he narrowed the field during a class in his fourth semester. He was enrolled in a law philosophy class and assigned Machiavelli's The Prince, which argues that royalty is permitted to justify amoral means if it accomplishes their goals. Esparza's assignment was to present arguments—essentially, litigate—on how the piece views justice.
"There was extra pressure, as our teacher was an Italian national and a very, very strict one," Esparza says. "It was a mind-blowing experience and confirmed for me that I had made the right choice [of profession]."
While still in law school, Esparza considered finding a career in litigation but had no luck—nobody was hiring. Eventually, through the school's community service program, Esparza accepted a position at the Mexican Consulate in El Paso, Texas, where he would assist on issues related to Mexican nationals in the area, including deportations and judicial procedures. He was later promoted to join the Commercial and Economy Promotion Department and discovered a fondness for legal practice that requires fluency in more than one language.
"Our department promoted Mexican products—exports and imports—as well as investments," Esparza explains. "This caught my attention, as I was already fluent in both English and Spanish. This made it easy for me to communicate with foreign investors interested in investing in Mexico."
From there he started a long and fruitful career in the legal departments of major firms such as Deloitte, PwC, and Baker & McKenzie.
"Moments of doubt will come, but the beauty and nobility of the law is that it's so broad, and every day offers so many fields and venues."
Conduent represents the second phase of Esparza's career—a shift to life as in-house counsel. Of course, he has also experienced dramatic shifts brought on by the COVID-19 pandemic. The AGC and his team remain deeply concerned with issues raised by the pandemic and the toll it has taken on the Latin American operations and employees at the company.
These trying times have taught Esparza that resiliency in the community begins at home, as it did for him. "Regardless of the hardships and difficulties the pandemic has brought, the Latin community is family oriented and falls back on the values and principles that make families strong," Esparza emphasizes. "The challenges that were brought to my practice were [essentially] how to keep business continuing while keeping everyone safe, and how to act fast. Priorities were, and always has been, our workers—they're our greatest and most important asset."
Esparza is well aware that many employees around the world, especially young attorneys just starting out in their careers, have had to rethink their long-term professional plans as a result of the pandemic. His advice to those individuals is to be patient. The journey to a successful career might seem harder right now, he says, but it will come if you work hard—and broaden your horizons.
"Try to learn another language, and engage people from other countries," Esparza says. "Read—don't glance—but really read and understand what you are reading. Moments of doubt will come, but the beauty and nobility of the law is that it's so broad, and every day offers so many fields and venues.
"Finally, observe," he continues. "I've always been, and still am, the quiet one in the room. Always let other speak first so you know who you are dealing with."
And if all else fails, ask questions.
---
Related Links