The winds of global trade have shifted significantly since Hispanic Executive spoke with Global4PL President and CEO Sergio Retamal in 2015. The continued emergence of China as an economic powerhouse gave way to a trade war with the US that has created challenges for Global4PL's clients, which are spread over 168 different countries and are accustomed to things as they used to be previously.
Fortunately, the combination of Retamal's vision and guidance has provided steadiness in an unsteady time, and the CEO is now focused on the manufacturing infrastructure necessary to shift production from China to more viable and developing economies and opportunities.
Managing a Global Shift
Retamal says the global shift away from China is a simple means to an end. "This shift will continue moving production out of China into other countries such as Taiwan or Vietnam," he explains. "But truly, the next long-term opportunity is India, where we have the largest democracy on earth and a substantial population of educated professionals. Geographically, it is also next to China, which will help to create more balance of power in that region.
"The trade war is not over," Retamal continues. "While it has converted into more of a cold trade war, it will have a tremendous impact on manufacturing in the next ten years—and it's only just begun. We need to understand these changes and help our customers navigate those waters, which may be rough for many years to come."
While Global4PL continues to help shepherd its clients through an uncertain trade future, the company has also made inroads that have allowed it to diversify its focus. "We recently completed our General Services Administration (GSA) certification, which allows us to bid for government services contracts through their RFQ [request for quote] process," Retamal says. "This is not an easy process, but with the help of our team, we were certified last December, and it will open new doors for us."
Defiant Growth 
The continued growth at Global4PL, despite the challenges of navigating a shifting global paradigm, can be linked in part to Retamal's relentless focus on the people at his company. "One of the strengths we have as a team is that we know each other's strengths and weaknesses," the CEO says. "We've created a culture of openness and understanding such that someone's perceived weakness might be someone else's strength. We build and support teams to complement those qualities."
Retamal says that focusing on culture is critical unless one is determined to fail. "Management is about people. Processes, software, and technical tools are an important aspect of the business, but those are to support your people," the CEO says. "Set the tone, reward what you say is important, and remember that everyone from C-level individuals to entry-level employees are human beings that have the same expectations, needs, and feelings as anyone else."
The CEO has put his money where his mouth is, too, having earned both an MBA and a
Master of Science in Organization Development. The people focus of the latter has had a much more significant impact on his leadership style, Retamal says. "I will take the MSOD any day and twice on Sunday."
"If you create a culture that celebrates change, does the best for the customer, and runs on the idea that we all win when we do well, the result is an organization and people that embody a true entrepreneurial spirit."
The Entrepreneurial Spirit 
Retamal says that the culture at Global4PL has nurtured the company's growth. Specifically, the entrepreneurial spirit that he has worked hard to instill continues to drive Global4PL's expansion, resulting in a nimble, forward-thinking, and innovative organization that can outmaneuver much larger competitors.
"Resistance to change is one of the greatest failures of management," notes Retamal, "and those who know their work and their people can make changes to processes to make them easier to implement. And the buy-in is already there," he says. "If you create a culture that celebrates change, does the best for the customer, and embraces the concept that we all win when we do well, then we have created a true entrepreneurial spirit."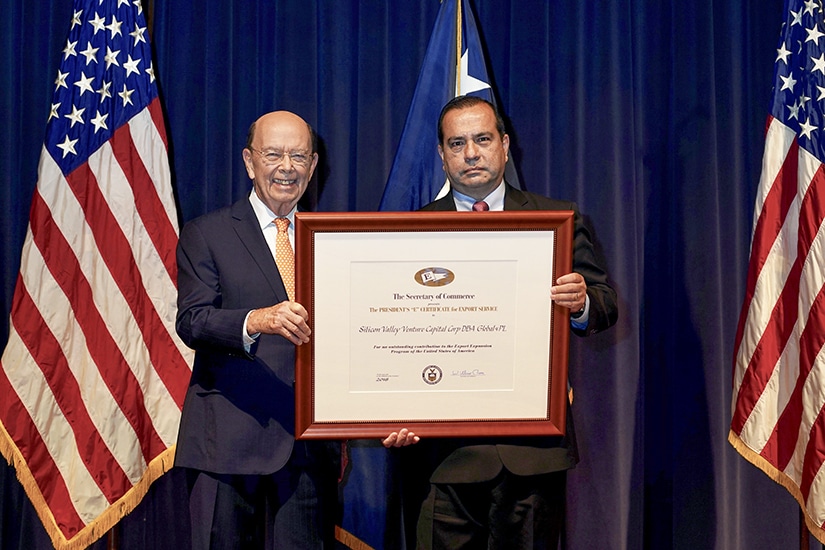 That spirit burns brightly for the CEO, who has faced his fair share of challenges along his journey. "As an entrepreneur, I've failed many times, but I don't consider them failures," Retamal says. "People who experience success in their career have failed ten or fifteen times. You simply have to learn from failure and apply the lessons you've learned the next time. You're going to remember the lessons from your failures more that what you've learned from your successes."
Retamal knows that staying positive and learning from failure—as well as having a willingness to simply try new tactics and strategies—is key to helping Global4PL stay agile and inventive. It's a recipe that enables the company to think creatively and constantly develop and improve.
This spirit is the same that attracted a motivated immigrant to Silicon Valley at the age of twenty-five and provided enough lessons to fill his yet-to-be-titled book, which Retamal hopes will provide guidance and inspiration for future entrepreneurs.
---
Related Links
FedEx's Julio Barrionuevo Delivers the Goods to Latin America