Ruth Giansante never exactly pictured herself working in finance. As a teenager, she knew she wanted to go to law school—even at age thirteen she was an analytical thinker with a passion for complex reading. During her first full-time position at a top law firm in her native Puerto Rico in the early 2000s, though, she discovered that the partner track was not for her. She found herself craving a more diverse work experience and a better work/life balance. When an opportunity came up to join a company as legal and finance director, she took it.
That decision set her on the trajectory to where she is now, as senior vice president of finance services at World Fuel Services, a Miami-based global fuel logistics company. Since joining the business about fifteen years ago, Giansante has worked to build up its legal department, reposition the audit function as a strategic part of the business, and in 2018, she was part of a team that embarked on completely reorganizing the finance department. Today, she leads a team of 140 people across 7 functions of the business.
Giansante spent her early formative years in Italy before her family moved to Puerto Rico, where she was born. Her background and international upbringing made her comfortable early on in life with the concept of being an outsider.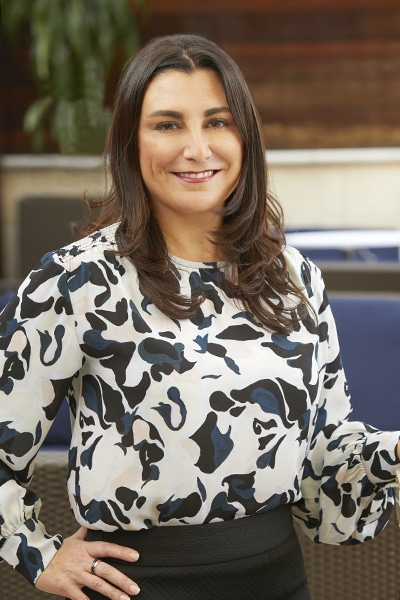 "When we were growing up in Italy we were always the American kids, and when we moved to Puerto Rico we were the Italian kids," says Giansante, who speaks Italian, Spanish, English, and Portuguese. People often ask her if she feels more Puerto Rican or more Italian, and it's a tough question to answer, she says. "It's hard for me to really choose one, and frankly, I don't believe that you have to."
At the University of Puerto Rico, Giansante double majored in accounting and finance before attending the university's law school. After graduating in 2001, she joined O'Neill & Borges, a prestigious firm based in San Juan. Her plan was to work her way up the ladder there.
But then, in her third year with the firm, her course shifted. Former executives from software company Citrix—whom Giansante knew from college—were launching a new business called Knowlity and wanted someone with business and legal expertise to join the team.
She became Knowlity's legal and finance director. Two years in, the bulk of her work with getting the company's legal and compliance functions set up was finished, and she found herself craving a new challenge. But her time at Knowlity helped her realize she wanted an in-house role with a global organization.
She moved to Miami in 2004, and that's where an opportunity with World Fuel Services came up. Giansante joined the company as senior counsel, the first hire made by the general counsel. Early on, it was just the two of them juggling transactional and commercial matters, late-night phone calls to talk to attorneys in distant time zones, building a new corporate governance and compliance structure, and more.
In 2014, an opening appeared for a chief audit executive in the company's finance department. Having a deep understanding of governance, risk, and compliance from her legal roles,  Giansante was intrigued by the opportunity. Senior leadership wanted to change the perception of the audit function from a "check-the-box" role to a more strategic business partner position, she says.
So, she took the job, and worked on integrating the audit function throughout the organization, without losing its crucial independence. Giansante credits her success to the fact that she had by that point spent years building strong relationships with team leaders.
"Once I started talking to them about what audit could do for their operations, it came from a different perspective," she says. "It wasn't, 'Well, audit is here to check on the work I'm doing'—it was more from, 'Yes, we have to do that, but we will guide you in improving your controls and processes.'"
In 2018, World Fuel Services' chief financial officer identified the need to take a holistic look at the company's finance function, Giansante says. That led to a complete transformation of the department, including reorganizing finance into three core groups. Another recent focus is on breaking down unproductive silos among different teams.
"We have a lot to improve on, but you can definitely sense the shift in the culture," she says. The transformation focuses on building a collaborative environment, with a priority on open communication. Along with that evolution, World Fuel Services has renewed its focus on the characteristics it looks for in new hires and existing team members—people who are humble, hungry, and people-smart.
Giansante's own transformation from her roots as an attorney to her current role in finance has been both challenging and rewarding, she says.
"I've accepted the fact that once a lawyer, always a lawyer. That's just ingrained in the way I think," she says. "But having that analytical way of thinking and considering commercial, compliance, and legal risks in decision-making has been a great asset in my finance career, because I can approach matters from a different perspective than someone who has always looked at things from a purely accounting or finance perspective."
Her varied background has also proven useful in her role as a servant leader for a large, talented team. That means letting go of control and instead looking for places where she can help to make the company's teams cohesive.
"I'm tasked with bringing it all together," she says.
Words of Wisdom
Giansante offers these pieces of advice to Latino leaders who strive for success:
Don't be rigid in how you progress in your career. Be open-minded and flexible.
"There's a tendency in this day and age to think, if you choose the job you love you'll never work a day in your life," she says. "But the truth is, even in a job you love, you have to work hard."
To be a successful leader, you have to be humble and trustworthy.
Lastly, Giansante cited a quote from Supreme Court Justice Sonia Sotomayor: "Build bridges instead of walls."
Related Links