The journey Teressa Barillas took from the cornstalks of Iowa to the skyscrapers of New York could be a modern-day Wizard of Oz, and the lessons she learned back home have supported her on the road to becoming assistant general counsel of legal innovation and operations at Con Edison.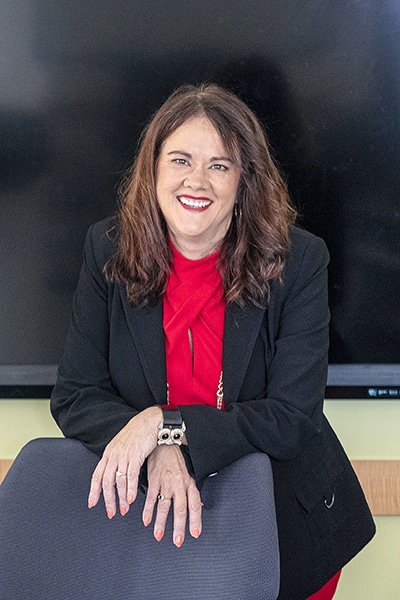 It wasn't easy for Barillas's father, a Guatemala-born psychologist, and her stay-at-home mother to send all of their six children to college. "I had to spend a couple of summers detasseling corn, both with my other siblings and once with our entire family," Barillas recalls. "I thought, wow, I really need to do something more than this."
Barillas had taken some pre-law classes at Iowa State and thought a legal degree could open up opportunities for her. She took the LSAT, then boarded a Greyhound for New York, where she had a great-uncle she could stay with while experiencing the city before applying to law school. Her mother had skimmed a little money off the grocery budget to help her get started, but she needed a job and went to the corporate headquarters of JCPenney because she'd worked in one of their Iowa stores.
"I said, 'Can I speak to the HR person?' and they're like, 'It's a floor,'" Barillas remembers. Still, she was undeterred. "I told them I was from a store in Des Moines and I wondered if they had any jobs." After a brief wait—and an egg salad sandwich and Diet Pepsi that set her back more than five dollars, making clear she was not in Iowa anymore—she secured a job in the risk management department.
Barillas soon had a life in New York and she decided to stay for school. Two years into night classes, she landed an internship with the Port Authority, which covered her tuition. She was excited to join the public service sector, following after her father, who worked for the state of Iowa developing programs to help people with disabilities enter the workforce. Her parents had also taken in family members when they needed a home, as well as a teenage boy who escaped the Castro regime in Cuba and remains close to her family to this day.
"I always thought that was really important. That whole 'give back' vibe and doing the right thing were ideals my parents stressed," Barillas says. "It really spoke to me, and public service is something that I found to be very rewarding."
Barillas stayed in public service after law school, working in the New York City Law Department, where she quickly made waves. In one year, she got seventy-seven cases against the city dismissed on motion, which earned her the Municipal Service Award from the Association of the Bar of the City of New York. Five years and three promotions later, she was raising a young daughter on her own.
In total, Barillas spent twenty-three years with the city, her last and longest role being director of litigation support, leading the division responsible for electronic discovery and developing the agency's matter management system. She liked the mixed legal/technical role, and she frequently gave demos of the system to other organizations looking to implement similar technology. One of those was Con Edison. "I got a call to come and talk to the general counsel about what my job was," she recalls, not realizing until she got there that she was walking into a job interview.
Barillas saw the potential and took the role. "The legal innovation and operations group that I have did not exist before I got here, so it was the opportunity to create it from scratch and to help move the company forward in its technology journey," she says.
"The legal innovation and operations group that I have did not exist before I got here, so it was the opportunity to create it from scratch and to help move the company forward in its technology journey."
Since joining Con Edison, Barillas and her team have moved the law department forward in its Law Department of the Future initiative. They've implemented a matter management system, upgraded the document management system, and added workflow technology for three different processes, including one that's cross-departmental. In addition to implementing the systems, "We were able to make them all talk to each other in a way that makes it much easier for people to work," Barillas says. For example, the matter management system interfaces with the document management system as well as HR and accounts payable systems to facilitate the department's work.
Barillas is supported by her team of eight and proud of their diversity. "We are diverse in gender, race, ethnicity, and even age. I tie our success directly to that diversity of people and ideas," she says. "I have a great team to work with every day, and doing that, knowing that it helps the company fulfill its mission of providing safe and reliable energy to the New York region and moving toward a clean energy future—it's really cool to be part of that."
Barillas says her biggest challenge has been keeping a balance between work, family life, and time for herself. "I continue to be a work in progress," she says. But her most important critic approves of her performance. "I overheard my daughter telling one of her friends, 'Yeah, my mom's a baller,''' Barillas says, laughing. "I was like, oh my gosh, she actually recognized that I made something of myself."
---
Related Links
At CRC, Margita Thompson Focuses Her Energy on Empowering Californians