Joe Echevarria grew up as a latchkey kid in the South Bronx, and from his neighborhood he could see the skyline of downtown Manhattan. As a young boy, he didn't exactly picture himself someday winding up in one of those grand buildings in the distance.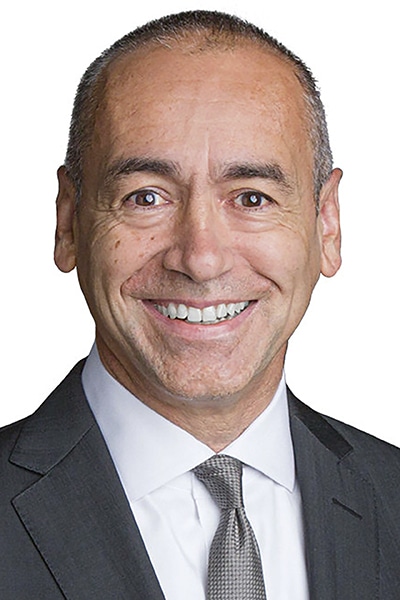 Now, decades later, the retired Deloitte CEO is the independent chairman of the board at BNY Mellon, one of the world's most storied global investments companies.
"The way I always think about it—it's about literally eight miles from the neighborhood I grew up in to midtown or downtown, and it took me around thirty years to make that journey," he says. "You may as well have been in another country. And the thought of sitting here today, being at the bank . . . that would have been as foreign to me as anything else."
After growing up in the New York City public school system, Echevarria earned an accounting degree from the University of Miami. His first job out of college was at a firm that later became Deloitte, where he stayed for nearly forty years in a range of roles before becoming CEO.
Echevarria's time at the consulting and tax firm allowed him to absorb endless valuable information about how to run a large business, from dealing with regulatory and product challenges to the obstacles that emerge when a company is trying to scale up globally. And that education was two-fold: learning how Deloitte itself achieved success, but also learning from helping the firm's client companies to grow.
All of that prepared Echevarria for BNY Mellon, which was one of his clients at Deloitte. It was through that relationship that he joined the organization as a board advisor in 2015.
"People always remember how you make them feel. They rarely remember everything you said. They just know how they feel when that interaction is over, and that stays with them. It took me a while to figure that out. But it certainly became sort of the way I process leadership, even today."
Alexander Hamilton founded the Bank of New York—which would later become BNY Mellon—in 1784. The bank's deep roots in American history still astound Echevarria. He cites Hamilton's handwritten entries in the ledger books kept at one of the BNY Mellon offices.
"You realize that this institution is so storied in its history," he says. "Those are just amazing things to have."
Reflecting on his own path as someone raised in the South Bronx by a single Puerto Rican mother, Echevarria sees getting to where he is today as the product of social intervention. He recalls a government initiative that put him and other students in his area of New York City into programs to get them on track to college.
"Because I benefited from a social program that I saw firsthand that could actually work, and this notion of the concept that [President] Obama used to say often, that talent or genetic code is equally distributed—what's not equally distributed is opportunity," he says. That was a driving reason behind why he wanted to be involved with Obama's My Brother's Keeper Alliance nonprofit, where he previously served as chairman of the board. He currently serves as a trustee at the University of Miami.
Echevarria's accomplished career brought him to BNY Mellon with a well-honed ability to see business challenges and possible solutions in deeper context. He credits that to his time at Deloitte, which he spent learning about so many different industries.
"You don't come at something with a singular lens of experience," he says. He also benefited from an environment where there wasn't a tangible product to sell, but rather a focus on delivering services and solving people's problems with intellectual capital. Because of that, he says, "I think I just bring a slightly different approach to things. It has more of a people orientation. As I get older and I reflect on what really matters—in the end, people matter above all else."
In all the work he does, Echevarria believes that real leadership is about inspiring others to go on a journey with you.
"People always remember how you make them feel," he says. "They rarely remember everything you said. They just know how they feel when that interaction is over, and that stays with them. It took me awhile to figure that out. But it certainly became sort of the way I process leadership, even today."
Open to Opportunity
To Joe Echevarria, success with diversity and inclusion initiatives will come when such programs are no longer needed, and when achieving diversity comes organically for companies and organizations.
But he knows there is still plenty of work to be done first. Part of the challenge, he says, is that people on a single leadership team might all come from vastly different places in terms of their own understandings of what diversity means, and the different-sized gaps in opportunity that various marginalized groups face.
"I think what happens when you look at diversity and inclusion—it's defined by experiences. Not everybody has an experience that makes D&I tangible for them, making it much harder to relate to," he says. "Some people don't grow up with that. That makes it challenging."
He cited the terms "Hispanic" and "Latino" as one example: "To the non-Hispanic, non-Latino, they're the same, they're interchangeable. Well, not to the people who carry the label, they're not interchangeable," he says. "If you talked to my mother, she would say she's Hispanic, she's not Latino. I identify with that because she taught me that, because it was handed down."
That means that for leadership working on diversity initiatives, the effort is often two-fold: explaining the differences between various identities, and then explaining why those differences matter. Education is at the heart of it all.
"You have to come from a place of fact," he says. "You can't allow people to have their own set of facts."